3 Essential Sides for Every BBQ
So, what exactly do we need to have a good BBQ? Well, besides having good people we need good food! Whether you have hamburgers or hot dogs as the star of the show, it isn't complete without having a couple good side options for your guests.
Easy Prep Sides:
Our McCain products are great for no hassle BBQ sides. Not only are they tasty, but they are kid friendly as well. Perfect for a last second pot luck!
Even more sides: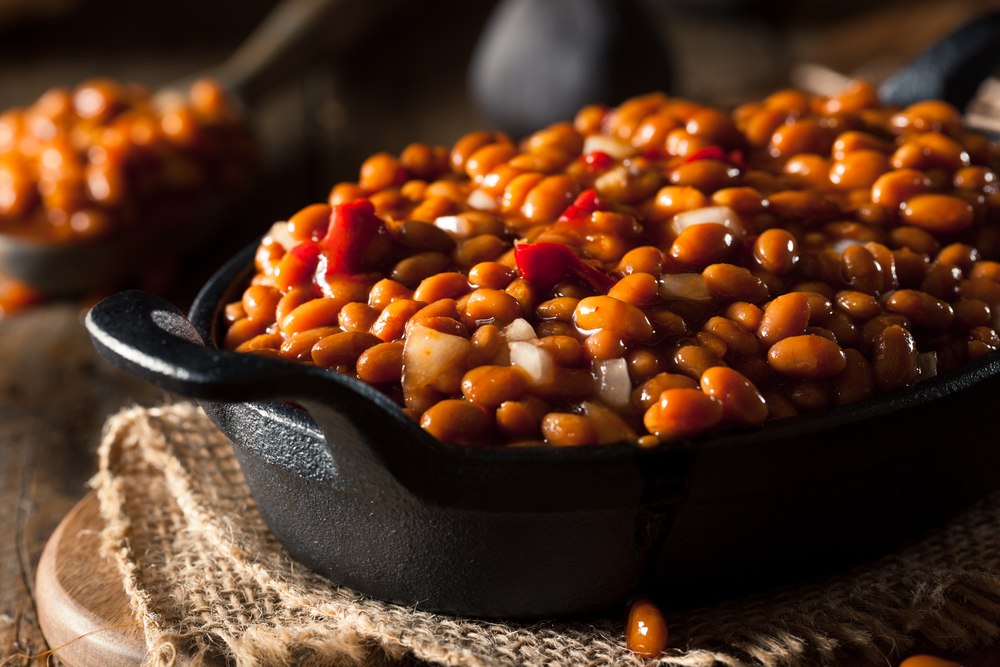 Barbecue Baked Beans are an irresistible dish that no one can pass up!
Barbecue Baked Beans
Ingredients:
Instructions:
Preheat oven to 400F.
Combine all ingredients in a large cast iron dish or baking dish.
Cover and bake for 30 minutes or until warmed through. Enjoy!
*For more flavor, top with extra brown sugar before baking. Mix before serving.
Adapted from: https://realhousemoms.com/aunt-pattis-bbq-baked-beans/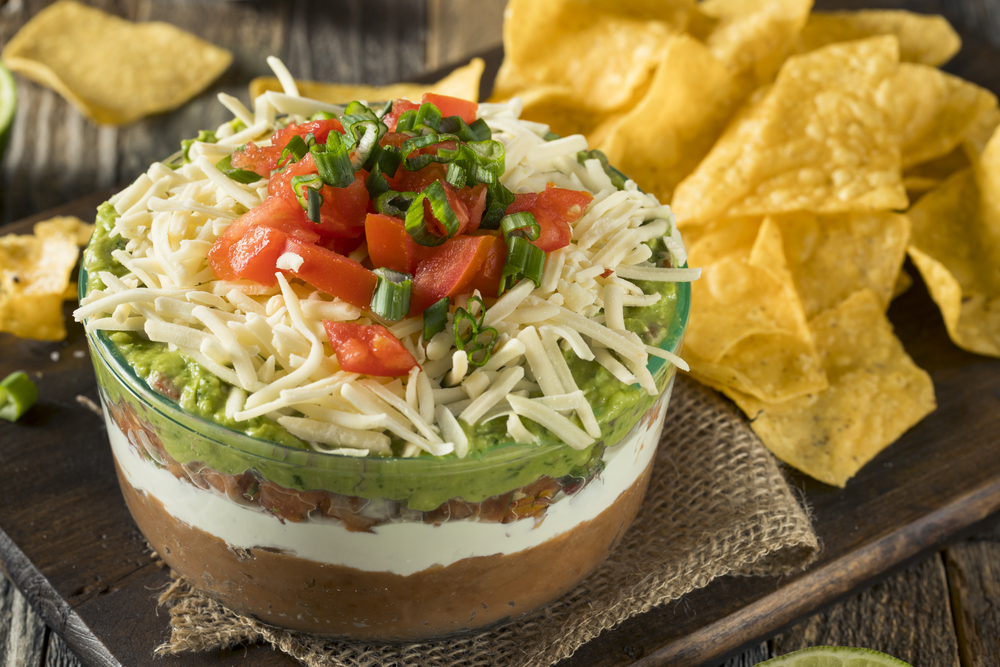 Our Seven Layer Taco Dip is perfect for any BBQ, party, or Football game.
Seven Layer Taco Dip
Ingredients:
2 16 oz cans refried beans
1 lb sour cream
1 8 oz package cream cheese (room temp)
2 1/2 cups Pico de gallo or salsa
12 oz. tub Calavo Guacamole (#9247)
Sliced olives optional
Green onion optional
Instructions:
In a bowl, blend 2 cans of refried beans and 3 tbsp taco seasoning with a hand-held mixer.
In a separate bowl, blend cream cheese, sour cream, and the remaining 3 tbsp of taco seasoning with a mixer. Make sure to blend the cream cheese well.
We used a trifle bowl, but any 9×13 dish will work just fine- the layers will be thinner if you use a dish. Begin layering each layer starting with the refried beans, sour cream mixture, guacamole, Pico de gallo, shredded cheddar, and a handful of sliced olives. Repeat until all ingredients are used. Top ours with tomatoes and green onion for color, if desired.
Adapted from: https://simplyhomecooked.com/seven-layer-dip/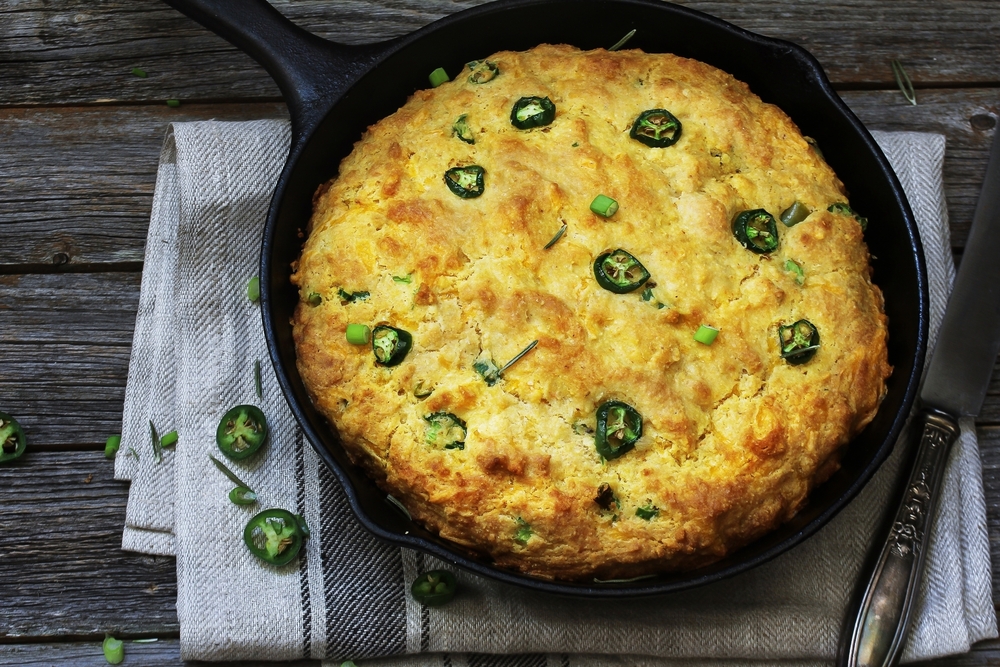 Cornbread is the ultimate comfort food. Whether you like adding Jalapenos or eating it plain with Honey Butter, (most) everyone loves it.
Jalapeno Cornbread
Ingredients:
1 1/2 + 1 Tbsp water
1 cup finely chopped, drained pickled jalapeños or fresh jalapeños (depending on how spicy you want your cornbread to be, you can do 1/2 cup instead)
1/2 cup frozen corn kernels (#1090)
1/2 cup grated Monterey jack or cheddar cheese (#1651)
Instructions:
First, preheat the skillet. Put the canola oil in a 9 or 10 inch cast iron skillet and place the skillet in the oven. Heat oven to 400°F with the skillet inside.
In a large bowl, whisk together the cornbread mix and water.
Next, stir in the melted butter, the chopped jalapeños, corn, and cheese.
Once the oven has reached 400°F and the skillet is hot, carefully remove the empty skillet from the oven. Pour the cornbread batter into the skillet, making sure it is smooth.
Then, place the skillet back in the oven and bake for 18-20 minutes, until lightly browned on top and a skewer inserted into the center comes out clean.
Once it is finished baking, let your cornbread rest in the skillet for 10 to 20 minutes before cutting wedges and serving.
*Remember that the skillet will be very HOT. We recommend keeping a pot holder draped over the handle.
Adapted from: https://www.simplyrecipes.com/recipes/jalapeno_cornbread/
Comments
Oven Baked Baby Back Ribs - Alisons Pantry Delicious Living Blog - […] Brown Sugar Baked Beans […]
5 Easy Ways to Spice Up Your Burgers - Alisons Pantry Delicious Living Blog - […] 3 Essential Sides for Every BBQ […]
Grilled Chicken Kabobs - Alisons Pantry Delicious Living Blog - […] BBQ Baked Beans […]
3 Easy Appetizers for Any Party - Alisons Pantry Delicious Living Blog - […] 3 Essential Sides for Every BBQ […]
Plan a Picnic - Alisons Pantry Delicious Living Blog - […] Salad, Caprese Tortellini Pasta Salad, Raspberry Crumble Bars, Skillet Spinach Artichoke Dip, Barbecue Baked Beans or Classic Lemon […]
The Best Tri Tip - Alisons Pantry Delicious Living Blog - […] sauce. Served with your BBQ sides like Baked Beans and Easy Potato […]