3 Pasta Dishes for Valentine's Day
Italian food screams a Romantic Night in. These three pasta dishes are incredibly easy to prepare but will leave you feeling like you're eating at a fancy restaurant from the comfort of your home.
If we spend Valentine's Day at home, we like to include the kids. Have them help set a nice, fancy table complete with a table cloth, candles, and even cloth napkins. Let them know that they're special, too!
If you're trying to cut back on carbs, simply prepare any of the recipes below with Tattooed Chef Zucchini Spirals (#2803).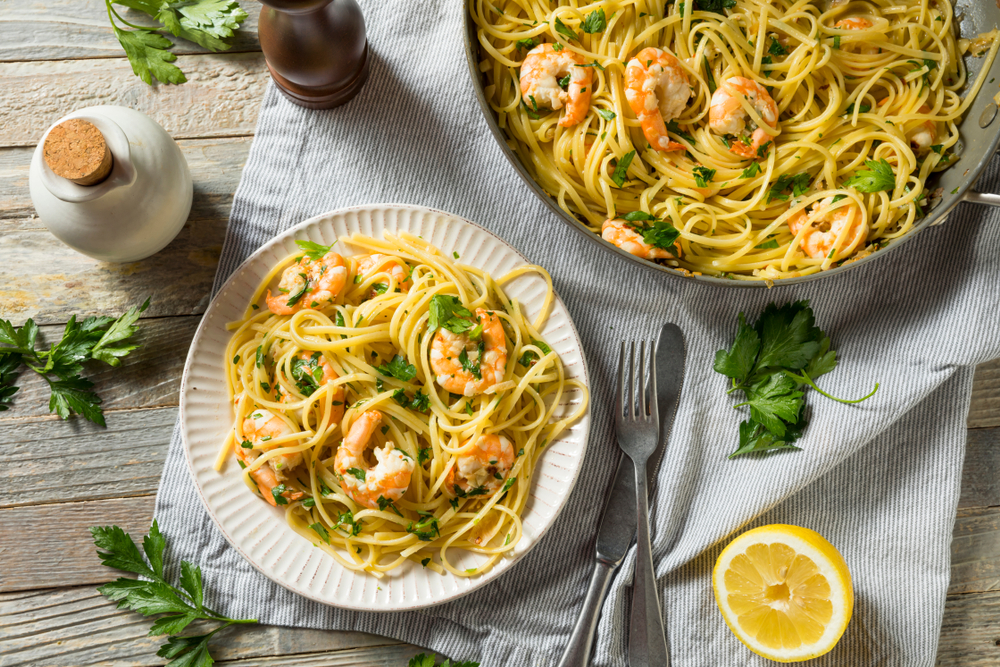 You can't go wrong with Shrimp Scampi for Valentine's Day! This Garlic Butter Cream Pasta & Shrimp Scampi features tender shrimp a creamy lemon sauce on top of a bed of pasta. Don't be afraid to scoop up the noodles with a slice of Pepperidge Farm Garlic Toast Slices (#2933).
Garlic Butter Cream Pasta & Shrimp Scampi
Ingredients:
Instructions:
Put on a large pot of water to boil. Once it comes to a boil, add pasta and cook until al dente. Save one cup of the pasta water.
Meanwhile, in a large saucepan, melt butter on med-low heat. When butter is fully melted add cream & vermouth (optional). Cook for two minutes, then carefully stir in pasta water.
Next, add shrimp and cook on med-high until it's pink and makes a "c-shape". Slowly stir in Parmesan cheese until melted. Add lemon juice. Remove from heat and gently pour mixture over drained pasta.
To serve, sprinkle with lemon zest and cracked pepper.
Recipe from Catalog #2, 2022.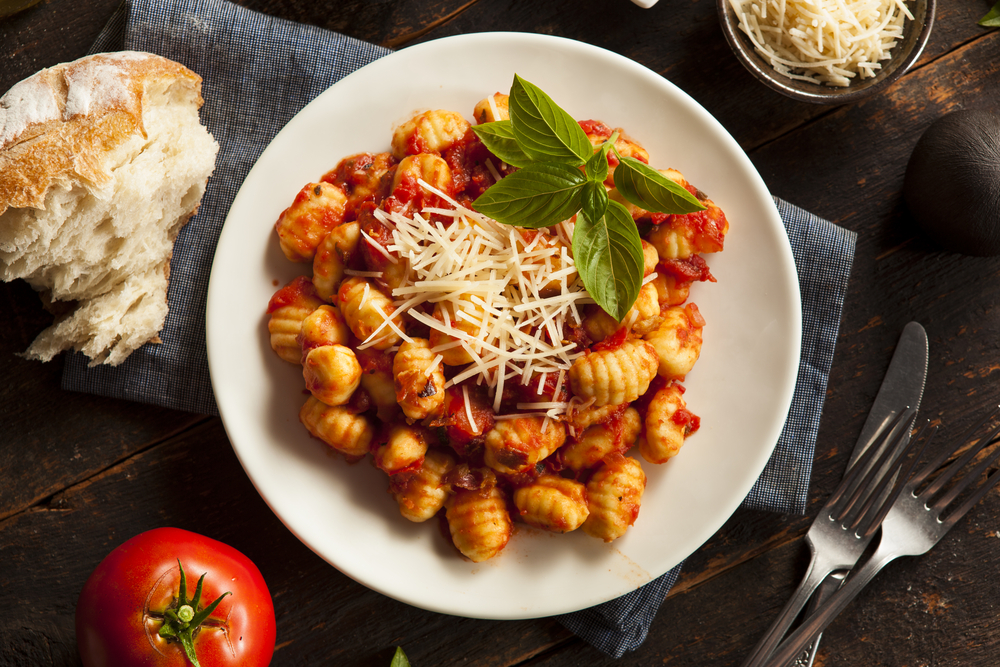 A one-pan meal perfect for a simple night in! This easy recipe features tender gnocchi in a simple, garlicky tomato sauce then topped off with fresh basil and shaved parmesan cheese. Complete the meal with a crusty piece of ciabatta bread, and set the table with candles for a low-key Valentine's Day at home.
Gnocchi in Red Sauce
Ingredients:
14 oz. can diced tomatoes
2 Tbsp tomato paste
1/4 cup vegetable broth
1/4 tsp crushed red pepper flakes
Fresh basil, for garnish
Instructions:
First, saute the minced garlic in the garlic butter until fragrant.
Then, stir in the diced tomatoes, tomato paste, vegetable broth, crushed red pepper flakes, and italian seasoning. Stir to combine, then add the gnocchi.
Allow to cool until the gnocchi is cooked through and tender, stirring frequently, for about 5 minutes. Next, add salt and pepper as needed.
Now, divide between two plates and top with parmesan cheese and basil. Serve with Stone Ground Ciabatta (#5898). Enjoy!
Adapted from: https://www.kitchenkonfidence.com/2021/05/gnocchi-with-tomato-sauce-recipe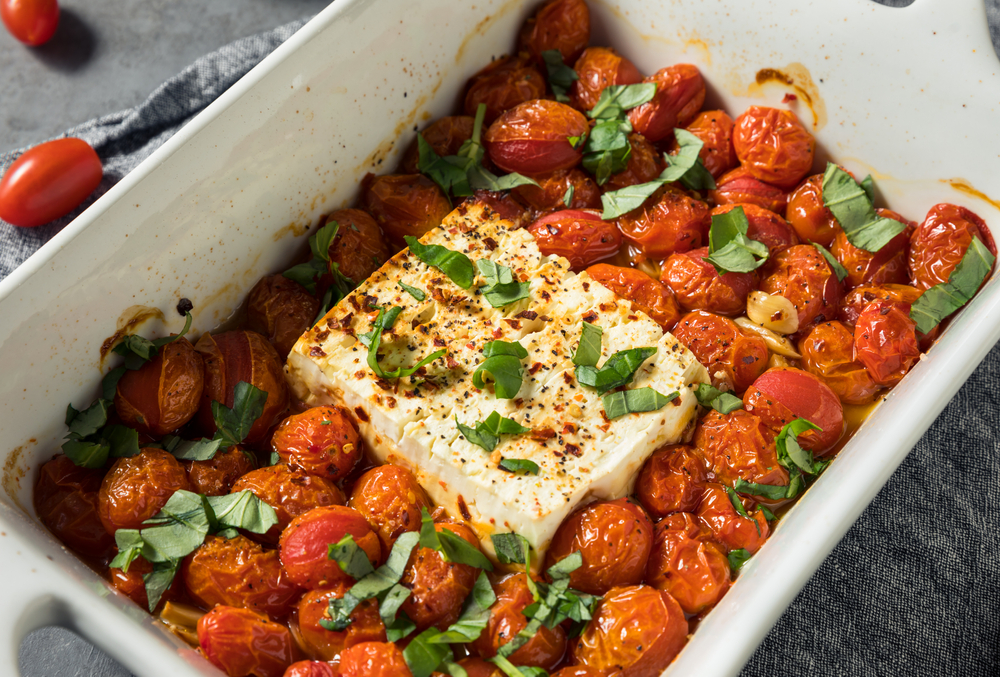 If you're on TikTok, you may have seen this trending recipe – Baked Feta Pasta. We gave it a try, and can see why it has been so popular! This dish features a block of feta surrounded by cherry tomatoes tossed in a garlic-infused oil. Once it is baked, just mix in some cooked pasta and give it a stir. You'll be left with creamy, tangy pasta with bites of cherry tomato. Serve with a slice of warm Stonefire Mini Naan Bread (#1686) smothered with Chef Shamy Garlic Butter w/Parmesan & Basil (#8124).
Baked Feta Pasta
Ingredients:
Instructions:
First, preheat oven to 400F.
Then, add the tomatoes and whole garlic to a baking dish and coat in the oil. Place the feta in the center, then top with salt, pepper, and italian seasoning. Bake for 30 minutes.
Meanwhile, cook the pasta of your choice in salted water until al dente. Draine and reserve 1/4-1/2 of the water.
Then, stir together the tomato, feta and oil mixture. Toss the pasta in the mixture, then top with fresh basil, salt, pepper and crushed red pepper as needed. Add pasta water until you get desired consistency, and enjoy!
Adapted from: https://www.cookingclassy.com/baked-feta-pasta-tiktok/
Comments
No-Fuss Valentine's Day Dinner - Alisons Pantry Delicious Living Blog - […] Shrimp Garlic Butter Cream Pasta & Shrimp Scampi Chili Lime Shrimp & Corn SharePinTweet0 Shares 0Shares Share on Facebook…
PBFit Chocolate Peanut Butter Hearts - Alisons Pantry Delicious Living Blog - […] 3 Pasta Dishes for Valentine's Day Bacon, Egg & Toast Heart Egg Cup Berry Cherry Banana Bowl […]
Making Pizza: 101 - Alisons Pantry Delicious Living Blog - […] Chicken Pizza Garlic Butter Cream Pasta & Shrimp Scampi Grilled BBQ Pulled Pork Pizza SharePinTweet0 Shares 0Shares Share on…