3 Ways to Craft a Gourmet Burger
When we think of gathering with friends and family during the summer, it almost always includes a BBQ. And as much as we love a simple burger, sometimes we want to change things up! These 3 simple recipes will do just that.
Tips for getting the best burger:
First, do not salt the beef until the patty is formed. This mainly matter
if you're making your own patties, and will cause your burger to become springy. So, the best time to season is right before they're headed for the grill.
Second, use a thermometer. We all know you can poke it to tell how done the burger is, but to be completely accurate we suggest using a meat thermometer. No hockey puck burgers allowed!
Third, toast your buns. This adds a nice finishing crunch and extra flavor to your bun. You didn't know you were missing out!
Lastly, top however you like. Your burger, your choice! Obviously we have suggested (and delicious) recipes below, but don't let those ideas limit you!
More BBQ favorites: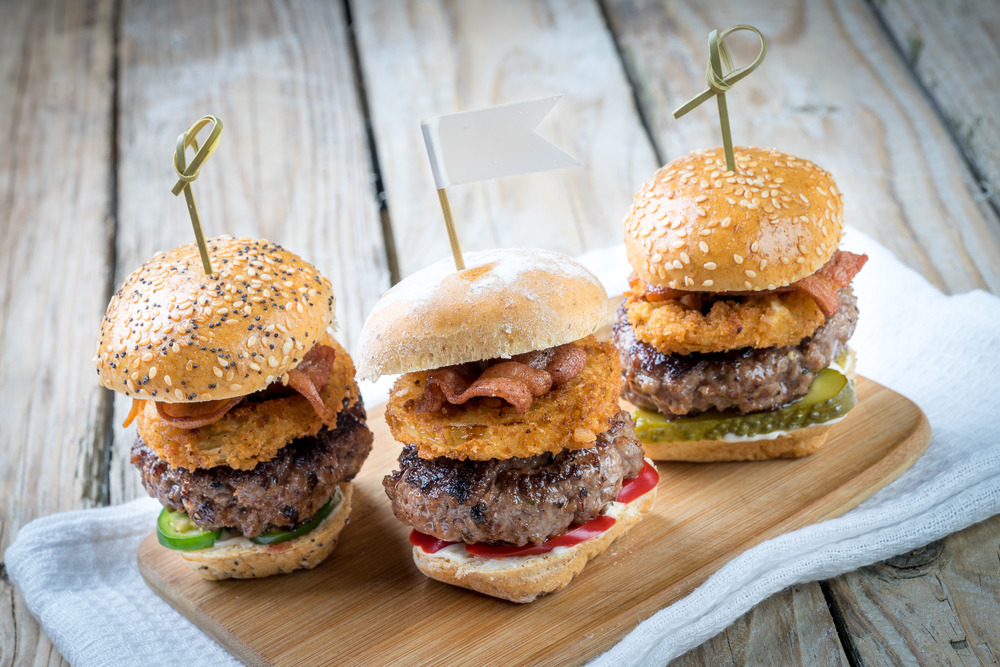 Perfect for the kids and adults, these Onion Ring Sliders are juicy, crunchy, and delicious.
Onion Ring Sliders
Ingredients:
Instructions:
First, begin to cook the bacon with your method of choice.
Next, preheat grill to cook patties. Cook until desired doneness,
145°F for medium-rare or 160°F for medium. Check the temp with a meat thermometer.
While the patties are cooking, deep fry the onion rings for 2-2 1/2 minutes or until crisp and golden brown.
Prepare your burgers with the buns, patty, onion ring, and 1 slice of bacon (broken in half). Add addition toppings if desired. Enjoy!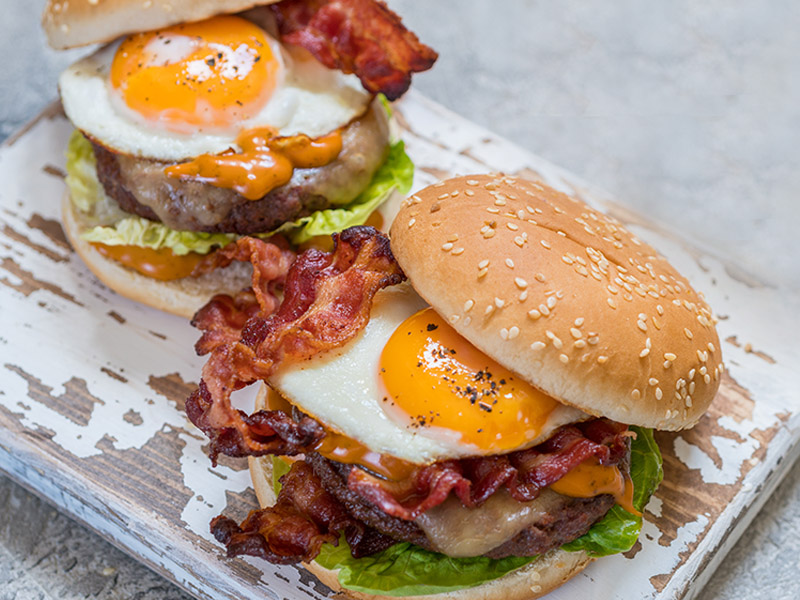 This delicious mess is going to require a napkin or two, and it is one special burger.
Sunnyside Burger with Chipotle Aioli
Ingredients:
Chipotle Aioli:
Burgers:
Instructions:
Whisk the Chipotle Aioli ingredients together in a small bowl; cover and refrigerate.
Prepare the patties by combining ground beef, 1 egg, seasoned bread crumbs, 2 tsp minced garlic, coriander, black pepper, and 1/4 teaspoon salt in a bowl; mix with your hands until just combined. Shape beef mixture into 4 patties.
Cook patties on preheated grill until browned on one side, about 6 minutes. Flip patties; continue grilling until no longer pink in the center, about 6 minutes more.
Transfer burgers to a plate; top each burger with a slice of Cheddar cheese and cover plate tightly with foil.
Heat a nonstick skillet over medium heat; spray with cooking spray. Crack remaining eggs into skillet and immediately reduce the heat to low; season eggs with salt and pepper. Cook eggs until whites are set, about 2 minutes; add 1 tablespoon water to skillet, cover, and cook 1 to 2 minutes more.
Spread about 1 tablespoon chipotle aioli on bottom of each hamburger bun; top each bun with 1 lettuce leaf, 1 onion slice, 1 tomato slice, and 1 burger. Add one egg to top of each burger; place top of hamburger bun over egg.
Adapted from: https://www.allrecipes.com/recipe/247237/sunnyside-burger-with-chipotle-aioli/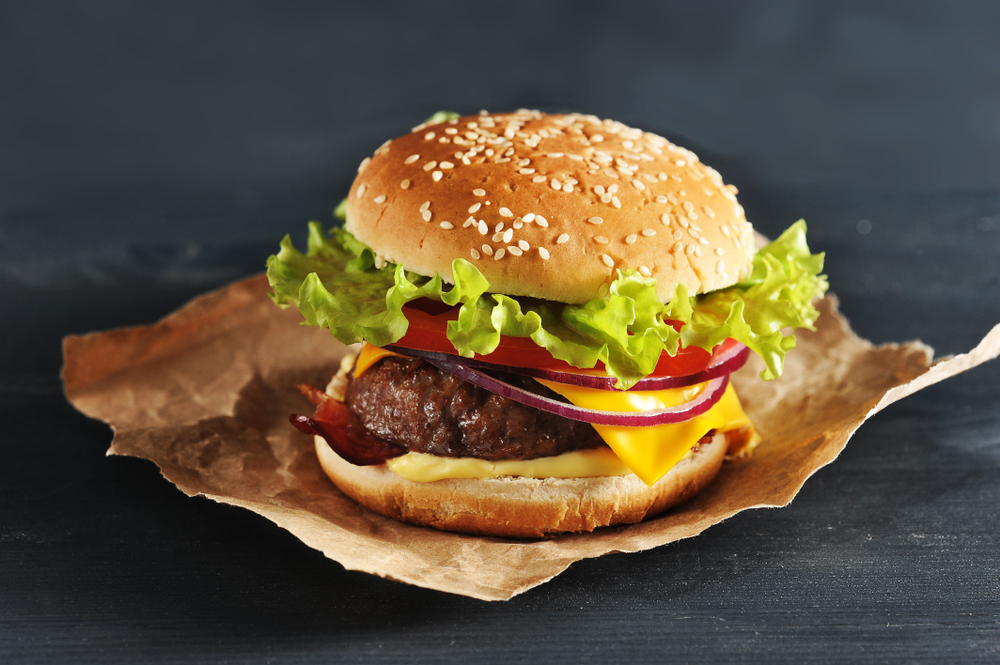 Skip the drive-thru with this juicy All-American Cheeseburger.
All American Cheeseburger
Ingredients:
Instructions:
Grill burgers, covered, over medium heat or broil 3 in. from the heat for 4-7 minutes on each side or until a thermometer reads 160° and juices run clear.
Top with cheese. Grill 1 minute longer or until cheese is melted.
Serve on buns with bacon and toppings of your choice.
Adapted from: https://www.tasteofhome.com/recipes/all-american-bacon-cheeseburgers/
Comments
5 Easy Ways to Spice Up Your Burgers - Alisons Pantry Delicious Living Blog - […] 3 Ways to Craft a Gourmet Burger […]
Tips for the Best Hamburger Patties - Alisons Pantry Delicious Living Blog - […] 3 Ways to Craft a Gourmet Burger […]