Salmon Lemon Kebabs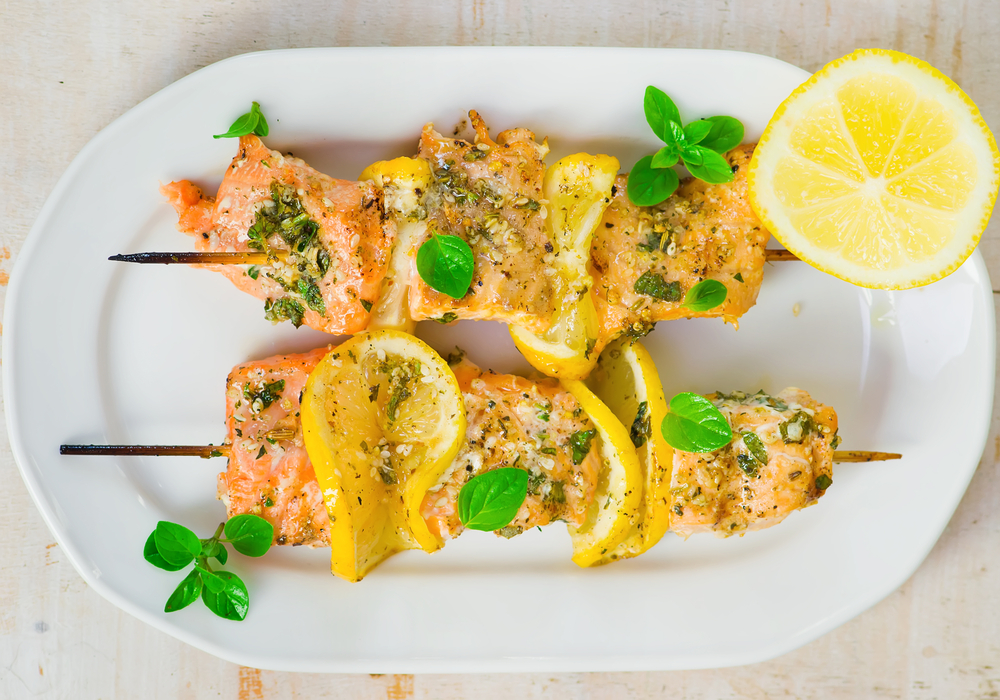 These kebabs take less than 30 minutes to make, and you will end up with juicy, flaky, flavorful salmon. You will eat it up so fast!
Salmon Lemon Kebab
Ingredients:
1.5 lbs salmon fillets, cut into 1-inch squares (#8669)
2 large lemons thinly sliced
16 (10-inch) bamboo skewers
Ingredients for Marinade:
How to Make Grilled Salmon Skewers:
Prep: Soak bamboo skewers at least 1 hour to keep them from catching fire.
Instructions:
Preheat Grill to medium heat (about 375ËšF).
In a medium bowl, stir together all of the marinade ingredients: 2 tbsp chopped parsley, minced garlic, 1/2 tbsp dijon, 1/2 tsp salt, 1/8 tsp pepper, 2 tbsp olive oil, 2 tbsp lemon juice.
Skewer the salmon and lemon slices folded in half intermittently onto two skewers at a time (The double skewer aids in turning the salmon kebobs on the grill). Brush both sides of skewers with marinade.
Oil the grates then carefully place salmon skewers onto the hot BBQ. Grill kebobs for 3-4 minutes per side or until salmon is cooked through and opaque.
Adapted from: <http://natashaskitchen.com/2015/06/12/grilled-salmon-skewers-with-garlic-and-dijon/>
Comments