Beef Tips with Mushroom Gravy
We love having stew meat in the freezer because it's not just for stew! It's a hearty addition to chili, a great filling for tacos, and a family-favorite in stroganoff. It's also fabulous in this recipe for Beef Tips with Mushroom Gravy. Bring on the cooler weather because we love this kind of comfort food!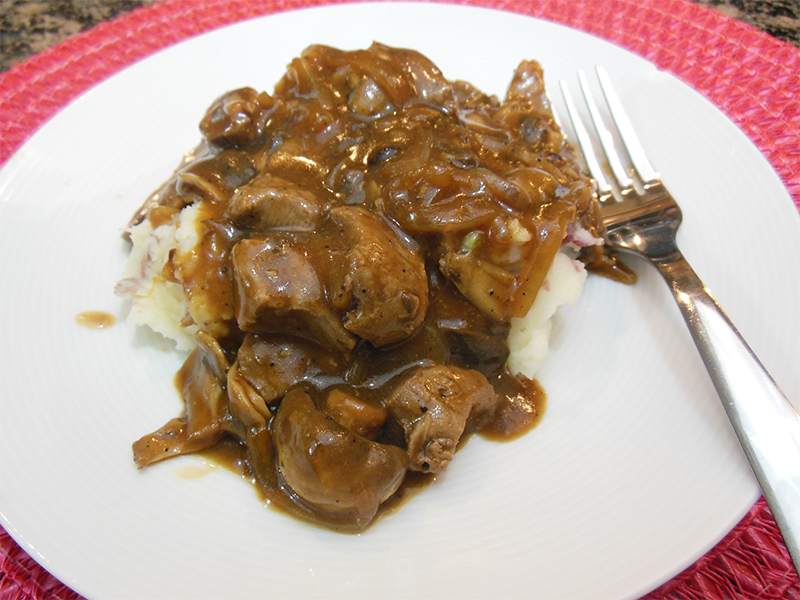 Beef Tips with Peppered Mushroom Gravy
Ingredients:
Instructions:
Heat a large nonstick skillet over medium-high heat. Coat pan with Vegalene spray.
Add beef pieces; sauté 5 minutes, browning on all sides. Remove from pan; cover.
Melt butter in pan over medium-high heat. Add onions and mushrooms; sauté 4 minutes. Add garlic; sauté 30 seconds. Stir in soy sauce.
Sprinkle 2 tbsp of flour over mushroom mixture; cook 1 minute, stirring constantly. Gradually add broth, stirring constantly. Add gravy mix and stir. Add pepper, salt. Bring to a boil; cook 2 minutes or until thickened.
Return beef to pan; cook 1 minute or until thoroughly heated.
Serve over heated Roasted Garlic Mashed Redskin Potatoes #7944 and Flav-R-Pac Green Beans (#3781)
Serves 4
Comments