Casseroles Fit For The Holiday Season
Casserole recipes have been around for a long time because frankly, they're pretty fantastic. Quick, easy, with minimal dishes. What more do you want? With a green salad, casseroles make a simple satisfying meal and they can also be a great way to repurpose leftovers. Even keto-dieters can enjoy them!
Whether you're following a keto diet or not, this selection of drool-worthy casserole recipes is sure to include something delicious to add to your family meals. Scroll through these ideas to find something new (and easy!) to add to your holiday menus. If you are looking for entrees, sides, or even desserts, here are some amazing holiday casserole ideas that we love.
Casseroles fit for the Holiday season
Ideas for anyone:
Au Gratin Potato Casserole (see below)
Pumpkin French Toast Casserole (see below)
We're sharing two of our favorite casserole recipes below- one savory and one sweet.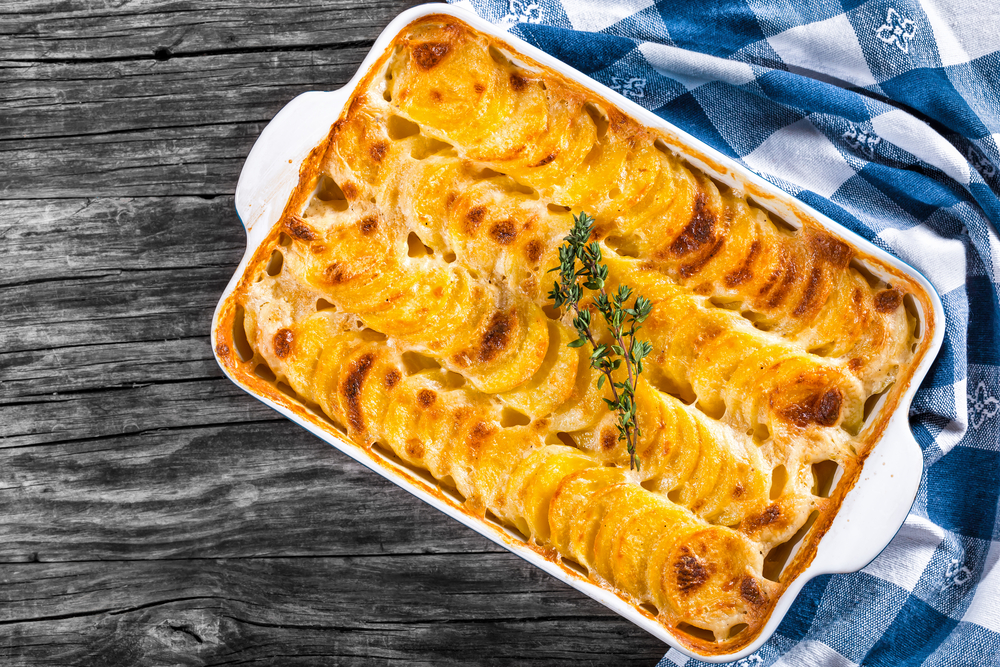 A Holiday staple, this creamy, cheesy Au Gratin Potato Casserole comes together easily for a tasty dish.
Au Gratin Potato Casserole
Ingredients:
Instructions:
Preheat oven to 400F.
Begin with washing the potatoes, then slice them into 1/8″ slices. If desired, slice the chopped onions smaller.
Next, repeating layering potatoes then onion in rows across the pan.
For the sauce, melt the butter in a saucepan then add the flour. Cook for 2-3 minutes, then add the seasoning and milk. Continue whisking over medium heat until it begins to bubble and thicken. Remove from heat and stir in the cheeses to melt.
Then, pour the sauce over the prepared potatoes. Spray a piece of foil (#1963) with Vegelene Garlic Mist (#1577) and cover the dish.
Bake for 60 minutes covered and uncovered for 20-30 minutes or until the potatoes begin to brown and are soft.
Adapted from: https://www.spendwithpennies.com/au-gratin-potatoes/
This make-ahead casserole is the perfect breakfast for fall. It is full of comforting flavors you'll love like pumpkin pie spice, vanilla, and maple syrup. We love preparing this recipe the night before a Holiday to ease the day-of-holiday cooking madness.
Pumpkin Cream Cheese French Toast Casserole
Ingredients:
Instructions:
Start by cutting the day-old bread into large cubes.
In a bowl, whisk together the next 8 ingredients until smooth.
Butter our USA Pan Rectangular Cake Pan (#1606) then add the bread to the pan in an even layer. Pour the pumpkin mixture until the bread is entirely covered, and place in the fridge for at least 2 hours, or overnight for best results.
Then, preheat the oven to 350F and bake for 30 to 35 minutes, watching for the eggs to be cooked.
Remove from oven, and serve with powdered sugar and maple syrup.
Adapted from: https://www.thespruceeats.com/pumpkin-cream-cheese-french-toast-bake-4108006
Comments
Instant Pot Turkey Breast - Alisons Pantry Delicious Living Blog - […] Au Gratin Potato Casserole […]
Easter Recipe Roundup - Alisons Pantry Delicious Living Blog - […] comes together easily for a tasty dish. Make sure to use cheddar and gruyere for the best flavor! Click…
Cornbread Stuffing - Alisons Pantry Delicious Living Blog - […] Au Gratin Potato Casserole […]