Dirty Mashed Potatoes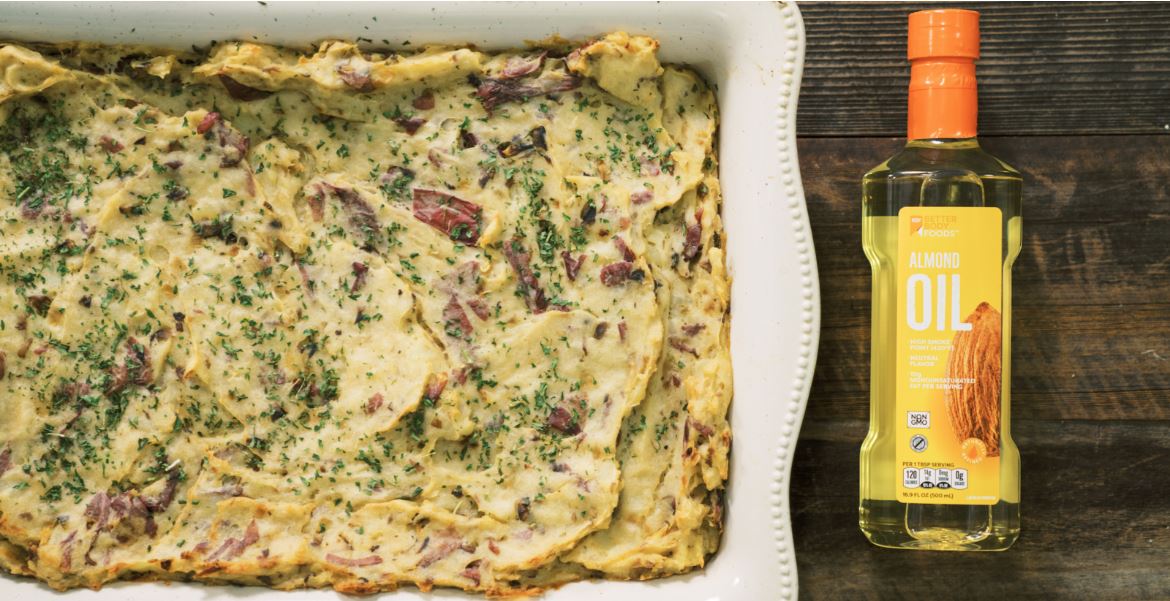 What can Almond Oil be used for?
Almond Oil is great for mixing with just about whatever you want to eat. It is a clean, neutral-flavored oil to use in high heat (up to 420 degrees F) for frying, baking, and marinades. In addition, Almond Oil can also be used in frozen treats, or for your homemade face masks for a night in. Because it is non-GMO and gluten-free, all of our friends can enjoy it!
Dirty Mashed Potatoes
Ingredients:
Instructions:
Preheat oven to 350°F.
Fill a large pot half way with water and bring to a boil. Add potatoes and boil until soft, about 20 minutes.
While the potatoes are cooking, heat almond oil in a sauté pan. Add onion and cook on high heat for a few minutes. Add garlic and mushrooms. Saute for about 5 – 7 minutes, stirring frequently.
Drain potatoes and add to a large mixing bowl. Add vegan butter and milk and beat for 1-2 minutes.
Add onion and mushroom mixture and beat until combined. Place in a large casserole dish, cover and bake for 30 minutes. Uncover and bake for an additional 15 minutes.
CALORIES 304 – FAT 8G – PROTEIN 7G – CARBS 55G – FIBER 5G – SERVES 10
Adapted from: https://www.betterbodyfoods.com/recipes/dirty-mashed-potatoes/
Comments