Chef Shamy Pumpkin Grilled Cheese
Calling all pumpkin lovers! This is for you. We're all about sweet pumpkin treats this time of year like Pumpkin Chocolate Chip Cookies or Pumpkin Bread, but we often overlook the savory ways to use it. Enter: Pumpkin Grilled Cheese.
The pumpkin is lightly seasoned with sage, chili powder, cayenne, and nutmeg, making it full of fall flavors we love. It pairs perfectly with the creamy richness of the white cheddar. Plus, the crunch of the garlic buttered bread….it's truly a meal sent straight from the fall food gods.
Tips for making grilled cheese
First, choose the right cheese. Since the pumpkin has sweet notes to it, you want a rich, salty white cheddar. Our favorite is Dubliner.
Then, preheat the pan over medium low heat first. This will ensure that the bread isn't toasted before the fillings are warmed and melted, and it is less likely to dry out.
Lastly, toast each slice of bread with its own toppings, then stack together. This will ensure each piece is toasted to your liking, with less chance of the fillings coming out.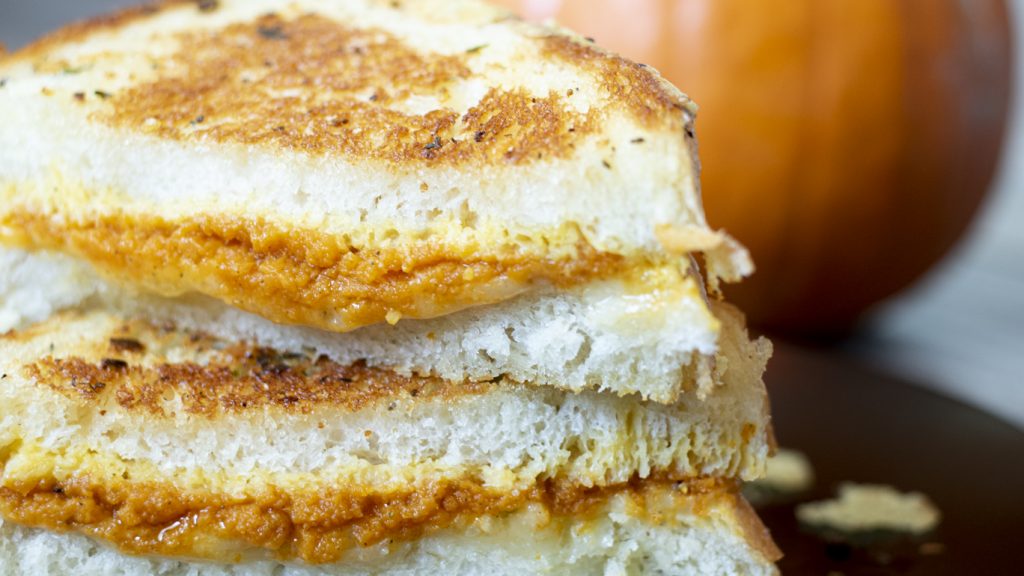 Pumpkin Grilled Cheese seasoned with sage, chili powder, cayenne, and nutmeg, paired with creamy white cheddar between toasted bread.
Chef Shamy Pumpkin Grilled Cheese
Ingredients:
Instructions:
First, combine the pumpkin, sage, chili powder, cayenne, nutmeg, salt and pepper.
Then, preheat a skillet over medium heat. Spread garlic butter onto each slice of bread.
Now, spread a layer of pumpkin onto two slices of bread, followed by the cheese and the top piece of bread. Cook until golden brown, then flip and brown the other side. Enjoy!
Adapted from: https://chefshamy.com/recipes/pumpkin-grilled-cheese/
If you like this recipe, try these:
Comments