Don't Go Bacon My Heart
Ah, bacon. An all time favorite breakfast side we have come to love. We just can't get enough of it! Whether it's in a breakfast, soup, casserole, or on its own- we will devour it.
How to get perfectly crisp bacon
Are you wondering how to get perfect bacon every time? It is really simple, but all depends on personal preference. Some of us like crispy bacon, while others like it to be a little chewy. But, we can guarantee everyone is sick of cleaning bacon grease off the stove. Both these methods of cooking elimate the majority of bacon grease splatter!
Use a cookie sheet (#4020) and cooling rack (#1145) . This might seem odd, but trust us! It results in perfectly crisp bacon without having to flip it. Simply line a cookie sheet with foil (#1963), then place a cooling rack (#1145) inside the baking sheet. Don't forget to spray with vegalene (#1212)! Then, place the bacon on the rack. Cook at 400 degrees for 12-17 minutes. Once it has reached your desired level of crispness, remove and place on paper towels to soak up excess grease.
Use your Air Fryer! First, place a single layer of bacon in the air fryer basket. Second, set the air fryer to 350 and cook for 10 minutes. Check for crispness and cook 1-2 minutes if desired. And, don't forget to drain grease between batches.
Recipes that call for bacon: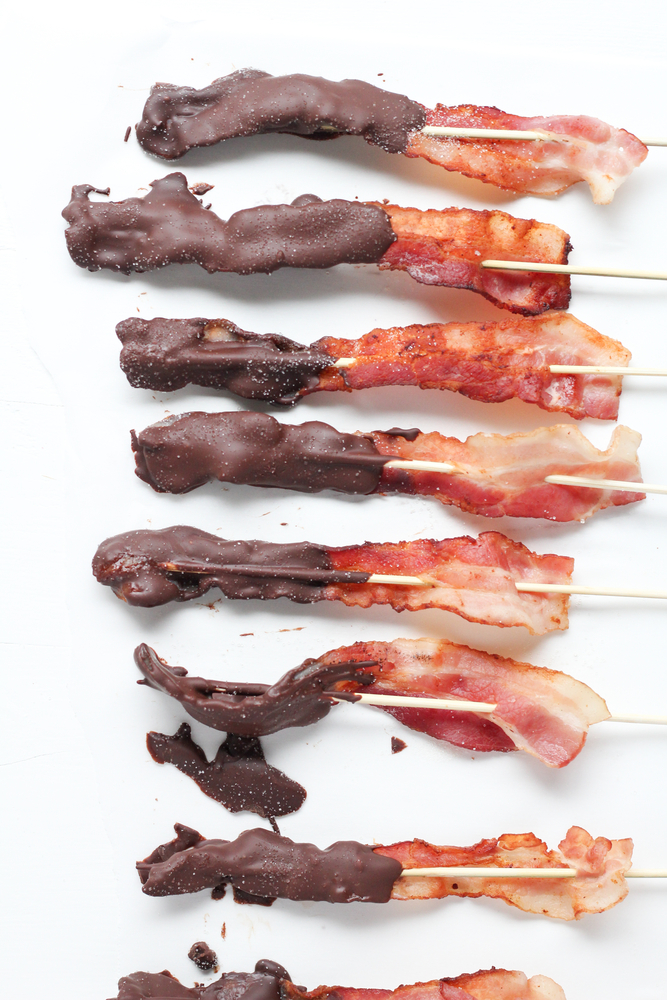 This is a fun recipe you can experiment with different toppings. It is the perfect combination of sweet and salty flavors!
Chocolate Covered Bacon
Ingredients:
Instructions:
Preheat oven to 400°. Thread bacon strips, weaving back and forth, onto twelve 12-in. soaked wooden skewers. Place on a rack in a large baking pan. Bake until crisp, 20-25 minutes. Drain on paper towels; cool completely.
In a microwave, vanilla chocolate chips; stir until smooth. Brush onto both sides of six bacon strips; sprinkle with toppings as desired. Place on a parchment paper(#1153)-lined baking sheet (#5957).
In a microwave, melt chocolate chips and shortening; stir until smooth. Brush onto both sides of remaining bacon; decorate as desired.
Refrigerate until set. Store in refrigerator.
Adapted from: https://www.tasteofhome.com/recipes/chocolate-covered-bacon/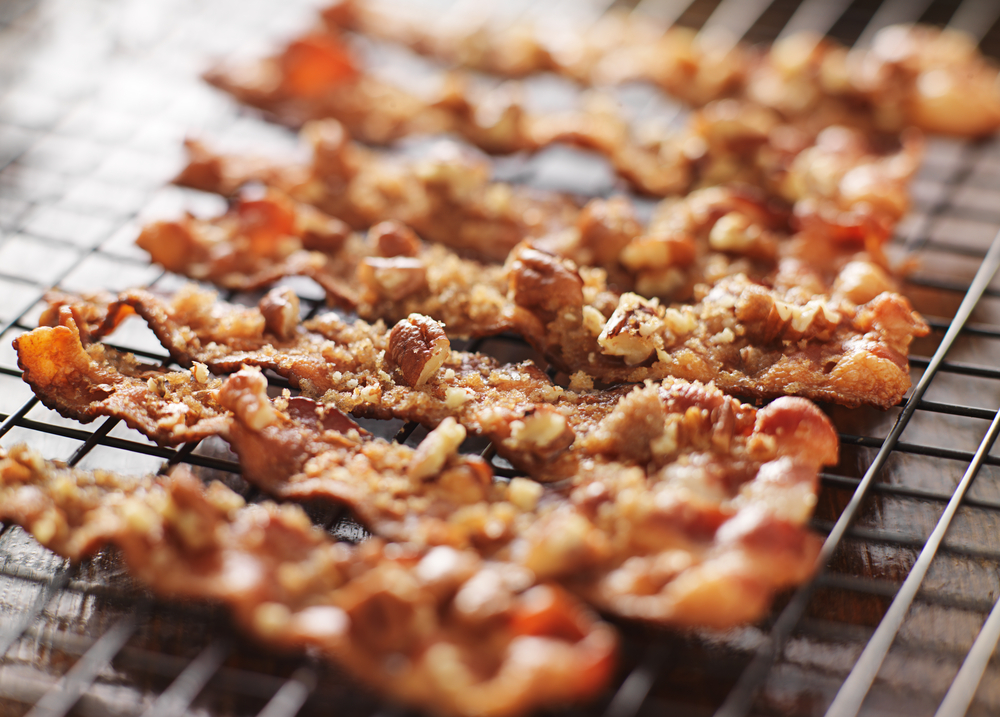 As if bacon needed to get any better, this Walnut Glazed Bacon will be a game changer. The sweet and salt combined with the crunch of the walnut will result in a party in your mouth.
Walnut Glazed Bacon
Ingredients:
Instructions:
In a small bowl, combine the walnuts, brown sugar and flour.
Place bacon on a greased broiler pan; sprinkle with walnut mixture.
Bake at 350° until golden brown, 25-30 minutes.
Adapted from:
https://www.tasteofhome.com/recipes/walnut-glazed-bacon/
Comments