Football Brownies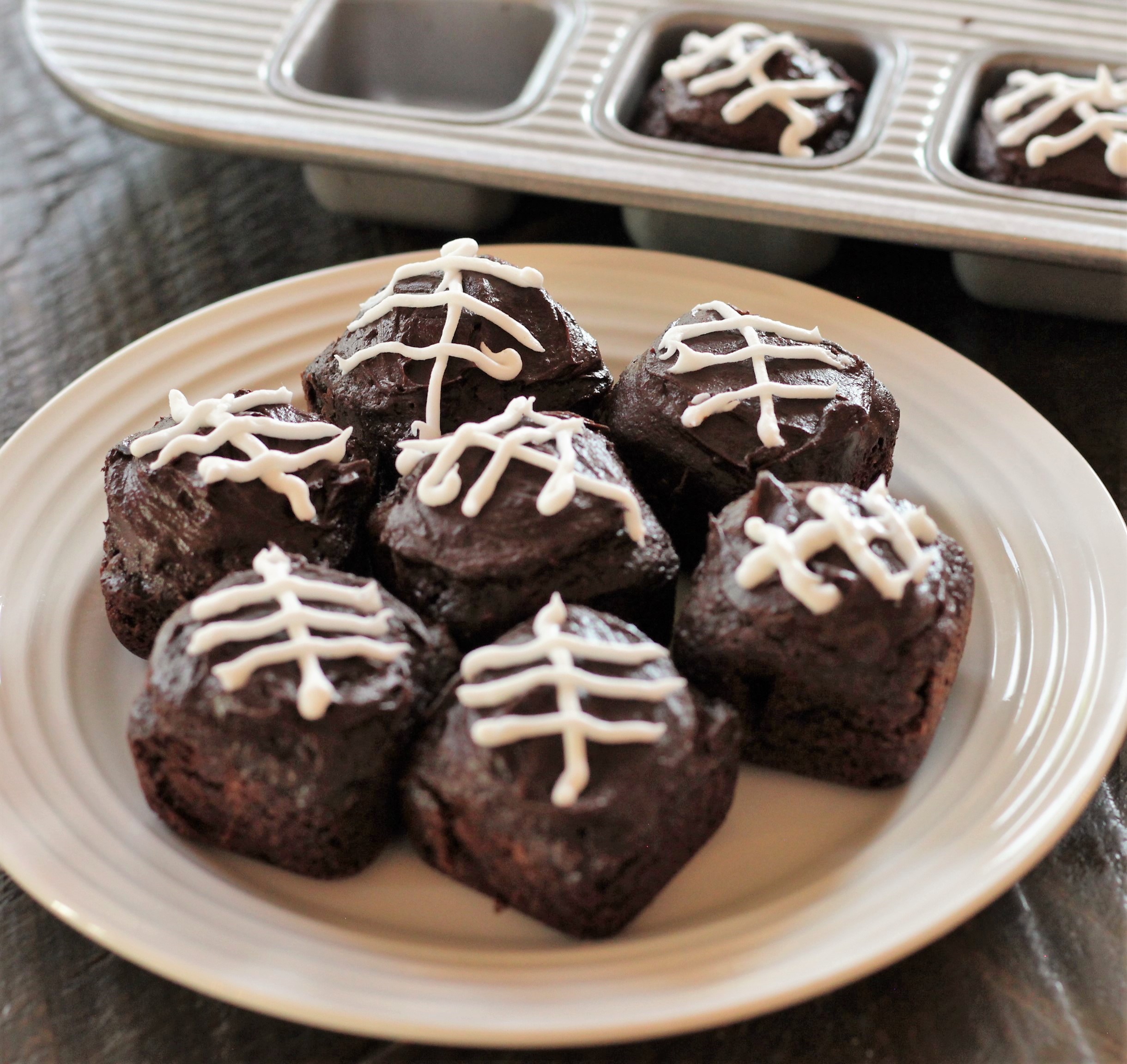 The kids are back in school, the weather is turning cooler, and these changes both signal one thing: football season! We loved this darling game day idea from USA Pans for turning their Brownie Bite Pan into a football mold. (Side note: every brownie has those perfect crispy edges and tender middle…touchdown??!!) We used our Richly Delicious Fudge Brownie Mix to craft these treats before kickoff and they were a hit for the game. They're a rich, moist chocolatey brownie that will give your sports fans one more thing to cheer about.
We have to give one more plug for the Brownie Bite Pan because this thing is awesome! USA Pans are our absolute favorite bakeware and this is why:
-Made in the USA
-Unique fluted panel design that facilitates air circulation and maximizes pan strength to help resist warping.
-Made with the same standard high-performance features used for bakeware used in commercial bakeries.
-Coated with a proprietary AMERICOAT Plus coating, a non-stick silicone that is PTFE, PFOA and BPA free, for easy release and quick clean-up.
They release perfectly every time!
Football Brownies
Ingredients:
Directions:
1. Slowly add hot water to other ingredients while blending with mixer until smooth.
2. Add nuts and/or chips as desired.
3. Spread evenly in well greased 9″ x 13″ pan or into the wells of your Brownie Bite Pan.
4. Let rest 10 minutes before baking.
5. Bake in preheated 350° over (325° for convection) for 20-23 minutes for 9″ x 13″ pan or 18-20 minutes for Brownie Bites.
Yield: one 9″ x 13″ pan, approx. 24- 2″ x 2″ brownies or 24 Brownie Bites. Yield per bag: three 9″ x 13″ pans.
Frosting
Ingredients:
With an electric hand mixer, beat the butter until light and smooth. Blend in the powdered sugar, milk, and vanilla until smooth and creamy. Place the chocolate chips in a small bowl and place over a small pan of barely simmering water. Heat, stirring occasionally, until the chocolate is melted and smooth, about 2 minutes. Remove the pan from the heat. Add the melted chocolate to the vanilla frosting and stir until smooth. Spread over brownies. Pipe "laces" across tops of brownies with white icing for football look.
Adapted from: https://www.foodnetwork.com/recipes/giada-de…/chocolate-frosting-recipe-1962150
Comments
Super Bowl Foods - Alisons Pantry Delicious Living Blog - […] Football Brownies […]
Double Chocolate Brownie Cookies - Alisons Pantry Delicious Living Blog - […] season may be over, but that doesn't mean you can't enjoy these adorable Football Brownies […]