Garlic Bread Crusted Salmon
How do I store my Crusted Salmon?
To best store your crusted salmon, either wrap it tightly with foil or store in an airtight container. Your salmon will last for 3 to 4 days in the fridge, and 2 to 3 months in the freezer. If you freeze it, just thaw the salmon before warming up. Do not leave your salmon at room temperature for more than 2 hours. If it is left our longer than that, throw it out.
Is this recipe Gluten Free?
Without any changes, this recipe is not gluten free. But, thankfully, the only substitution you will need to make is swapping out the Panko bread crumbs for a gluten free alternative. Everything else is gluten free!
Looking for more Seafood Favorites?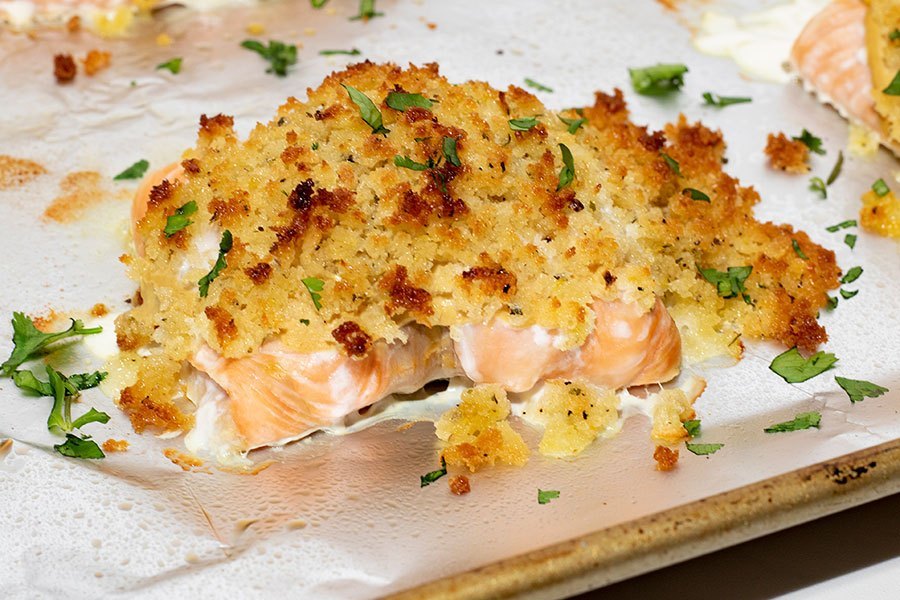 An easy and impressive meal, this Garlic Bread Crusted Salmon will become a family favorite.
Garlic Bread Crusted Salmon
Ingredients:
Instructions
Preheat oven to 425° F.
In a small mixing bowl, combine panko breadcrumbs, lemon zest, and a pinch of salt and pepper. Add melted Garlic Butter and stir until the breadcrumbs are evenly coated..
Lay the salmon filets on a greased baking sheet. Spread a teaspoon of dijon mustard on each piece of salmon. Divide bread crumbs evenly between the filets and gently press down to adhere to the fish.
Bake at 425° F for 5-8 minutes, or until cooked to your liking.
Serve.
Adapted from: https://chefshamy.com/recipes/garlic-bread-crusted-salmon/
Comments