Rainbow Pancakes
Tips for Rainbow Pancakes
Have your dishes out and ready to go. Since this will require a few bowls for dying the batter, it's helpful to have everything out so you aren't scrambling in the middle of the process. It also helps to have your little kitchen helpers assisting!
Make all of one color at once. Rather than cooking different colors on your griddle at once, try doing one color at a time. All the pinks, the orange, then yellow, etc. Once you have one color done, simply place in a warm oven until you're ready to serve.
Wipe your pan between batches. This is a great practice when making pancakes, especially if you're using butter because the butter eventually will burn on your pan. Plus, with these rainbow pancakes, this eliminates any chance of colors bleeding together.
How should I store my Rainbow Pancakes?
If you don't finish all your Rainbow Pancakes the day you prepare them, simply place in the fridge and eat within 3-5 days. We suggest stacking with a layer of wax or parchment paper (#1153) between, so they don't stick together. In addition, you can keep your pancakes in the freezer for up to two months if you don't plan on eating within the 5 days.
Lucky Toppings for Rainbow Pancakes
Ice Cream
Caramel Sauce
Berry Syrup
Sprinkles
Looking for more kid friendly breakfast ideas?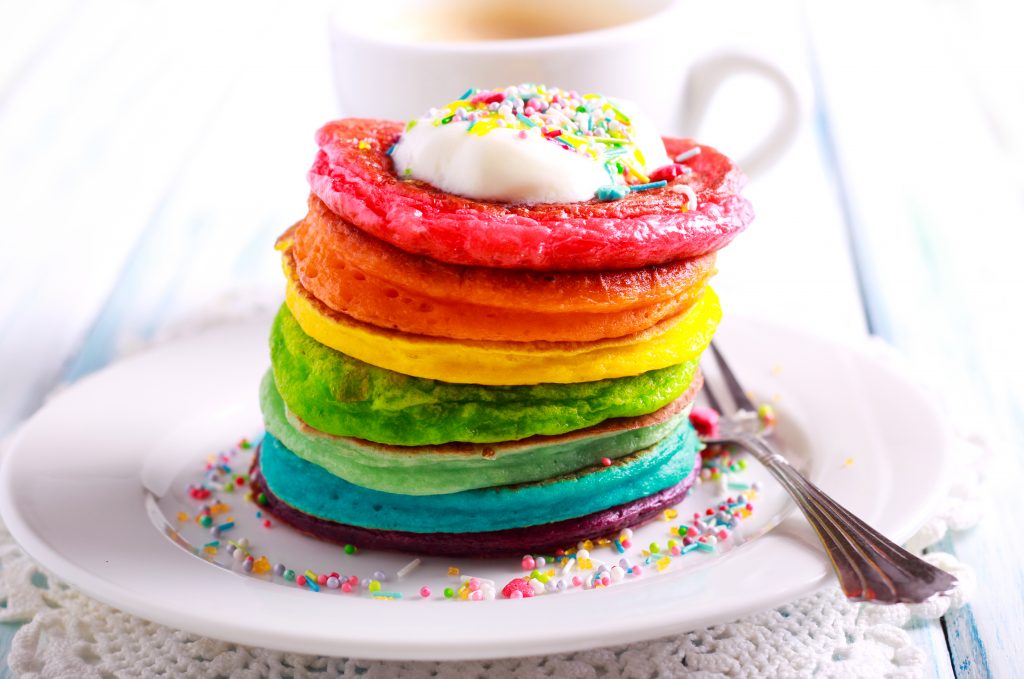 Rainbow Pancakes are the perfect Spring breakfast for your littles. And with our pancake mixes, it'll be easier than ever to prepare!
Rainbow Pancakes
Ingredients:
2½ cups water
Food coloring
Sprinkles (optional)
Instructions:
To measure mix, spoon lightly into a measuring cup intended for dry ingredients. Level with the flat edge of a knife.
Add mix to *water, blending with a wire whisk.
Then, split pancake batter into 7 bowls. Add *food coloring to each bowl to get the perfect rainbow color.
Pour batter onto lightly greased, preheated (365°-375°F) griddle.
Cook pancakes 1-1¼ minutes per side. Turn only once.
Yield: approx. 24-4″ or 16-5″ pancakes. Yield per bag: 115-4″ or 76-5″ pancakes.
Recipe notes:
* For light, fluffy pancakes, avoid over-mixing. For thinner pancakes, add more water.
*We like to make the batter Pink, Orange, Yellow, Green, Blue, and Purple- but you can do any colors you want.
Comments