Tilapia and Asparagus en Papillote
What is en Papillotes cooking?
Although it isn't something most people hear every day, we've come to love this method of cooking! En papillote means "in Parchment" in French. Pretty fancy, right? It might sound that way, but it's actually a very simple cooking method to master. Basically, you just steam small portions of food in the oven using a parchment packet. The idea is similar to tinfoil dinners (we love these for camping!), but you bake rather than cook over a fire. In addition, the aroma from the steam when you open your parchment packets smells amaaaazing!
What seasonings can I use?
For one thing, the seasonings we have below are delish, but we're all for changing things up. A simple addition would be to add a few lemon slices to your packet before cooking. But, if you're wanting to completely change it up, try adding: 1 chopped tomato, 1 tbsp minced garlic (#1289), a few fresh basil leaves, 1 1/2 tsp capers, 4 lemon slices, and 1 cup white wine for more of a Mediterranean vibe.
What can I serve with my Tilapia and Asparagus en Papillote?
We enjoy serving this main dish with a side of rice- whether that be white rice (#1468), brown rice, or riced veggies, it's all delicious! In addition to rice, try adding some mashed potatoes. And don't forget the bread!
Looking for more easy en Papillote recipes?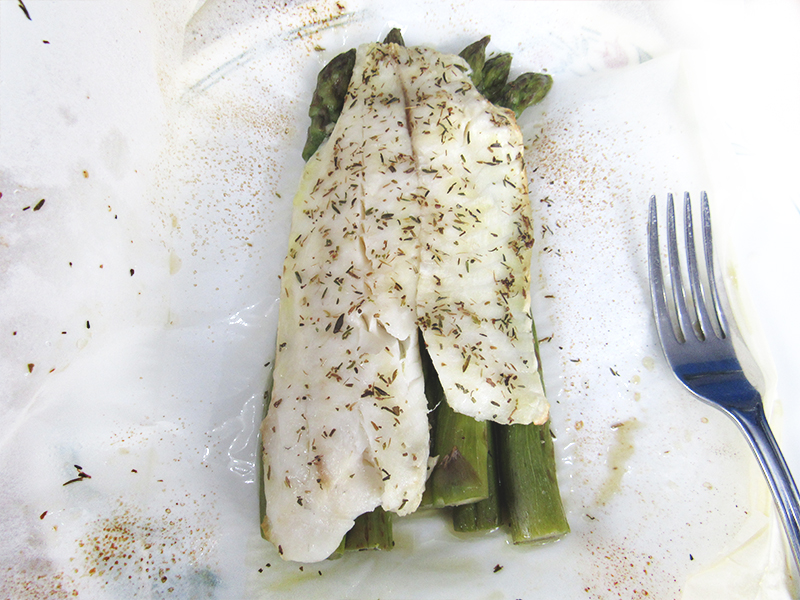 This Tilapia and Asparagus en Papillote is a quick and easy recipe that requires hardly any effort. And, it turns out delicious every time! With only three simple steps, this meal will be on your table in less than 30 minutes. Plus, the aroma will be delightful!
Tilapia and Asparagus en Papillote
Ingredients:
Instructions:
First, brush inside of parchment packets with oil. Then, place frozen asparagus and tilapia. Season as desired.
Bake in 375°F oven for 20-25 minutes until parchment puffs and starts to turn brown.
Let sit 5 minutes to rest then open and enjoy!
Comments
Ginger Mango Chicken en Papillotes - Alisons Pantry Delicious Living Blog - […] Tilapia and Asparagus en Papillote […]
Garlic Bread Crusted Salmon - Alisons Pantry Delicious Living Blog - […] Tilapia and Asparagus en Papilotte […]
May Webinar Recipes - Alisons Pantry Delicious Living Blog - […] Tilapia & Asparagus en Papillote […]
Baked Lemon Butter Tilapia - Alisons Pantry Delicious Living Blog - […] Tilapia and Asparagus en Papillote […]