Sheet Pan Salmon and Vegetables
Enjoy a no-hassle meal of baked sockeye salmon and fresh frozen veggies coated in Chef Shamy Garlic Butter W/Parmesan & Basil. This recipe is great for a busy weeknight- it's easy to prepare, and leaves you with only a couple of dishes to wash. Plus, you can easily swap out the veggies for what you have on hand, whether it be fresh garden vegetables or your favorite frozen vegetable blends.
What's to love about Chef Shamy?
Our customers are biiiig fans of Chef Shamy butters- and for good reason! One of our favorite aspects of these butters is that they only have high-quality, all-natural ingredients. They're free from rBST and MSG, so you can indulge in guilt-free cooking. Plus, we love supporting other local companies!
Looking for more sheet pan meals?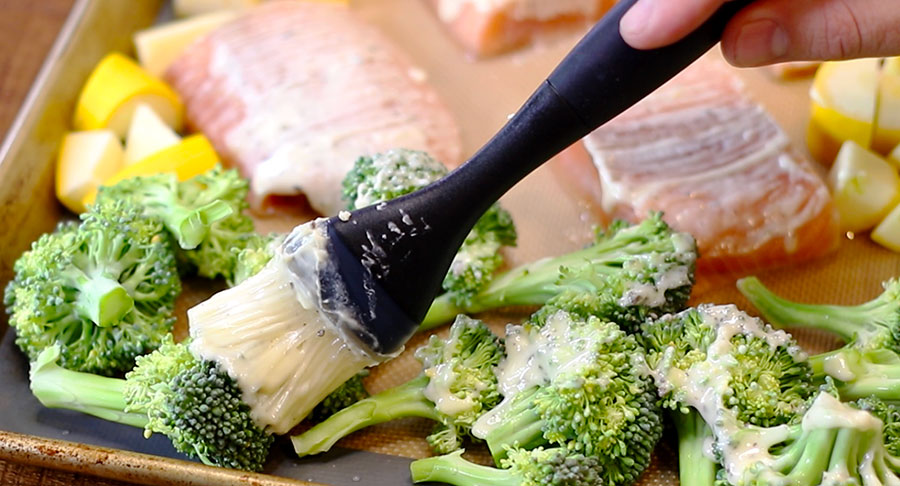 Enjoy baked sockeye salmon and veggies coated in Chef Shamy Garlic Butter W/Parmesan & Basil.
Sheet Pan Salmon and Vegetables
Ingredients:
Instructions:
First, preheat the oven to 400F. Then, line a Crestware Sheet Pan (#4020) with a Crestware Silicone Baking Mat (#8436).
Next, spread the salmon, squash, and broccoli across the baking mat in a single layer.
Now, use a basting brush to coat the salmon with half the butter, spreading the rest onto the veggies. Add salt and pepper, as needed.
Then, bake for 12-15 minutes, or until the salmon flakes easily with a fork.
Before serving, squeeze lemon juice onto the salmon. Enjoy!
Adapted from: https://chefshamy.com/recipes/sheet-pan-salmon-and-vegetables/
Comments