Marvelous 'N Chewy Macaroons
AP Marvelous 'N Chewy Macaroon Mix (#1965) are exceptional cookies that couldn't be simpler to make. All you need is the mix and water!
One of our Regional Sales Managers, Becky Price, shared, "The easiest and yummiest cookie mix you will ever use. Just add hot water, let set, then scoop and bake! My children's school secretary would call me personally to request I make a plate of them every time they had a bake sale so she could buy them! Plain or dressed up with chocolate and nuts or sprinkles, they are delicious!!"
Try these variations:
For an Easter treat, create a well in the center before baking. Once cooled, add a spoonful of Nutella (#7338). Place Robins egg candies in the center for simple Macaroon Nests.
Dip them in chocolate. Melt Ghirardelli Semi-Sweet Chocolate Chips (#1305), adding BBF Naturally Refined Organic Coconut Oil (#8287) if needed. Once the cookies are baked, dip the bottoms and allow to set before serving.
Press a Hershey's Kiss into the center before baking.
Turn into Over the Moon Macaroon Brownies.
Top with chopped AP Deluxe Mixed Nuts (#9121) or sprinkles.
Dip the bottoms in melted chocolate and drizzle Uncle Denny's Caramel Topping (#7894) on top.
For cherry lovers, press a maraschino cherry into the center before baking. If desired, drizzle with chocolate.
If you're a fan of almond joys, place a Kirkland Whole Almond (#1294) in the center of each cookie. After they are baked, dip in melted chocolate.
Add 1 Tbsp of instant coffee to the mix for a Mocha Delight.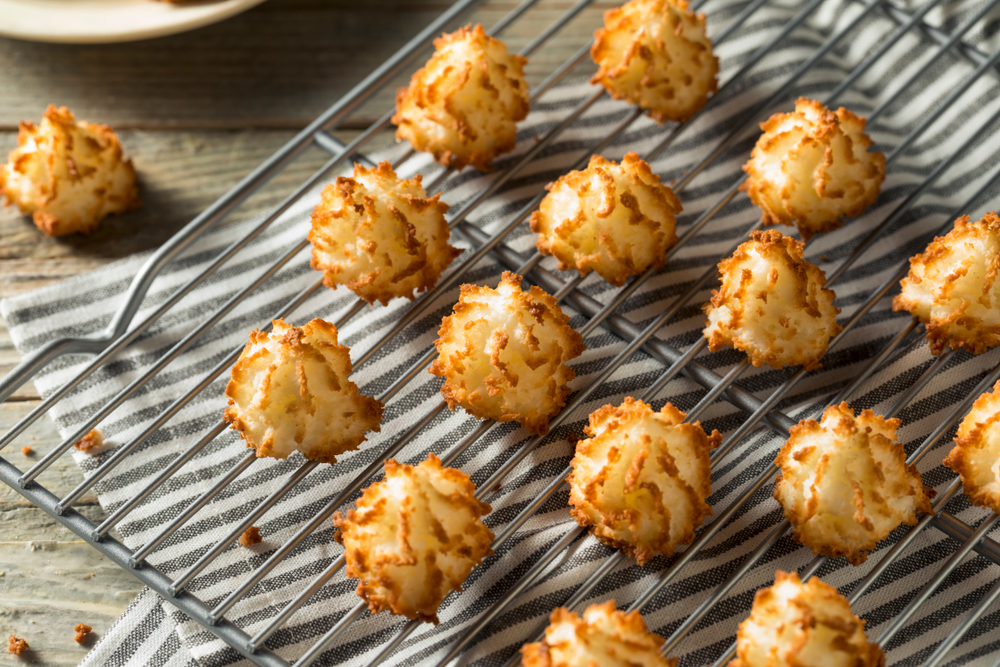 Marvelous 'N Chewy Macaroons are exceptional cookies that couldn't be simpler to make.
Marvelous 'N Chewy Macaroons
Ingredients:
Instructions:
First, add boiling water to mix and stir vigorously until thoroughly combined. For a flatter cookie, add more water. Allow to stand for 10 minutes.
Then, use a Crestware Cookie Scoop (#3838) (or a piping bag) to place dough balls onto a Crestware Cookie Sheet (#4020) lined with AP Parchment Paper (#1153). Cookies will not change shape for a crispy cookie.
Now, bake at 350° for 14-16 minutes (ball shape) or 11-13 minutes (flat shape). Transfer to a Crestware Cooling Rack (#1145) and allow to cool before serving.
Yield: Approx. 20 cookies.
Looking for more dessert ideas?
Comments