Spanish Tortilla
Spanish Tortilla (or omelette) is full of a potato and jalapeno blend, chopped sausage links, fluffy eggs, and white cheddar cheese cooked in avocado oil. You read that right, it contains no tortillas! After a quick google search, we found out that "tortilla" translates to "little cake."
An important part of this dish is the thinly sliced potatoes, which, if done right, will resemble layers in a cake. But, we've added a bit more flavor by using Simplot RoastWorks Olive Oil Redskin & Jalapeno Blend (#2838). This gluten-free blend is made up of perfectly roasted diced potatoes, with the mellow heat of jalapeño peppers and flame-roasted poblano and bell peppers. 
This National dish of Spain is typically served cold or room temperature, making it a great dish to add to your meal prep menu. Plus, it can be served for breakfast, lunch, or dinner.
So, what's the difference between an tortilla and frittata?
It really comes down to the ingredients. With frittatas, we like to add a variety of vegetables, while with a tortilla, the focus is primarily on eggs, potatoes, and onion. Although, we added sausage links for a little extra protein.
How long will it stay good?
Stored in an airtight container, this dish will last for up to three days in the fridge. That is, if you have any leftovers to store!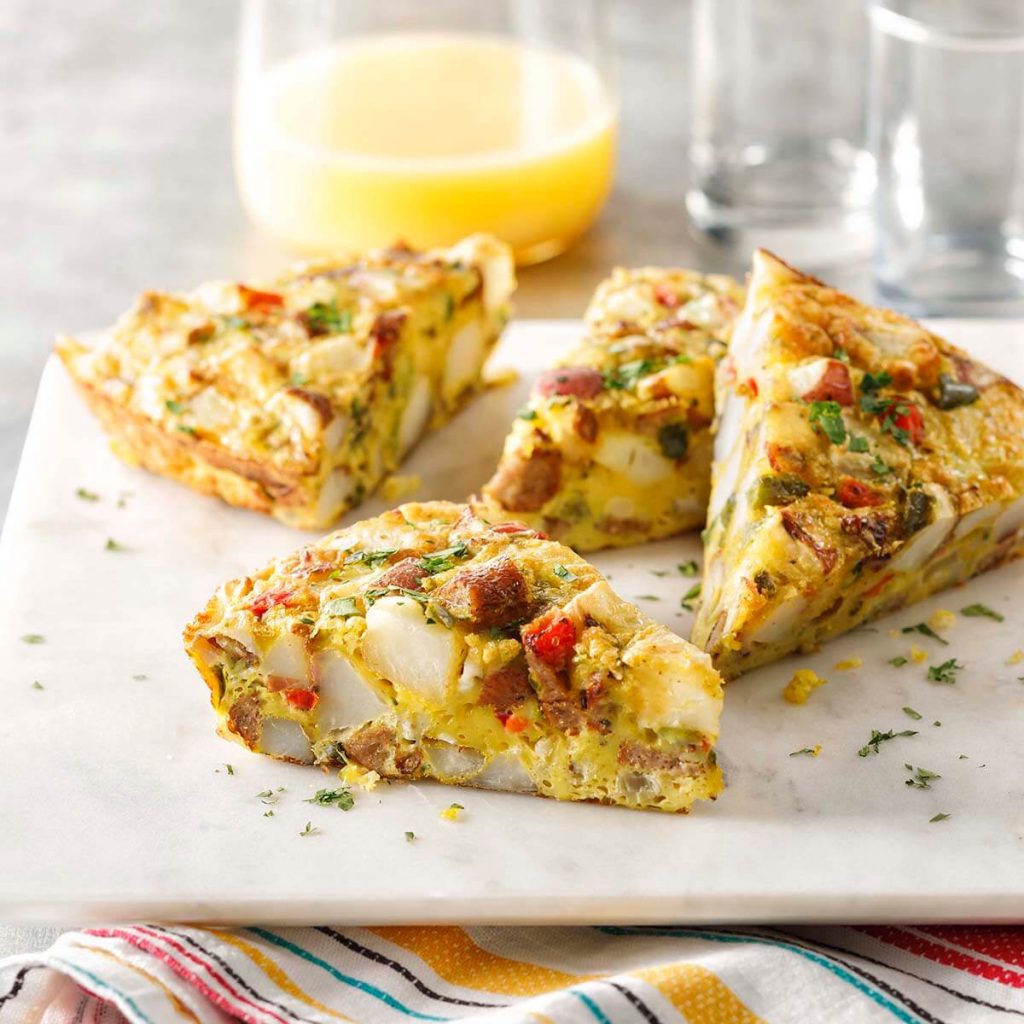 Spanish Tortilla (or omelette) is made with a potato and jalapeno blend, sausage links, eggs, and cheese cooked in oil.
Spanish Tortilla
Ingredients:
Instructions:
First, preheat oven to 350F.
Then, whisk the eggs with salt and pepper.
Now, spread the oil in a 9 in cake pan or cast iron skillet. Add the potato blend, stirring to semi coat in oil. Bake for 5-7 minutes to par-cook the potatoes. Then, add the sauce, eggs, and cheese.
Next, bake for 12-15 minutes or until the egg is set to your liking.
Before serving, allow to cool slightly. Or, refrigerate and serve cold.
Adapted from: https://simplotfoods.com/recipe/spanish-tortilla
Start your morning off with these meals
Comments