Fire-Roasted Chicken Chili
With no prep work required, this Fire-Roasted Chicken Chili is great for those nights you don't feel like cooking. Simply throw together Pierce Fajita Style Chicken Strips, diced tomatoes, black beans, corn & jalapeno blend, and fajita seasoning and simmer. It is so easy! Plus, the fajita seasoning really brings new life to chile. We love trying new recipes this time of year, and this was a hit. Serve with a slice of Krusteaz Professional Homestyle Cornbread (#2130), and you're ready to go.
Quick Corn Bread
Ingredients:
Instructions:
Place liquid in mixer bowl; add mix. Using a paddle, mix on low speed 1 minute.
Scrape bowl and paddle. Change to medium speed and mix for 1 minute.
Scale batter into greased or paper-lined pans.
Cook it in the Crock Pot!
As if this dinner wasn't easy enough already…we cooked it in our crock pot! First, sautee the onion and garlic. Then, line your crock pot with a PanSaver Slow Cooker Liners (#1089). Use Main St. Meats Chicken Breast Strips (#2609) instead so it doesn't get overcooked, or cut down on the cook time. Then, add all ingredients to the pot, cover, and cook on high for 3 hours or low for 5-6 hours, making sure the chicken is cooked through.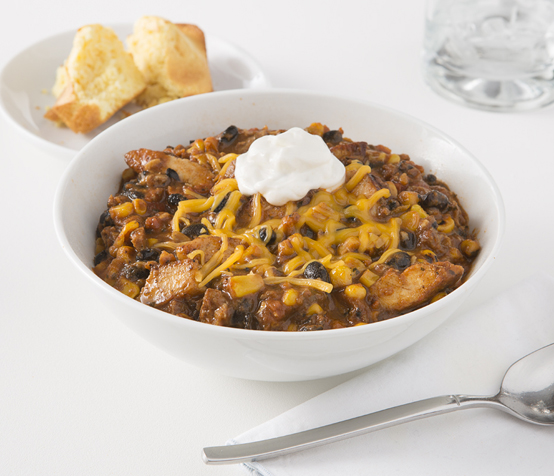 This Fire Roasted Chicken Chili is so easy- there's no prep work required with our Simplot veggie blends, chicken strips, & fajita seasoning.
Fire-Roasted Chicken Chili
Yields: 6 servings
Ingredients:
Instructions:
First, saute the onion in a pot until almost tender. Then, add the garlic and cook until fragrant.
Now, add the chicken stock, sizzle strips, tomatoes, black beans, corn & jalapeno blend, fajita seasoning, and cilantro.
Let simmer for 1 hour over medium-low heat.
Then, garnish with cheese and sour cream.
Adapted from: http://www.poultry.com/menu-concepts/fire-roasted-chicken-chili/
Calling all chili fans!
Comments
Crockpot Turkey Chili - Alisons Pantry Delicious Living Blog - […] Pot Meatball Soup Fire-Roasted Chicken Chili French Onion Pierogy Soup SharePinTweet0 Shares 0Shares Share on Facebook […]