Steakhouse Baked Eggs
A simple way to make a fun breakfast! These Steakhouse Eggs are baked in ramekin dishes with cream and Chef Shamy Steakhouse Butter. The butter adds a rich flavor with a hint of red pepper heat, so you don't need to add any spices! Keep it simple and just add chives, or customize the toppings.
Choose from:
Complete the meal with sides!
No breakfast is complete without a few choices of sides. Add some fresh fruit to your spread, or Stone Ground Bakery Rustic Pullman Bread (#1612), Daily's Hardwood Smoked Honey cured Thick Cut Bacon (#8463), or Quincy Gold Loose Shredded Hashbrowns (#2418). And, cozy up on a cold fall morning with a mug of Stephen's Hot Cocoa or Chai.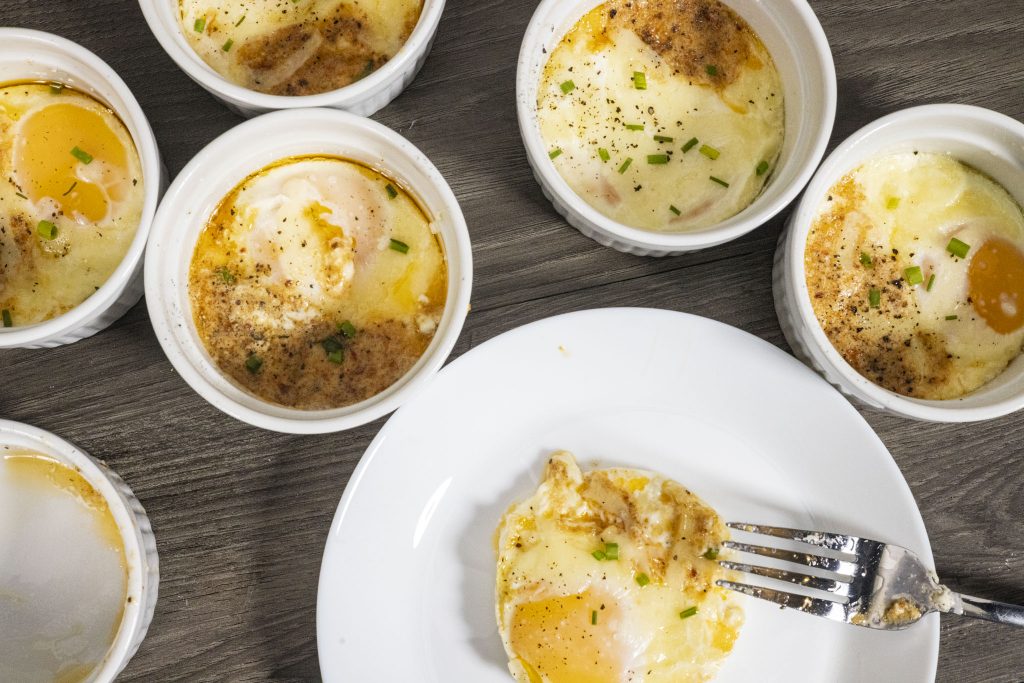 Eggs baked in cream and Chef Shamy Steakhouse Butter for a rich flavor with a hint of red pepper heat.
Steakhouse Baked Eggs
Ingredients:
6 eggs
3 Tbsp cream
1/4 cup gruyere cheese, shredded
Chives, for garnish
Instructions:
First, preheat oven to 375F.
Then, divide the butter between 6 ramekin dishes. Crack an egg into each, followed by 1/2 Tbsp cream and gruyere cheese.
Place each ramekin in a baking dish, adding a few cups of water.
Now, bake for 7-12 minutes, or until the egg is cooked to your liking.
Carefully remove from baking dish, garnish with chives, and enjoy!
Adapted from: https://chefshamy.com/recipes/steakhouse-baked-eggs/
Try these recipes for breakfast!
Comments
Spanish Tortilla - Alisons Pantry Delicious Living Blog - […] Steakhouse Baked Eggs Huevos Rancheros Breakfast Bowls Mom's Brunch Casserole SharePinTweet0 Shares 0Shares Share on Facebook Share on Twitter…