Spiffed Up Frozen Fries
Spiffed Up Frozen Fries
Transform bland fries into something gourmet with a few easy steps. We're sharing some easy ways to spiff up frozen french fries. After you try these ideas, you'll never want restaurant fries again! You can use these tips on any of the frozen french fries we offer. Choose from:
Add your own seasoning:
Before adding seasoning to your frozen fries, toss them in BBF Avocado Oil (#3516). This will ensure the spices stick, while also helping crisp up the outsides.
Shop all bulk spices here.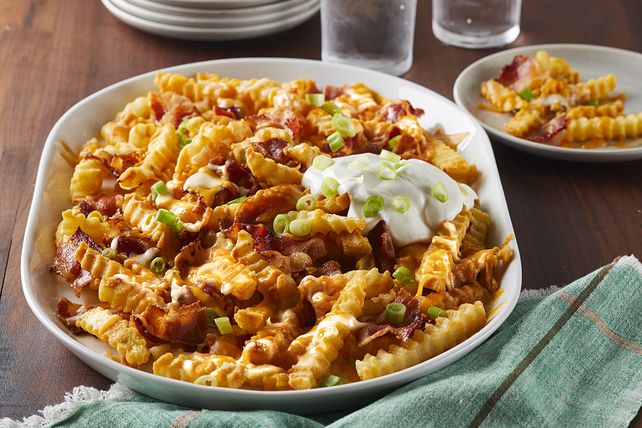 Load up the toppings!
Fries and ketchup bring us back to childhood memories, but loading them up with toppings opens a whole new world. Man, have we been missing out!
Try different cooking methods:
Our favorite method for perfect fries is to use an Air Fryer- they turn out crispy every time, with less oil and less mess. Preheat to 400F. Add oil coated fries to the basket, and cook for 20-25 minutes, flipping halfway.
Another easy cooking method is to throw them in the oven. Line a Crestware Baking Sheet (#4020) with a Crestware Silicone Baking Mat (#8436). Add fries in a single layer, and bake at 425F for 10-15 minutes, or until golden and crispy. Try broiling for a minute or two to get the fries real crispy.
Of course, deep frying is a great method to get restaraunt quality fries, but we don't love the mess. Heat oil in a deep fryer to 350F. Add fries to the basket and cook for 3-3 1/2 minutes. Drain excess oil, and toss in seasonings as desired.
Comments
Everything you Need for a Killer BBQ - Alisons Pantry Delicious Living Blog - […] Pulled Pork Sandwiches Spiffed Up Frozen Fries Tips for the Best Hambuger […]