Star-Shaped Berry Hand Pies
Dress up your holiday dessert table with these gorgeous star-shaped berry hand pies. There's nothing better than the delicious flavor of juicy berries wrapped in buttery pastry and drizzled with sweet white chocolate. However, if there was, it'd be how easy these pretty treats are to put together. They look impressive, but star-shaped berry hand pies are a simple way to guarantee smiles!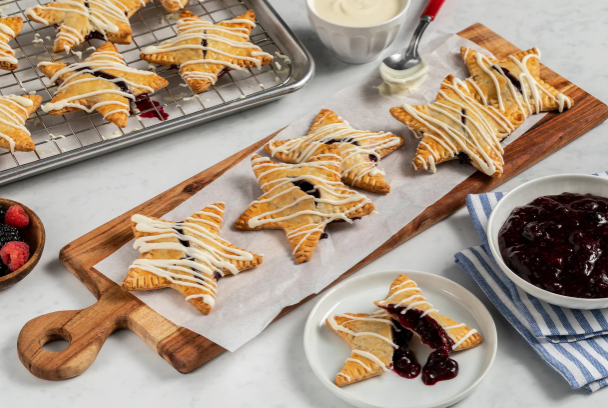 Star-Shaped Berry Hand Pies
Ingredients:
Instructions:
In a medium saucepan, bring the berries, sugar, lemon juice and salt to a boil over medium heat.
Reduce to a simmer, and cook for 5-10 minutes, or until berries break down and are juicy.
Gradually add the cornstarch while stirring constantly. Cook for 3-5 minutes, or until the mixture is thickened. Remove from heat and allow to cool to room temperature.
Preheat oven to 400°F.
Line a baking sheet with parchment paper. Roll out the pie dough.
Using a 3-inch or 4-inch star-shaped cookie cutter, cut dough into stars.
Spoon 2 teaspoons of pie filling onto the centers of half the stars. Top with the remaining stars. Using a fork, crimp the edges of the hand pies to seal. Transfer to prepared baking sheet.
Whisk together egg and water and brush over each hand pie. Using a knife, cut a small slit in every hand pie to allow steam t escape during baking.
Bake for 12-15 minutes, or until lightly golden-brown. Allow to cool for 15 minutes.
In a small microwave safe bowl, microwave the chocolate for 30 seconds and mix. Continue to microwave for 12-second intervals until melted and smooth.
Drizzle over cooled hand pies.
Try Wyman's Triple Berry Mix in these recipes!
Comments