Take Frozen Rolls from Basic to Gourmet with these Tips
Our Janey Lou's Beehive Roll Dough (#8925) and Bridgford Parkerhouse Roll Dough make beautiful, fluffy rolls just like the ones your mom made for special family dinners. The dough portions come frozen, so you just have to thaw, proof, and bake for heavenly homemade flavor. You can also customize them with sweet or savory variations in minutes. Check out these easy ways to upgrade your frozen roll dough!
Easy tricks with frozen roll dough:
There are so many creative ideas out there on how to use frozen roll dough! We're excited to try them out, including this great list from Taste of Home with 36 Genius Recipes That Start With Frozen Bread Dough.
Garlic Parmesan Pull Apart Bread using homemade garlic butter (Kirkland Butter (#1723) and Garlic Supreme (#2592)) + Kraft Parmesan Cheese (#1683).
Everything Bagel Rolls using an egg wash + sprinkling with Everything Bagel Seasoning (#1826).
Try our recipes for Monkey Bread or Pumpkin Monkey Bread.
Teesha's Cheesy Beehive Rolls
A family favorite of ours is to stuff Janey Lou's Beehive Rolls (#8925) with cheese. I use half a Frigo String Cheese (#4972) and dip in Kirkland Butter (#1723) and Garlic Supreme (#2592). Yummy.
When the roll is about half raised or a bit less I put my finger through it so I can slide the cheese in, then I pinch it so the cheese doesn't melt out when baked. Then I dip the top of the roll in butter and I use the Garlic Supreme Seasoning we have (love it love garlic lol) to sprinkle over the top. Then put on the pan and let rise the rest of the way and bake as directed. I use 1/2 cheese stick per roll but you could do 1/3? It just depends on how much cheese you like.
Recipe from Teesha Gonzalez, AP Rep in Vernal, UT.
You can also give the Beehive Rolls a sweet glaze. For a more traditional sweet roll look, cut the Beehive Rolls in half, and bake them in a greased muffin tin with the cut side down, and then ice with an orange or raspberry glaze for sweet dinner rolls. When we're in a hurry, we proof and bake as usual and just glaze the whole pan of rolls (as shown above).
Kim's Orange Glazed Beehive Rolls
Ingredients:
Instructions:
First, prepare the rolls. Remove 12 rolls from freezer and place in 3×4 configuration in a deep baking pan. Cover with plastic and place in refrigerator overnight a minimum of 6 hours. Remove from fridge and place on counter for 3 hours* or until rolls double in size. Place rolls in 350° F** oven bake for 15-17 minutes, or until brown.
Meanwhile, make the glaze by mixing together powdered sugar, orange juice, and a little milk until it reaches the consistency you want.
Once the rolls are slightly cooled, drizzle the glaze overtop. Serve warm.
Recipe from Kim Henke, AP Marketing Manager.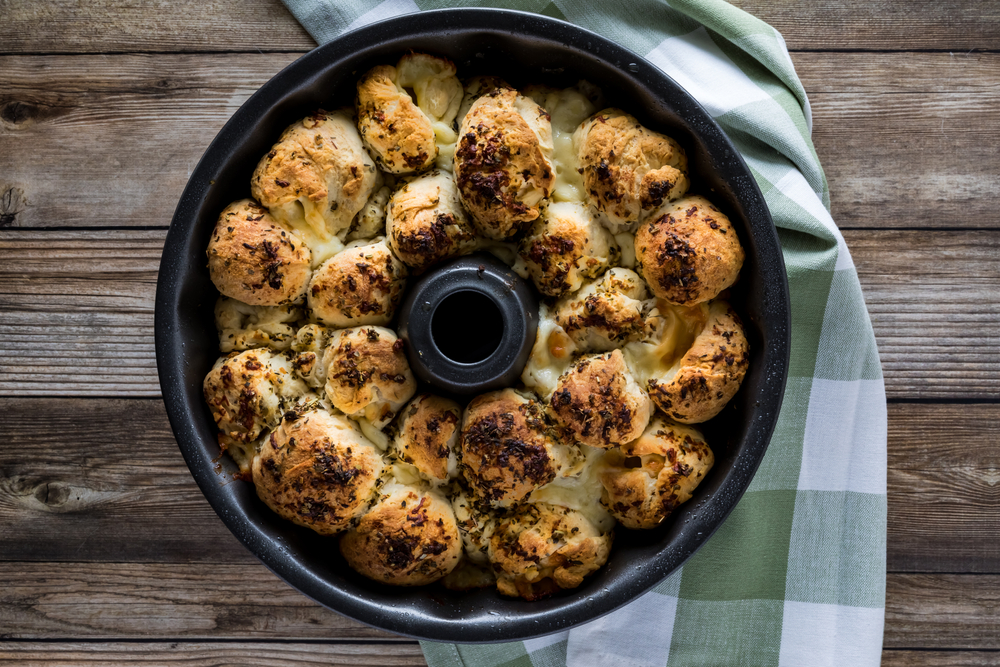 For a new side with dinner, try this savory version of Monkey Bread using Bridgford Parker House Style Rolls (#1136) and Frigo String Cheese (#4972).
Cheesy Monkey Bread
Ingredients:
Instructions:
First, grease your bundt pan with butter. Then, sprinkle Parmesan cheese into the pan (this will be the top on your monkey bread).
Next, cut the rolls into fourths.
Mix the melted butter with Garlic Supreme and Italian 'n Pizza Seasoning in a small bowl. Coat each piece of roll in the mixture. (Depending on how much you use per roll, you may need more of the mixture).
Once coated, place the roll pieces into a greased bundt pan, alternating with pieces of the string cheese.
Now, allow the rolls to raise until doubled in size.
Place in the oven and bake at 350F for 35-40 minutes, or until golden brown.
Comments