12 Tips and Tricks to Make Using your Instant Pot a Cinch
So, I have a confession to make; when I first got my instant pot I was scared of it! What if I pushed the wrong button? Or I couldn't figure out the lid? What if it exploded? Thankfully, it took only a few tries and I fell in love! Instant Pot meals are fast, easy and delicious. And less clean up – only one pot. Check out a few of my favorite tips so you can fall in love with your Instant Pot too.
12 Tips and Tricks to Make Using your Instant Pot a Cinch
Frozen meat doesn't have to be defrosted first!  Just throw it in your Instant Pot frozen.  You will need to double the cook time if it's a frozen solid block of meat.
You can turn slow cooker meals into Instant Pot meals.  As a general rule: if the meat dish cooks in eight hours on low or four hours on high in the slow cooker, it will cook in 25-30 minutes in the Instant Pot. Also, make sure to add at least a ½ cup of liquid to the Instant Pot.
It's important to have at least 1 cup of water, broth, or other liquid in your Instant Pot meals. Pressure cooking relies on steam, and if you don't have enough moisture in your meal it won't be cooked correctly or will burn.
Cooking in your Instant Pot isn't instant.  It takes longer to cook in your instant pot than you think. You see, many recipes state the amount of time that it takes for the recipe to cook when at pressure, however, they choose to omit that it takes time for the Instant Pot to get to pressure, as well as to release the pressure. 
To save time start in sauté mode.  Turn your Instant Pot to sauté mode for a few minutes to help bring the Instant Pot to pressure faster.  This is a great idea if you are browning meat or sautéing vegetables for a dish. 
Spray your Instant Pot with Vegelene before you begin cooking. It will be easier to clean when you are done because the food won't stick.
Milk and high heat don't go together. If your recipe calls for dairy products, add them after your meal is cooked and the appliance is depressurized.
Keep it away from cupboards. The steam can ruin your cabinets – so it's best to use it somewhere else.
Never fill your Instant Pot more than halfway full. If a pressure cooker contains too much liquid, the hot liquid can spray out of the pressure release valve, causing severe burns. Just pay attention to the maximum fill line on the inside.
The thickness of the meat matters. If your meat is thicker than 2" cut it beforehand so that it cooks in the time the recipe specifies.
Quick release: This is done by turning the venting knob and takes about 1 to 2 minutes to release.
Natural release: This is when you leave the venting knob alone and let the machine naturally allow for the pressure drop slowly over a span of 15 minutes or so — you'll know it's done when the pin (next to the venting knob) drops.
Easy Instant Pot Recipes
First, Instant Pot Sloppy Joes are delicious and budget friendly. This recipe is done in less than half an hour.
Second, we really love Homemade Mac and Cheese, but sometimes it can be a process to make. But, this Instant Pot Mac and Cheese doesn't have to spend all day in a slow cooker. In fact, it only cooks for 5 minutes + the time for quick release. Yes, please!
Third, our Instant Pot Roast and Potatoes are perfect for a busy Sunday meal. Your taste buds will thank you for this one!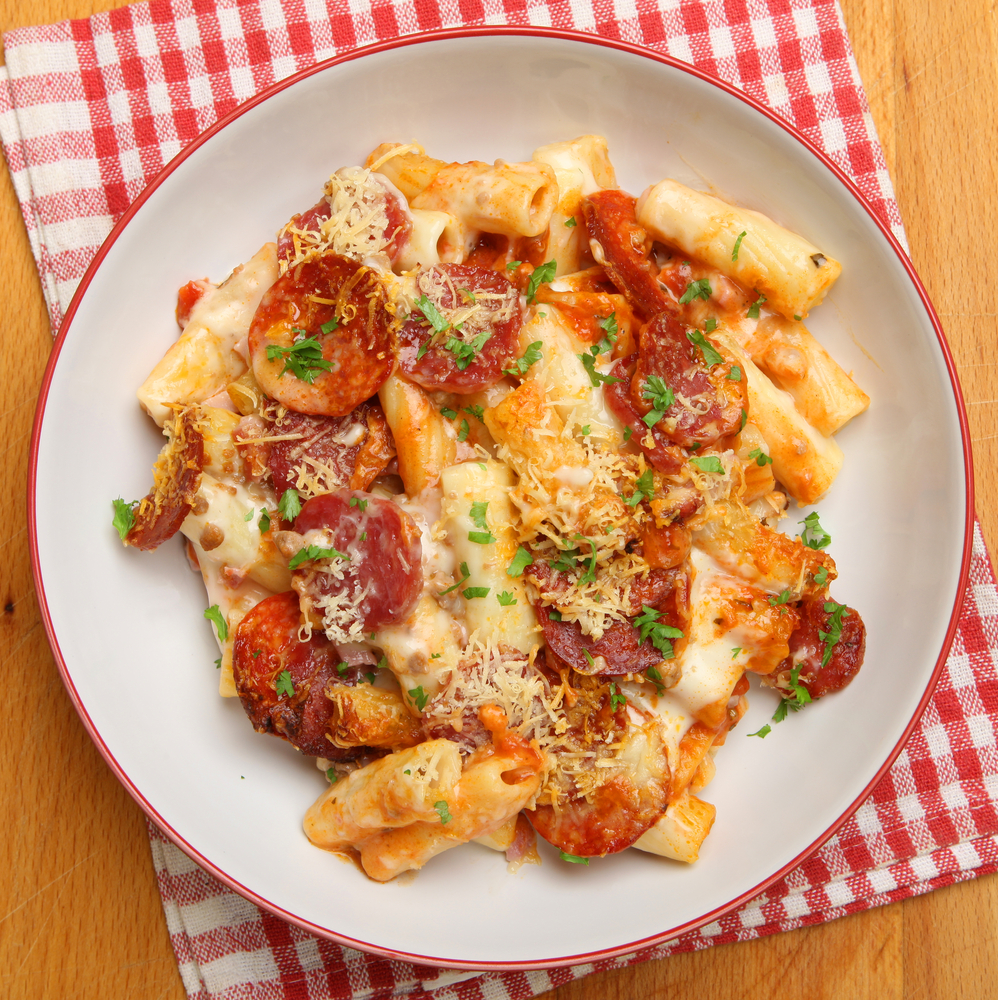 Not only does Instant Pot Pizza Pasta use one dish, but it is also delicious, hearty, and you can adapt with your favorite pizza toppings. Holy yum!
Instant Pot Pizza Pasta
Serves: 6
Ingredients:
Instructions:
First, set the Instant Pot on "sauté". Melt the butter, add the garlic and Italian seasoning and sausage. Sauté until the sausage is no longer pink.
Add both spaghetti sauce and pizza sauce to the sausage mixture. Next add in pasta. Add the water. Then, give a stir and put on the lid, and be sure to set the toggle switch to "seal". Set on Manual for 5 minutes.
Next, do a Quick Release and open the lid after the silver pin has dropped.
Then, add HALF the cheese and HALF the pepperoni – mix it into the pasta/meat mixture Sprinkle the remaining cheese and pepperoni over the top of the mixture.
Replace the lid and let the cheese melt and the pepperoni warm through.
Adapted from <https://www.familyfreshmeals.com/2017/05/instant-pot-pizza-pasta-recipe.html>
Comments
Instant Pot Spaghetti - Alisons Pantry Delicious Living Blog - […] Instant Pot Pizza Pasta […]
Naan Pizza 2 Ways - Alisons Pantry Delicious Living Blog - […] Instant Pot Pizza Pasta […]