Naan Pizza 2 Ways
Naan is a hand-stretched flatbread made with buttermilk and ghee (clarified butter). You can save with our bulk case, and use for personal pizzas, tacos, dipping in hummus or oil blends, etc. We love using Naan for individual-sized pizzas for easy pizza dinners in under 15 minutes, without having to prepare a dough. This is even easier than using our amazing Rizzuto Pizza Dough Balls (#1079)!
How else can I top Naan Pizza?
The possibilities are endless! Just like any other pizza crust, you can top with whatever your tastebuds are feelin'. Here are a couple of our favorites with Naan Bread:
BBQ Chicken. Use your favorite BBQ sauce, then top with mozzarella cheese, Pierce's Diced Chicken Breast Pieces (#7787), Crumbled Daily's Precooked Bacon (#4835), Italian 'N Pizza Seasoning (#1432), and red pepper flakes.
Hawaiian Style. Top your naan with pizza sauce, mozzarella cheese, sliced Hormel Canadian Bacon (#1741), thawed Flav-R-Pac Pineapple Cubes (#8277), Italian 'N Pizza Seasoning (#1432), and Kraft Parmesan Cheese (#1683).
If you like pizza, try these: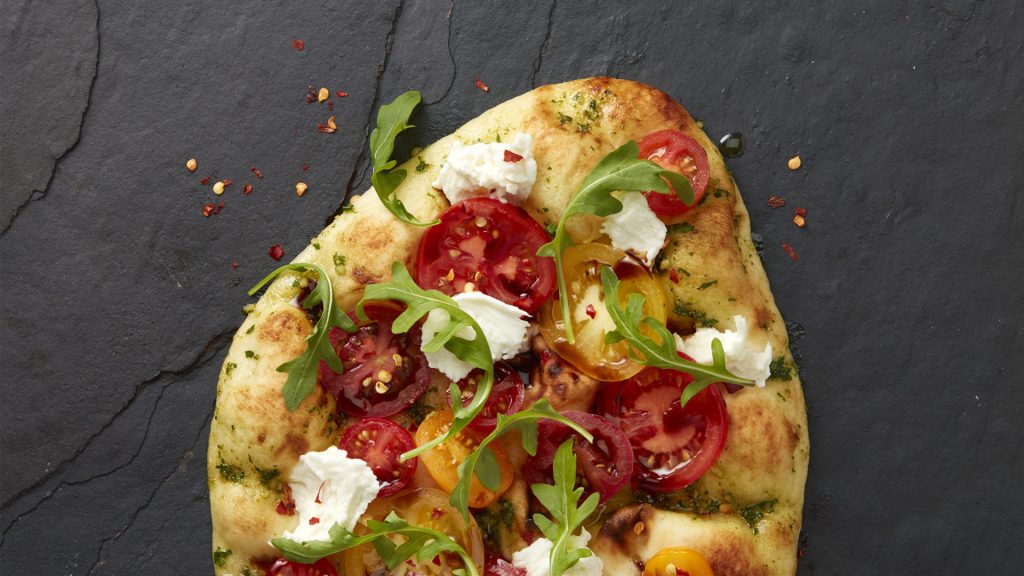 This simple pizza is bursting with color and flavor with its white mozzarella, red tomatoes, and green basil complete with a simple balsamic glaze.
Naan Caprese Pizza
Ingredients:
Instructions:
Preheat oven to 400°F.
Spread avocado oil evenly over the 2 Naan – bubble side up. Then, place on a cookie sheet (#4020) and heat for 1-2 minutes or until the bread is warm.
Next, remove from oven and top each warmed Naan with the sliced tomatoes and mozzarella cheese. Then, top with the arugula, chili flakes, and salt and pepper. Last, drizzle with the *balsamic glaze and serve.
*To make a simple balsamic glaze, pour double the desired amount of vinegar into a saucepan, bring to a boil, then reduce heat to low. Let simmer until the glaze is reduced by half. You can add a bit of brown sugar, if desired.
Adapted from: https://www.stonefire.com/recipes/caprese-naan-pizza/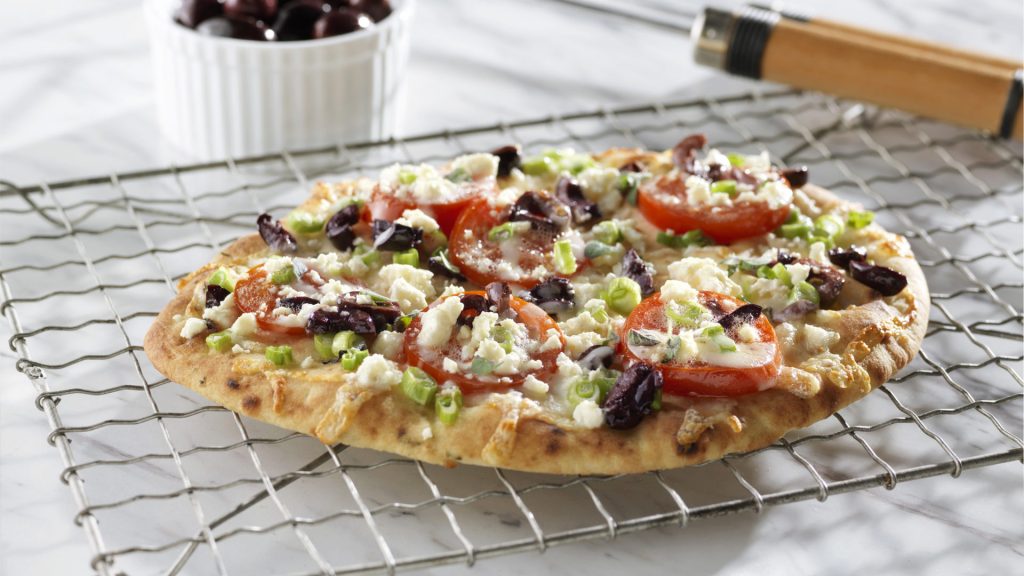 Although the grilling season is almost over, there's still time to enjoy this fresh, tangy Greek-Style Grilled Naan Pizza.
Greek Style Grilled Naan Pizza
Ingredients:
2 pieces Stonefire Naan Bread (#1686)
1 tsp fresh Oregano chopped
3 green onions, thinly sliced
2 tomatoes thinly sliced
1 cup shredded mozzarella cheese
½ cup feta cheese, crumbled
16 Kalamata olives, pitted and cut in half
4 Tbsp olive oil or Avocado Oil (#3516)
1 Tbsp fresh basil chopped
Instructions:
Preheat grill to Medium high heat.
In a small bowl, mix oil and oregano together. Then, brush the mixture on both pieces of Naan. Set aside.
Then, add basil, onions and tomatoes to remaining oil mixture in bowl and toss. Next, cover and let tomato mixture stand at room temperature for about 30 minutes to blend flavors.
Top the Naan with the tomato mixture, feta and mozzarella cheeses and olives.
Place on grill and cook for 5-7 minutes, or until the cheese has slightly started to soften. Rotate the Naan 2-3 times during cooking to get an evenly browned bottom. Cook until the cheese has slightly started to soften.
Remove from grill and serve.
Adapted from: https://www.stonefire.com/recipes/greek-style-grilled-naan-pizza/
Comments
Buffalo Tofu Tenders - Alisons Pantry Delicious Living Blog - […] Naan Pizza 2 Ways […]