2 Ways to Enjoy S'mores
Although summer is coming to an end, we have found some incredible ways to still enjoy this summer-favorite without needing a campfire. You'll be asking for s'more of these delicious S'mores Cookie treats year-round.
How to build the perfect s'more
If you're craving a traditional s'more instead of these fun variations, we have some tips on how to build the PERFECT s'more. Don't forget to add our Camp Chef Extendable Roasting Sticks (#7340) for your next backyard bonfire.
Roast your mallow to perfection- we like ours to be barely golden brown, while others enjoy a more torched mallow. The beauty of our roasting sticks is that everyone can roast how they like!
Choose a good brand of chocolate. Typically, we make our s'mores with Hershey's Chocolate Bars, but any good quality chocolate bar will do just fine. We have found that if you let the chocolate sit out (near the fire, oven, stovetop, etc.) so it gets a little bit soft, it's more enjoyable to bite through. Who doesn't love some melty chocolate?!
We all love using the Classic Graham Crackers, but we have found that using chocolate-covered crackers is actually quite delicious. Plus, this can reduce the ingredients needed for this treat. If you're a chocolate lover, you may still want a chocolate bar in addition to the crackers, but we have found the cracker is enough to satisfy our taste buds.
More fun dessert ideas: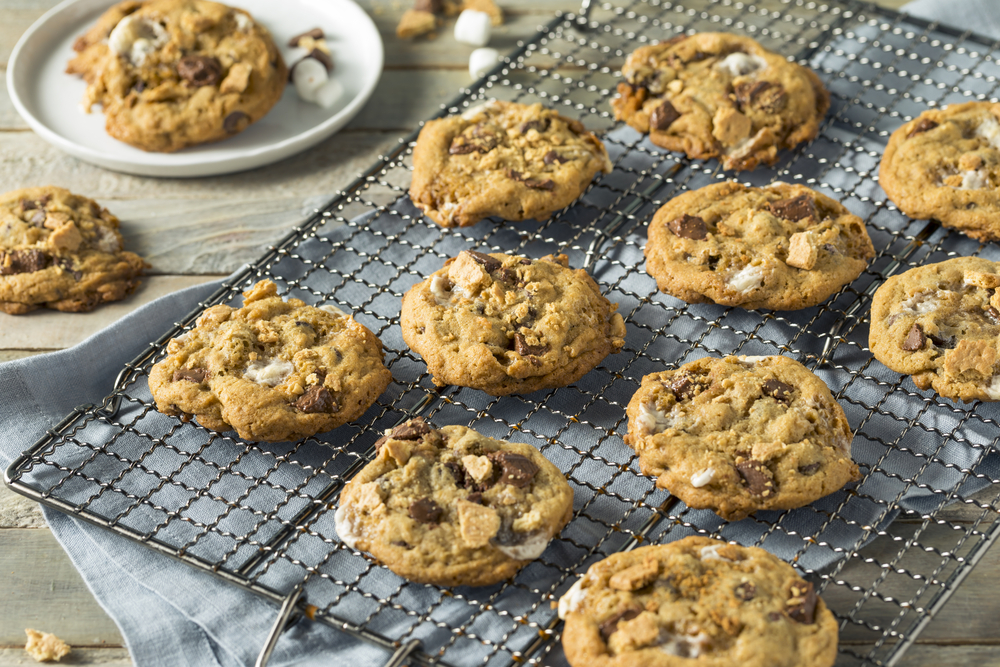 These S'mores Cookies are a simple, less gooey way to enjoy our favorite summer backyard treat.
S'Mores Cookies
Ingredients:
Instructions:
Preheat the oven to 375F. Then, like a baking sheet (#5957) with a silicone baking mat (#8436) or parchment paper (#1153).
Whisk together the flour, powdered graham crackers, baking soda, and salt in a bowl (#7756).
Cream together the butter and sugars until light and fluffy, about 3 minutes. Then, add the vanilla and beat an additional 30 seconds. Scrape down the sides of the bowl with a rubber scraper.
Next, beat in the eggs, then turn down to a slower speed. Slowly add the flour mixture until thoroughly combined, without overmixing.
Carefully fold in the mallows, chocolate chips, and chopped graham crackers. (Reserve about 1/2 cup of the crackers to top the dough)
Using a scoop (#3838), place the dough balls 2-3 inches apart on the prepared cookie sheet. Press reserved graham crackers onto the dough balls, if desired.
Bake for about 9-11 minutes, or until the start to turn golden brown while still being slightly gooey in the middle.
Remove the cookies from the oven and allow to cool on the cookie sheet before transferring them to a cooling rack (#1145).
Adapted from: http://www.bakingwithblondie.com/?s=s%27mores+cookies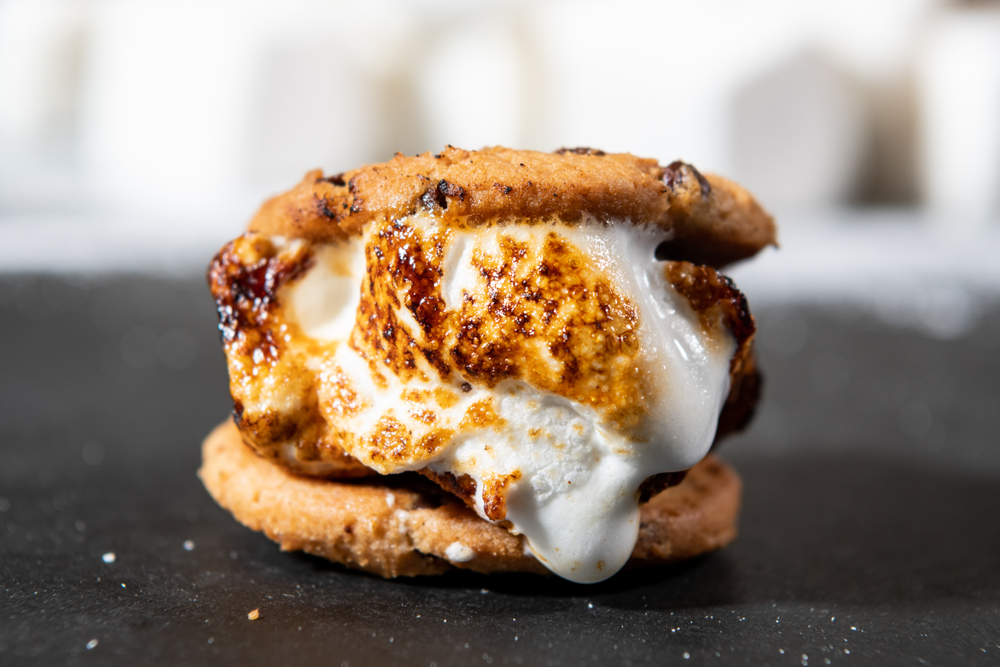 Think ice cream sandwich full of mallow- you'll be wanting s'more of that! Enjoy the delicious flavors of a favorite treat without having to go outside or smell like smoke.
S'mores Cookie Sandwich
Ingredients:
4 jumbo marshmallows
Graham crackers, optional
Instructions:
For the cookies, preheat oven to 350°F. Line a baking sheet (#5957) with a silicone baking mat (#8436) or parchment paper (#1153) Then, place the cookie dough pucks on the prepared cookie sheet and bake 10-12 minutes. Baking times may vary depending on oven. Remove from oven; allow to cool for 3 minutes before removing from pan.
While those are baking, melt the chocolate chips in the microwave for 1 minute, then stir. Continue in 15-second intervals until it is almost melted. Remove from the microwave and stir until it is completely smooth. Set aside.
Once the cookies have cooled, spread the melted chocolate on a cookie. Place graham crackers and toasted mallow on the cookies, then top with another cookie. Repeat until there are 4 sandwiches. Enjoy immediately for best taste.
Comments
Mexican Hot Chocolate Cookies - Alisons Pantry Delicious Living Blog - […] S'mores Cookies […]
2 Ways to Rethink S'mores - Alisons Pantry Delicious Living Blog - […] S'mores Cookies Homemade Marshmallows S'mores Peanut Butter Brownies SharePinTweet0 Shares 0Shares Share on Facebook Share on Twitter Tags: brownie brittle,…