Cinnamon Knots
These Cinnamon Knots are made from scratch in just half an hour, and are perfect for breakfast or dessert!
Can I adapt this recipe for different seasons?
Yes, these Cinnamon Knots can easily be adapted for a fun treat for every season, and holiday!
For Spring, add 1 1/2 cup chopped strawberries to the butter and sugar mixture.
For fall, try adding 1/2 cup of Apple Cider to the dough.
For Halloween, add 3/4 cup pumpkin puree to the dough.
For Winter, add 3/4 cup egg nog to the dough.
Can I make this recipe gluten-free?
This recipe is surprisingly easy to make gluten-free. Basically, all you have to do is swap the flour for a trusted gluten-free flour. Try using our Bob's Red Mill 1 to 1 Baking Flour.
Looking for more Brunch ideas?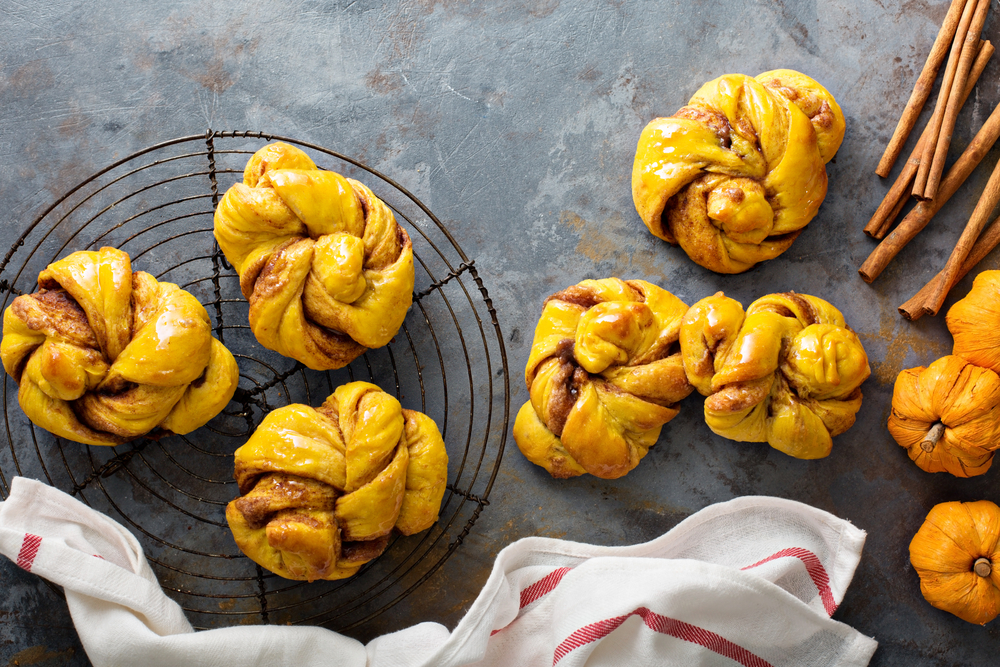 These Cinnamon Knots are made from scratch in just half an hour, and are perfect for breakfast or dessert!
Cinnamon Knots
Ingredients:
Dough
Butter and Sugar
1/4

cup

butter

, melted

1

cup

granulated sugar
Instructions:
In a small saucepan, melt butter. When butter is mostly melted, stir in milk, and heat mixture to 100-110 F.
Meanwhile, add yeast and honey to the bowl of a stand mixer fitted with a paddle attachment (or a large mixing bowl if mixing by hand).
When milk mixture is at temperature, add to yeast and honey; stir to combine. Add salt and egg, and stir until combined. Stir in 2 ½ cups of flour. Add remaining flour until dough clings to paddle and cleans the sides of the bowl.
Switch to the dough hook, and knead for 2 minutes (or by hand for about 5 minutes).
While dough it kneading, stir together granulated sugar and cinnamon in a wide, shallow dish.
Preheat oven to 400°F. Line a rimmed cookie sheet with parchment paper or a silicone baking liner. Set aside.
Divide dough into 12 pieces. Roll piece of dough into a rope 8 inches long.
Dip in butter, and then roll in cinnamon-sugar mixture.
Tie dough into knots, and place dough on prepared baking sheet. Repeat process with remaining dough.
Cover, and let the dough rest for 10 minutes.
Bake for about 9-12 minutes, or until lightly golden brown.
While the knots are baking, prepare the icing: Stir together melted butter, powdered sugar, and vanilla. Add 1 tablespoon milk, and stir in. Continue adding milk until icing reaches desired consistency. I use about 1 1/2-2 tablespoons for a thicker icing.
Remove knots from oven, and let cool for 5-10 minutes.
Drizzle icing over knots, and serve warm.
Adapted from: https://www.ihearteating.com/30-minute-cinnamon-sugar-knots/
Comments
11 Baking Tips for More Success in the Kitchen - Alisons Pantry Delicious Living Blog - […] Cinnamon Knots […]
Pumpkin Nut'n Chocolate Chip Bread - Alisons Pantry Delicious Living Blog - […] Cinnamon Knots with Pumpkin […]
Jamie's Cinnamon Chip Bread - Alisons Pantry Delicious Living Blog - […] Cinnamon Knots […]
Creative Ways to use Janey Lou's Cinnamon Rolls - Alisons Pantry Delicious Living Blog - […] Cinnamon Knots […]
Perfect Pumpkin Bread: Using Cookie Mix! - Alisons Pantry Delicious Living Blog - […] Cinnamon Knots […]