Creative Ways to use Janey Lou's Cinnamon Rolls
Our Janey Lou's Cinnamon Rolls (#9134) are one of our best selling products, and they can be used in some fun and creative ways to change up breakfast time. They are large, fluffy proof-and-bake cinnamon rolls that taste like homemade.
Looking for more ideas using Cinnamon Rolls?
Cinnamon Roll French Toast. Take a baked cinnamon roll and squish it down flat. Then, mix up 2 eggs + 1 tsp vanilla (#6702) + 1/4 cup milk mixture and coat cinnamon roll. Next, cook it on a warmed skillet with butter like you would normal french toast. Cook each side until golden brown. Remove from skillet and coat with cream cheese frosting, powdered sugar (#1151), or syrup of your choice.
Cream Cheese Filled Cinnamon Roll Monkey Bread.
Preheat oven to 350°. Spray a bundt or tube pan lightly with cooking spray. Cut a block of cream cheese into 24 small squares. Flatten each cinnamon roll with your fingers and place one square of cream cheese in the center of the flattened roll. Fold the roll around the cream cheese and pinch to seal. Place in prepared pan. Repeat with remaining rolls and cream cheese. In microwave-safe bowl combine butter and brown sugar. Heat for approximately 1 minute until butter is melted. Stir together and pour over the cinnamon rolls. Bake 35-40 minutes until top is golden brown. Let cool in pan for 5 minutes and then flip pan onto a cake plate or platter. Drizzle with the frosting that came in the cinnamon roll cans, if desired. Serve warm
Satisfy your sweet tooth with these recipes: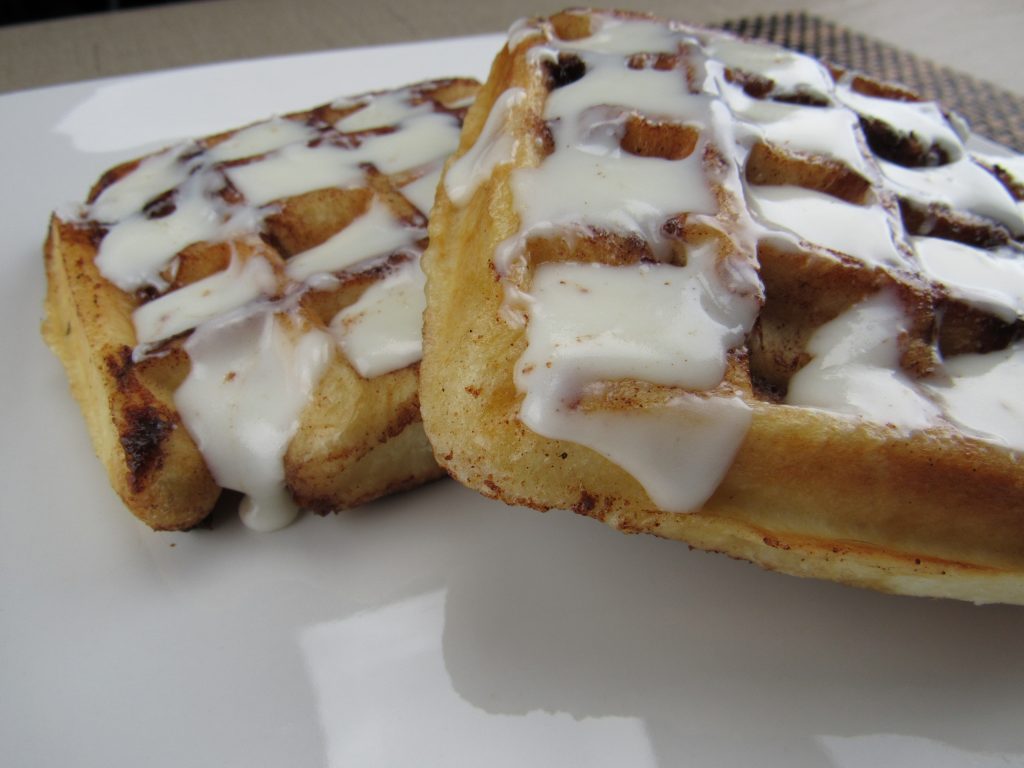 A favorite breakfast treat turned into another favorite breakfast. These Cinnamon Roll Waffles will become a new favorite (and easy) breakfast.
Cinnamon Roll Waffles
Ingredients:
Instructions:
Spray warmed waffle iron with Vegalene.
Place thawed cinnamon roll dough on waffle iron, closer to the center so they don't squish out.
Close your waffle iron and make sure it latches. Cook as you would a waffle.
When done, take out and cover with cream cheese frosting.
Adapted from: http://www.littlebitfunky.com/2012/03/cinnamon-rolls-in-waffle-iron-who-knew.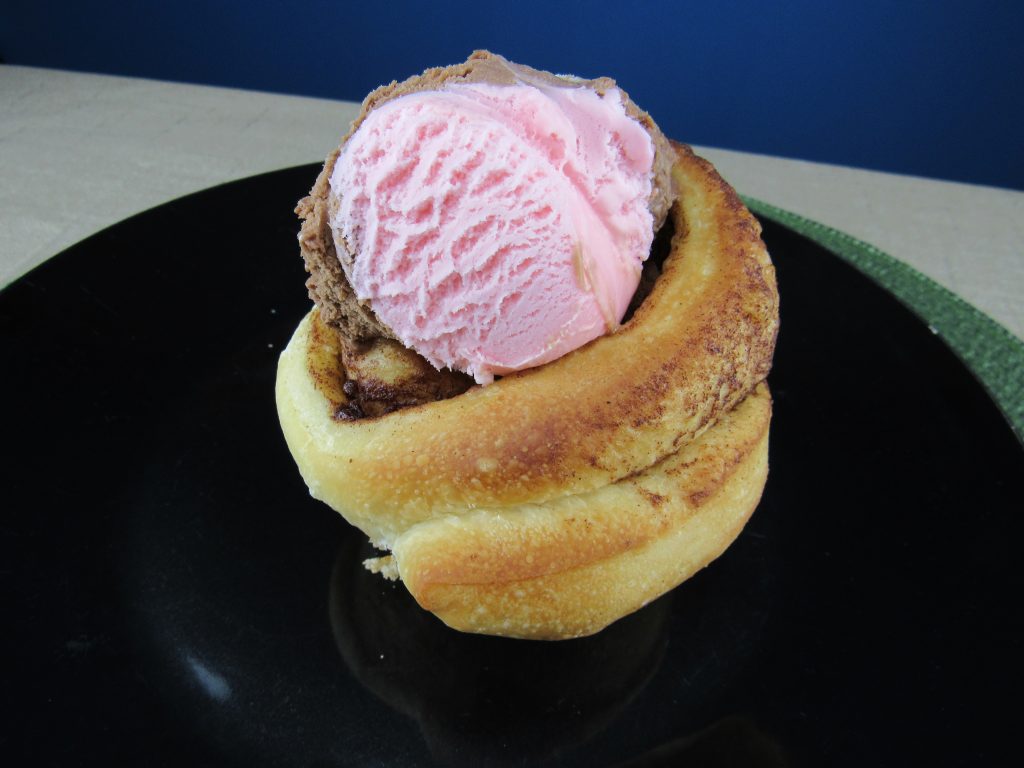 Cinnamon Roll Ice Cream Cups are a very fun way to enjoy a nice ice cream Sunday with the kids. They can choose whatever ice cream flavor and toppings they want!
Cinnamon Roll Ice Cream Cups
Ingredients:
Ice cream of your choice
Toppings- caramel (#7894), fudge, sprinkles, cherries, nuts
Instructions:
Let your dough thaw overnight in the fridge.
Then, place thawed dough in a muffin tin. We used a Texas-side muffin tin.
Bake at 350° F for 15-20 minutes or until top is golden brown.
While they are warm, gently make an indent in the middle with a smaller item. We used a shot glass to push in the center of the cinnamon roll. Don't push so hard that you go through the middle.
Let cool completely before taking them out of the tin.
Scoop ice cream into your Cinnamon Roll bowl and enjoy!
Adapted from: https://ohbiteit.com/2013/03/cinnamon-roll-ice-cream-cups.html
Comments
Puff Beignets - Alisons Pantry Delicious Living Blog - […] Cinnamon Roll Ice Cream Cups […]
Cinnamon Roll Pull Apart Bread - Alisons Pantry Delicious Living Blog - […] Cinnamon Roll Waffles […]