3 Delicious Ways to Prepare Ravioli
Ravioli are a type of Italian dumpling, made with pasta dough and a rich filling. Usually, they are served with a broth or in a sauce. Regardless of how you serve it, Ravioli are a delicious and filling meal.
3 Easy Ways to Top Ravioli
Everyone has different preferences on how to eat ravioli. Some like to drown them in tomato sauce, while others like a simple garlic butter. Any way you like it, here are 3 great ideas:
Chef Shamy Parmesan & Basil Butter (#8124). Cook your ravioli with the method of your choice, then lather some garlic butter on those suckers. This is a simple, yet delicious, way to enjoy ravioli.
Basil Pesto Sauce. Whether you have homemade or store bought, pesto is a great way to top your ravioli. We like pesto on both our cheese and meat filled ravioli.
Cheesy Tortellini Bake. This recipe is quick and easy, and can use tortellini or ravioli. Dinner will be ready in less than 30 minutes!
What Can You Serve With Ravioli?
Depending on how you prepare your ravioli, it can be a full meal. But, that doesn't stop us from all the delicious sides we can get! Some of our favorites include a nice green salad and French Bread using Garlic Supreme and butter. But, don't forget the vegetables! We love Bacon Wrapped Brussels Sprouts, Sauteed Asparagus with Lemon, or Slow Cooker Green Beans.
How Do You Cook Ravioli?
Typically, ravioli are boiled. But, there are other delicious ways to prepare them! Here are some great ideas to try:
Boiled. First, boil 4 quarts of water (optional: add 1 tablespoon oil to prevent sticking). Add ravioli to boiling water. Then, simmer for 6-8 minutes or until desired tenderness, stirring occasionally. Drain and serve.
Baked. First, heat the oven to 375°F. Then, coat ravioli in butter and dip in a mixture of Panko Bread Crumbs (#1193), Parmesan cheese (#1683), and Italian seasoning (#1432). Third, place ravioli onto a nonstick baking sheet. Bake 10-14 minutes or until ravioli are crispy. Serve with pasta sauce.
Fried. To fry frozen ravioli, we suggest first boiling them for 2-3 minutes to thaw. Then, pat dry and sear in an oiled pan until the center is hot and outside of ravili is golden brown. We like frying in our Chef Shamy Butter for extra flavor. Finally, top with parmesan cheese and dip in marinara sauce.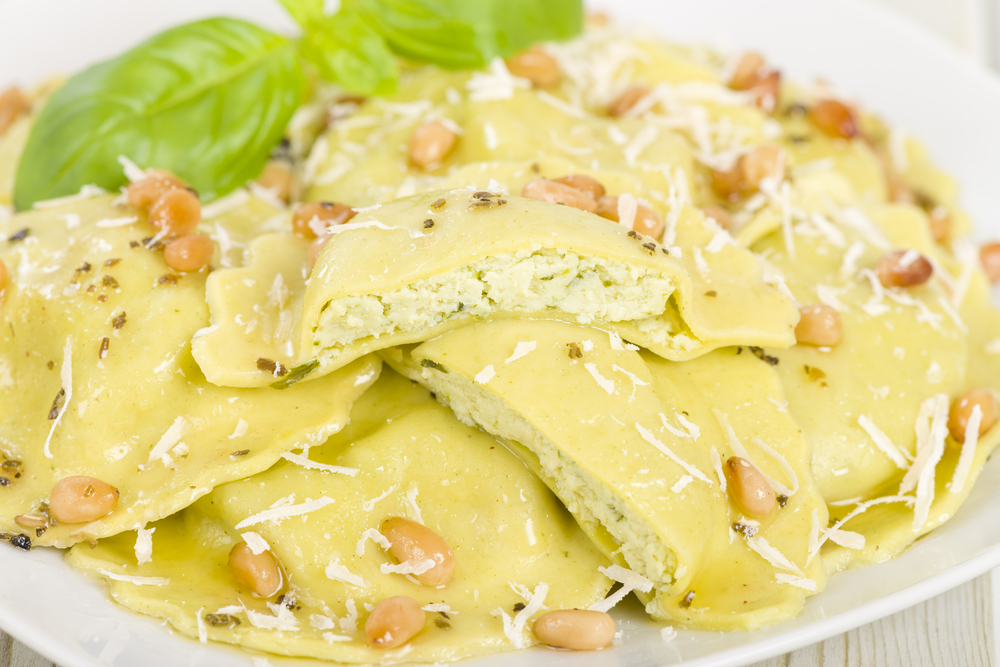 Spinach & Sage Butter Ravioli
Ingredients:
Instructions:
Prepare ravioli according to package directions. This can also be found on our website here. Once cooked, reserve 1/4 cup of cooking water.
While the ravioli is cooking, mince the garlic and chop the pine nuts before you being the sage brown butter sauce.
Add the butter to a large skillet and melt it over medium-low heat, stirring continuously. Once the butter begins to sizzle and becomes foamy (about 2-3 minutes), add the minced garlic and chopped pine nuts. Continue to stir and cook over medium-low heat until the sediment in the skillet turns deep golden brown (about 3-5 minutes). Once it becomes browned, remove it from the heat, and stir in the dried sage.
Add the spinach and the 1/4 cup reserved ravioli cooking water to the skillet. Return the skillet to low heat, and stir until the spinach is wilted (about 2 minutes). Taste the spinach and add salt to taste. Finally, add the cooked and drained ravioli to the skillet with the spinach and sage brown butter sauce, then toss to coat.
Serve the ravioli with a light dusting of grated Parmesan and freshly cracked pepper over top.
Adapted from: https://www.budgetbytes.com/ravioli-with-sage-brown-butter-sauce-spinach-and-walnuts/
3 Ingredient Lazy Lasagna
Ingredients:
Instructions:
Preheat oven to 400
Pour a layer of sauce in the bottom of the dish
Lay out frozen ravioli side by side in sauce
Cover ravioli with sauce (The sauce on both sides makes sure the ravioli does it's boiling in the oven)
Sprinkle Mozzarella Cheese on top
Lay out ravioli side by side again. Then, cover with sauce.
Plop on several dollops of ricotta cheese, and finish with another layer of mozarella.
Bake for 35 – 45 minutes
Creamy Ravioli With Spinach and Sundried Tomatoes
Instructions:
Boil the ravioli according to the package directions.
While the ravioli is cooking, prepare the sauce. Melt the butter in a large skillet over medium heat. Add the garlic and cook, stirring, until fragrant, about 1 minute. Sprinkle in the flour and stir until it has absorbed the melted butter, becomes a paste and begins to smell nutty. Slowly whisk in the heavy cream (at first the mixture will be thick and chunky, but it will smooth and thin out), then add the salt and Parmesan cheese. Allow to simmer until thickened, about 5 minutes.
Stir in the spinach and sun-dried tomatoes, then transfer the cooked and drained ravioli to the skillet, gently stirring to coat the tortellini with the sauce. Serve immediately.
Recipe notes:
If you use the Cheese Ravioli, we also like to add browned Italian Sausage or Shrimp (#1545).
Adapted from: https://www.browneyedbaker.com/tortellini-cream-sauce-spinach-sundried-tomatoes/
Comments