3 Recipes for Mother's Day Weekend
Mother's Day is a day of letting mom know how much we appreciate her. We're sharing 3 easy recipes that the rest of the family can prepare, giving mom a break.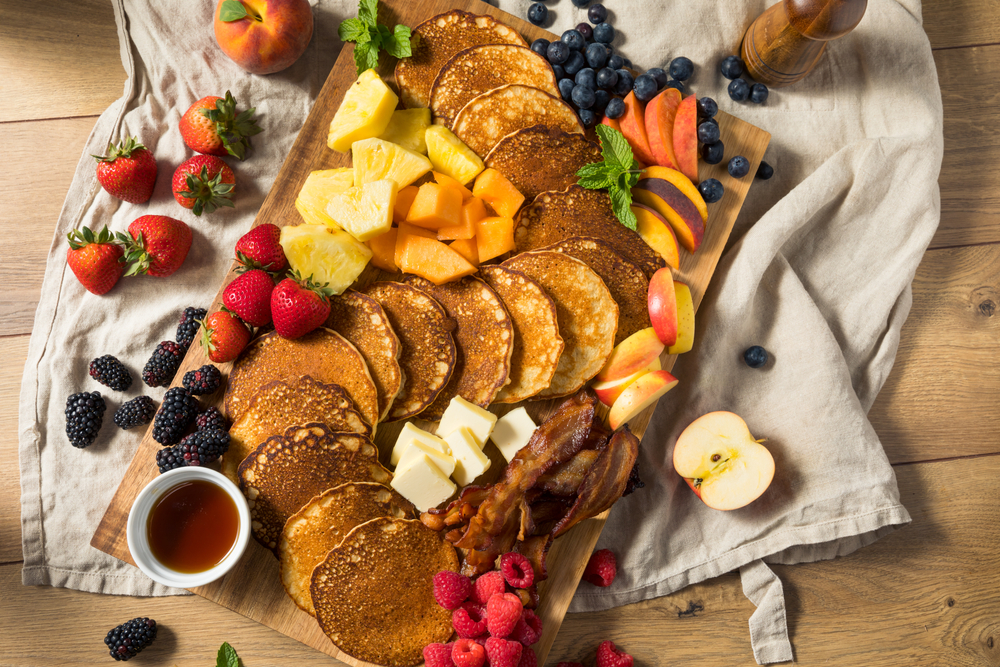 Charcuterie boards are all the rage right now, and we can see why! Treat mom to breakfast in bed with a simple breakfast board stacked with pancakes, bacon, and all her favorite fruit to start Mother's Day off right.
Breakfast Charcuterie Board
Ingredients:
3/4 cup water
Fresh fruit of your choice – raspberries, blackberries, blueberries, pineapples, peaches, apples, mango, or pineapple
Instructions:
First, start by preheating your oven to 400F. Line a Crestware Baking Sheet (#4020) with a piece of AP Parchment Paper (#1153). Lay the bacon out, and bake for 18-20 minutes or until it's crispy to your liking, flipping halfway. Remove from the oven and transfer to a paper towel-lined baking sheet.
Meanwhile, prepare the pancakes. Stir the pancake mix and water until the batter is combined (Do Not Overbeat). Pour 1/4 cup of batter onto a heated and greased pan or griddle. Cook On Medium-High Heat, or 375F, until bubbles form on the top. Flip and continue to cook until golden brown.
To assemble the board, lay the pancakes in an S shape across the board from one corner to the opposite. Add syrup to a small bowl, and set it on the board. Fill the remaining extra space with fruit, bacon, and butter slices. Enjoy!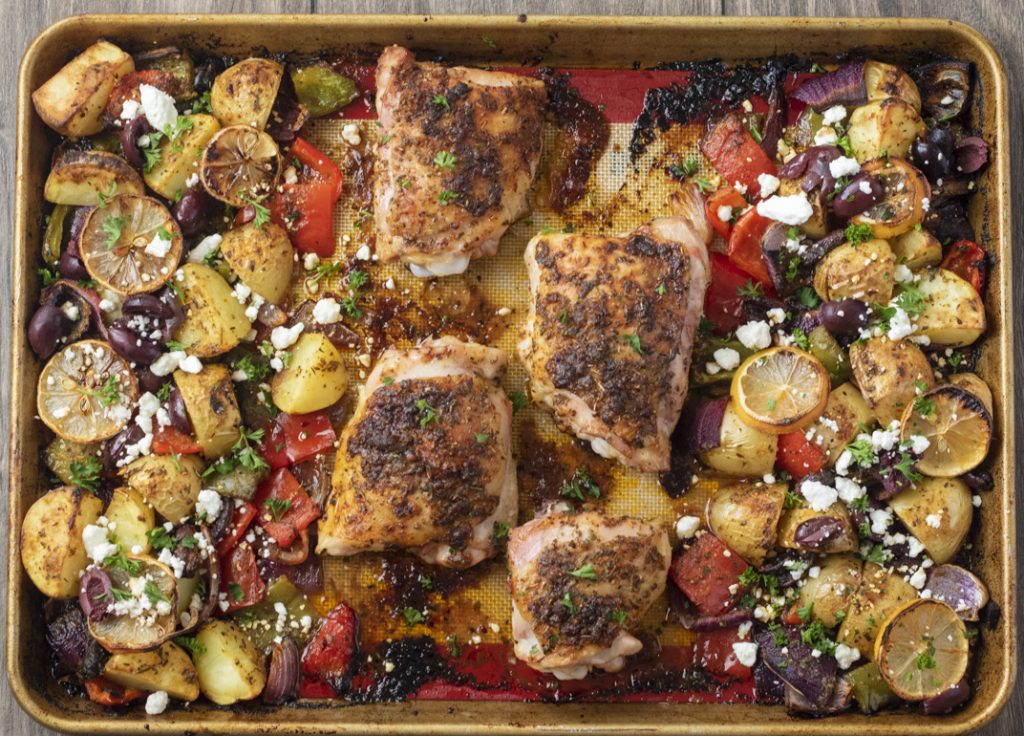 This refreshing Mediterranean Sheet Pan meal is incredibly easy but full of flavor. This features a blend of fajita vegetables and potatoes seasoned with garlic butter, tarragon, oregano, and paprika. Finish it off with lemon juice, parsley and feta cheese – and everyone will come back for seconds. We love serving a simple sheet pan meal for Mother's Day, because it can just be thrown together with help from kiddos.
Sheet Pan Mediterranean Chicken and Vegetables
Ingredients:
Instructions:
First, preheat oven to 425F.
Then, whisk the spices into the butter and set aside.
Now, line a Crestware Cookie Sheet (#4020) with a Crestware Silicone Mat (#8436). Place the chicken (skin side up if you have bone-in) in the center. Then, add the fajita blend and potatoes to both sides of the chicken. Carefully pour the butter mixture over top Toss the vegetables around to evenly coat.
Now, bake for 40 minutes, or until the chicken reaches an internal temperature of 165F.
Before serving, garnish with feta cheese, fresh parsley, olives, and lemon juice.
Adapted from: https://chefshamy.com/recipes/sheet-pan-mediterranean-chicken-and-vegetables/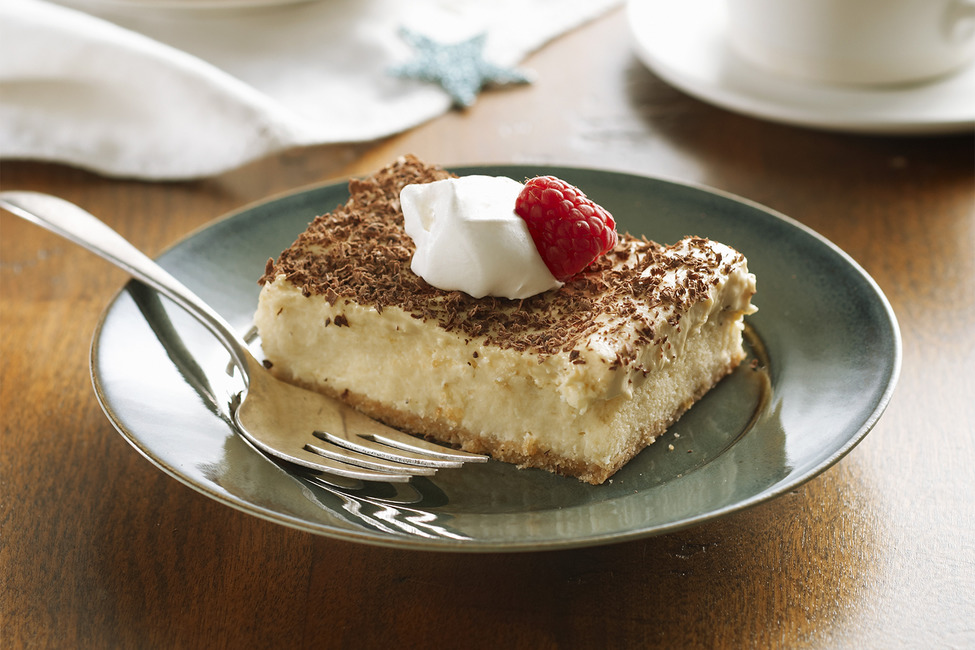 End the day with a mouthwatering Tiramisu Mousse Cheesecake. With a buttery nilla wafter crust topped with soft cheesecake filling, a coffee mousse, grated chocolate and raspberries, it'll become a family favorite for more than just Mother's Day!
Tiramisu Mousse Cheesecake
Ingredients:
Instructions:
First, mix the butter and crushed wafers together. Spray a 9×13 pan with Vegalane (#1212), and press down the mixture. Set aside.
Prepare the filling by beating together 3 packages of cream cheese, the sugar, and 1 Tbsp cooled coffee until thoroughly combined. Then, add the eggs one at a time. Pour over the wafer mixture, and bake for 28 minutes or until the center is set. Allow to cool completely.
Meanwhile, beat the remaining cream cheese until fluffy. Add the milk and coffee, mixing completely before adding the dry pudding mix. Beat for 2 minutes, then fold in the cool whip. Using a rubber scraper, spread on top of the cooled cheesecake. Sprinkle the chocolate over top, and refrigerate for at least 4 hours.
Before serving, garnish with raspberries and a dollop of cool whip. Enjoy!
Adapted from: https://www.myfoodandfamily.com/brands/kraft-jello/recipe/120776/tiramisu-mousse-cheesecake
Comments
Summer Breakfast Ideas - Alisons Pantry Delicious Living Blog - […] Breakfast Charcuterie Board Breakfast Strata Amish-Style Baked Apple Berry Oatmeal SharePinTweet0 Shares 0Shares Share on Facebook Share on Twitter…