Breakfast Strata
Breakfast Strata is a simple casserole with sausage links, omelette blend vegetables, mushrooms, eggs, and cheddar cheese. Since this recipe using our Johnsonville Cooked Original Breakfast Pork Sausage Links (#1400), it cuts back on prep time.
Change it up!
Breakfast casseroles are a hit whether they're served for breakfast before school or on holidays. Plus, they're easy to throw together- making it a stress free dish to prepare. We also love that they can be totally customized with different fillings, with the main base of milk, eggs, and cheese. Here are a few more ideas to try!
Add a layer of day old bread to the bottom of the casserole dish.
Mix spinach into the egg mixture. For a meditteranean feel, swap the omlette blend with sundried tomatoes and feta cheese.
Use Childer's Country Style Pork Sausage (#2550), and whisk cream of mushroom soup into the milk.
Change up the seasonings! We like to keep it simple with salt and pepper, but adding AP Mustard Seed Powder (#1428), AP Mild Paprika (#1697), AP Premium Onion Powder (#1027), or AP Mild Chili Powder (#1014) could add some great depth in flavor.
Mix in Quincy Gold Loose Shredded Hashbrowns (#2421), or use them as a layer on the bottom of the pan before adding the egg mixture.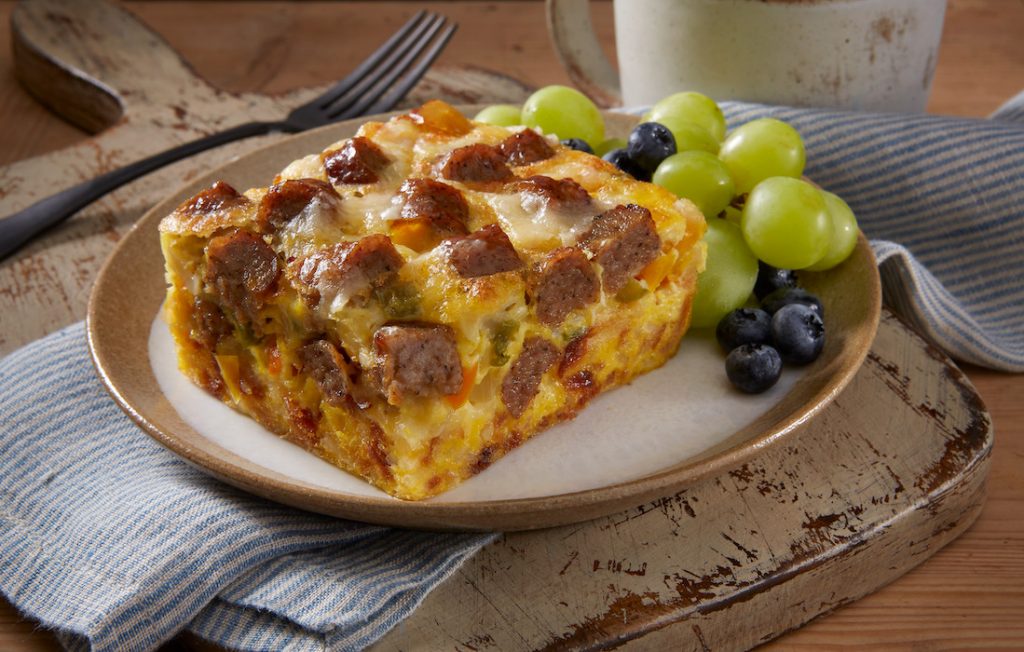 Breakfast Strata
Ingredients:
Instructions:
First, preheat oven to 350F.
Then, saute the omelette blend until fragrant, 2-3 minutes. Then, add the garlic and saute another 1-2 minutes.
Now, whisk the eggs, milk, salt and pepper in a bowl. Then, add the sauteed omelette blend and garlic, chopped sausage, mushrooms, and all but 1/2 cup of cheese. Pour into a greased baking dish, then top with the remaining cheese.
Bake, uncovered, for 60 minutes or until the egg is set.
Adapted from: https://foodservice.johnsonville.com/concepts/layered-strata.html
Start your morning off with these recipes
Comments
Steakhouse Baked Eggs - Alisons Pantry Delicious Living Blog - […] Breakfast Strata Huevos Rancheros Breakfast Bowls Brunch Cups SharePinTweet0 Shares 0Shares Share on Facebook Share on Twitter Tags: breakfast,…
Flav-R-Pac Vegetable Shortcuts - Alisons Pantry Delicious Living Blog - […] Chili Breakfast Strata Tex Mex Stuffed Zucchini Boats SharePinTweet0 Shares 0Shares Share on Facebook […]