Cheesy Hash Brown Potato Chowder
This comforting soup recipe only requires a few basic ingredients, starting with our bestselling Shredded Hash Browns. It's cheesy potato goodness with minimal effort–perfect for a chilly evening!
Cheesy Hash Brown Chowder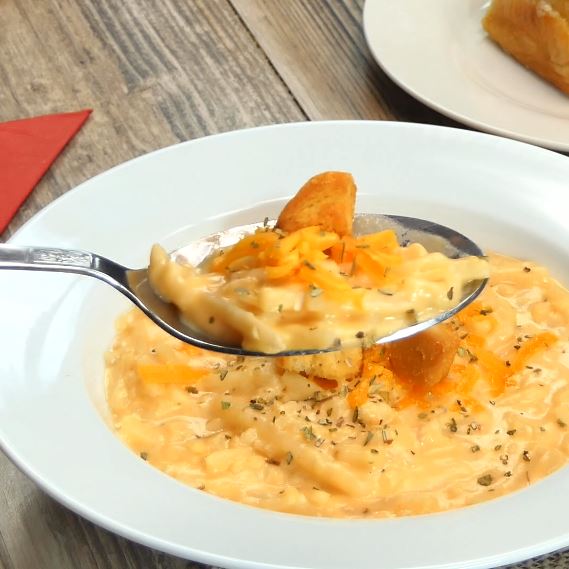 Cheesy Hash Brown Potato Chowder
2018-05-02 13:36:17
Ingredients
1 (30 oz.) bag frozen shredded hash browns (#2418)
1 (10 oz.) can condensed cream of chicken soup
4 cups chicken broth  (#1038 base)
2 cups cheddar cheese, grated, plus more for serving (#1866)
1/2 cup cream cheese, softened
1/2 cup sour cream
1 teaspoon onion powder (#1027)
1/2 teaspoon dried oregano (#1445)
kosher salt and freshly ground pepper, to taste
croutons, garnish
crumbled bacon, garnish, optional (#5642)
Instructions
Combine chicken broth and hash browns in a large pot or Dutch oven over high heat and bring to a boil.  Reduce heat to medium and stir in chicken soup, cheddar cheese and onion powder.   Season generously with salt and pepper and cook for 10-15 minutes.  Stir in sour cream and cream cheese and cook until completely incorporated, then blend everything together (or leave as is).  Transfer to serving bowls and serve topped with oregano, croutons and more cheese.
Notes
Serve with Janey Lou's Beehive Rolls: https://www.alisonspantry.com/ap-beehive-roll-dough-9625-oz-pucks-15-lb-case
AP Products
https://www.alisonspantry.com/yukon-gold-hash-brown-shredded-potatoes-18-lb-case
https://www.alisonspantry.com/sauces/custom-master-s-touch-real-chicken-base-1-lb-jar
https://www.alisonspantry.com/tillamook-medium-cheddar-shredded-cheese-25-lb-bag-each
https://www.alisonspantry.com/ap-onion-powder-premium-1-pound
https://www.alisonspantry.com/ap-oregano-mediterranean-cut-and-sifted-1-lb-bag
https://www.alisonspantry.com/dailys-precooked-hickory-bacon-slices-60ct-vac-bag
Alisons Pantry Nourish Blog http://blog.alisonspantry.com/
Comments