Holiday Ham & Cheese Sliders
Holiday Ham & Cheese Sliders
Christmas is right around the corner. The most wonderful time of the year is also one of the busiest. With the sound of sleigh bells, dancing sugar plum fairies, and falling snow, comes a house full of relatives—who, not coincidentally, are very hungry. When you're busy wrapping presents, baking cookies for the neighbors, and doing your last-minute Christmas shopping, getting dinner on the table is just one more daunting task on your to-do list.
Let Alison's Pantry help you fill your family's hungry tummies this month with a simple, delicious take on the classic ham and cheese sandwich. Sweet Hawaiian dinner rolls pair perfectly with slices of smoked Applewood ham. Worcestershire sauce and Dijon mustard give these little sliders a nice bite. Prepare the sliders in advance so you'll have a perfect holiday dinner that takes just minutes to get from fridge to table.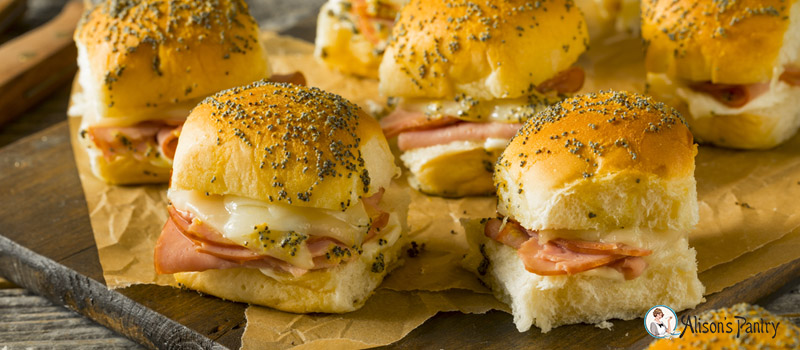 Holiday Ham & Cheese Sliders
Slice top from rolls and place bottoms in baking pan.
Layer ham and cheese on rolls.
Replace tops.
Combine butter, poppy seeds, mustard, Worcestershire, and onion powder and mix well.
Drizzle over rolls.
Refrigerate until butter is firm or overnight.
Cover with foil and bake at 350° for 30 minutes or until cheese melts.
Uncover and cook for 2 additional minutes.
Serve warm or cold.
Download our FREE Slow Cooker Recipe Book!
Alison's Pantry will help you out of your dinner doldrums by providing simple-to-prepare, restaurant-quality food, right to your kitchen. Hop on your laptop or tablet to order online and find your local representative.
Comments