Easy Potato Salad
One step seasoning for perfect potato salad! Our blend of onion, celery, red bell pepper, and Dijon Mustard adds instant flavor. Lindsey Geisinger shared, "I love potato salad but I DISLIKED making it!! Guess what…not anymore! Boil and peel your potatoes, mix your seasoning with mayo, add it to potatoes and let sit so the flavors soak in! I even add some hard-boiled eggs!! Easy easy easy!!"
More ways to use Pronto Potato Salad Seasoning:
This seasoning makes the perfect potato salad, but we have found it also works well with a few other dishes:
Cucumber Salad
Sprinkled on baked potatoes
If you like this recipe, try these: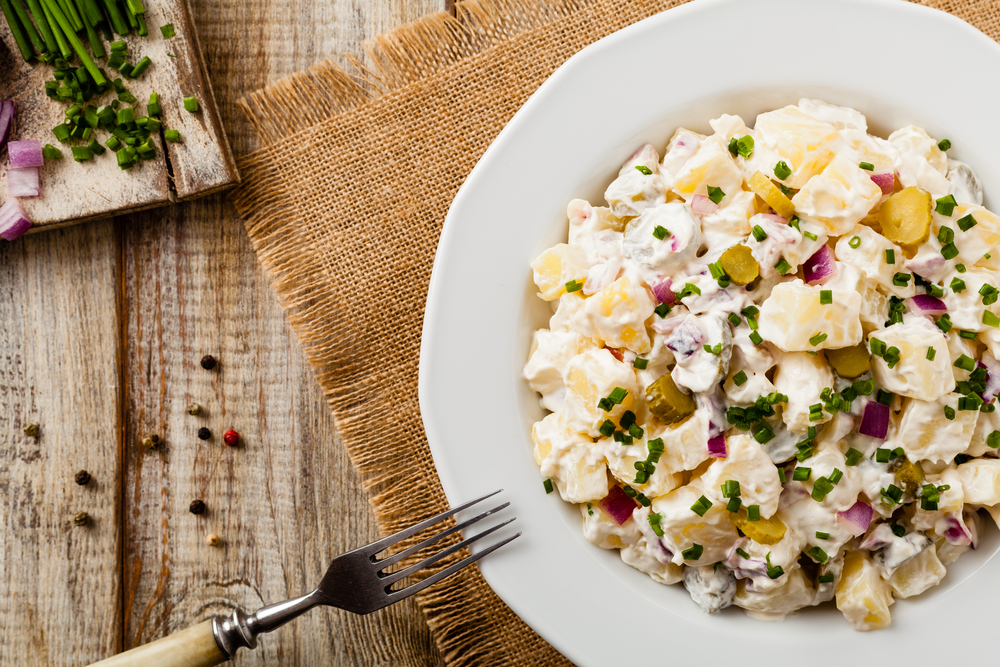 One step seasoning for perfect potato salad! Our blend of onion, celery, red bell pepper, and Dijon Mustard adds instant flavor.
Easy Potato Salad
Ingredients:
Instructions:
First, boil 6 cups of diced redskin potatoes in salted water until tender.
Meanwhile, mix the seasoning and mayonnaise.
Next, drain the potatoes, then mix the mayo mixture into the potatoes.
Refrigerate at least 4 hours before serving.
Comments
How to Use Diced Red Potatoes - Alisons Pantry Delicious Living Blog - […] Easy Potato Salad […]
Our Best Memorial Day Recipes - Alisons Pantry Delicious Living Blog - […] as too many? Ask each of your guests to bring a side dish, and dig in. Honorable mentions include…
Brat 'N Bacon Melt - Alisons Pantry Delicious Living Blog - […] Fries (#1762) or Brew City Onion Rings (#1269) in the oven or air fryer. Then, whip up a batch…
Everything you Need for a Killer BBQ - Alisons Pantry Delicious Living Blog - […] snack on the sides before the grilling starts. Choose from classic recipes like BBQ Baked Beans or Easy Potato…