Easy Tater Tot Casserole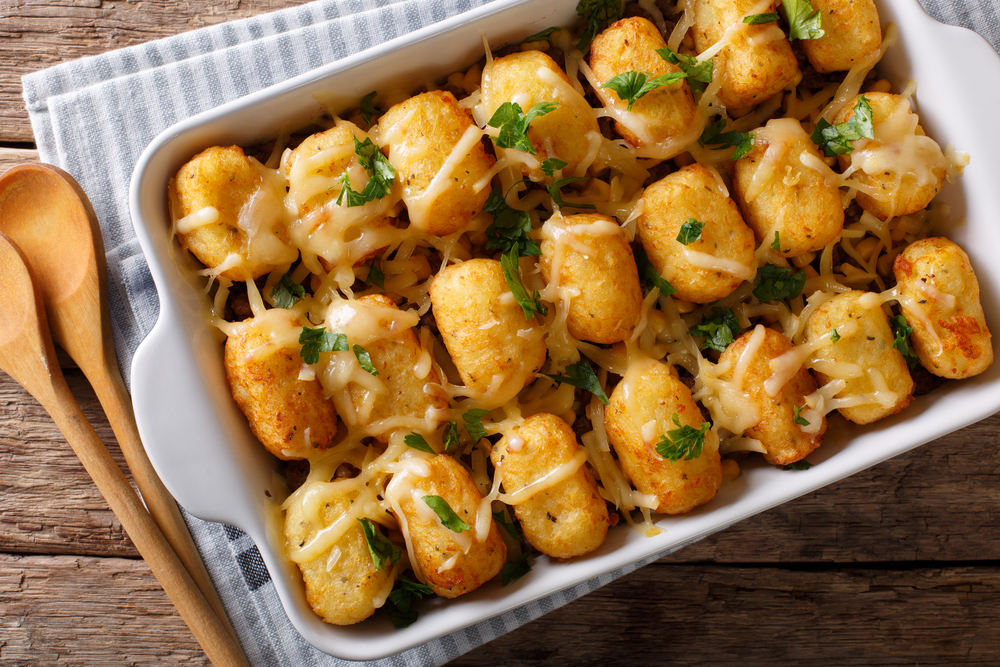 It's not a new recipe, but it never gets old! Traditional Tater Tot Casserole is a comfort food favorite and easy to throw together on a night when you need to spend more time helping with the kids' homework. This version has all of the savory flavor you remember from childhood, and it can also be made ahead and frozen for a future meal.
Easy Tater Tot Casserole
Ingredients:
Instructions:
Line a 9″x13″ pan with Tater Tots (#3476) and season with AP Seasoning Salt (#1033)
Brown 1 lb. of lean ground beef with chopped onions and celery. Place over tots.
Mix 1 can Cream of Mushroom soup with 1/2 c Milk (optional: 8 oz Sour Cream). Pour over top.
Top with another layer of Tater Tots.
Bake at 350 for 45 minutes. Add shredded cheese during the last 10 minutes of baking.
*This recipe freezes well.
By: Esther Strong of Salem, UT
Comments
Cheesy Tater Tot Kebabs - Alisons Pantry Delicious Living Blog - […] Easy Tater Tot Casserole […]
3 Tasty Tot Recipes - Alisons Pantry Delicious Living Blog - […] crispy, golden potato puffs. Whether you serve them dipped in ketchup or in the classic Tater Tot Casserole, taters are…
Parmesan Potato & Spinach Florentine - Alisons Pantry Delicious Living Blog - […] Easy Tater Tot Casserole Chicken & Dumpling Casserole […]