Game Day Appetizers
Whether your game day events mean a houseful of fans, or just immediate-family armchair referees, the food is as important as the teams on the field. A sports game with your favorite team is a great excuse for a little party, and any good party calls for appetizers that can easily be eaten with your fingers.
We've hosted a lot of fan gatherings over the years, and have learned a few things that make it easy to enjoy a great spread without missing a play. Here are a few:
Plan your menu a few days before, and prep platters of cold cuts or veggies ahead of time. Wrap with plastic and store in the fridge for later.
Load a cooler with ice, soda, and bottled water.
Use slow cookers to warm and serve hot items, so everything can be in the cookers and prep-work messes can be cleaned up before kickoff (or tipoff!).
We like to serve up savory, heartier items just before the game starts and then reload the spread with desserts at half-time as a sweet surprise for guests.
We're sharing a couple of our favorite game day appetizers below along with links to more recipes we think you'll like. As always, we'd love to hear from you about your sports party tips and favorite finger foods. Drop us a line!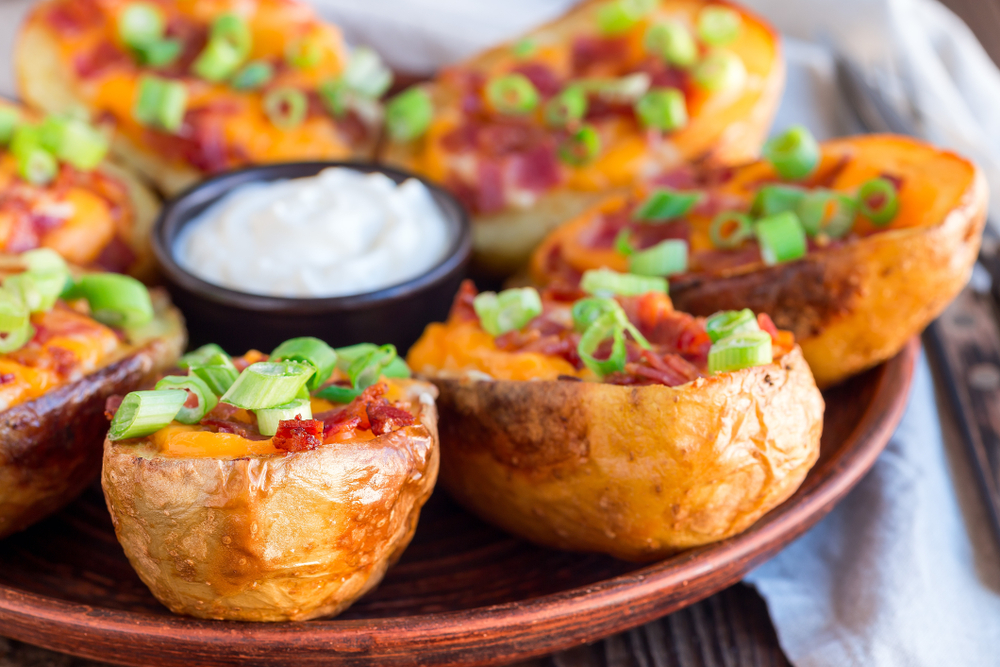 Crispy russet potato skins filled with garlic mashed potatoes, then topped with melty cheese, diced bacon, and green onion, and served with sour cream for dipping.
Stuffed Potato Skins
Ingredients:
Instructions:
First, preheat oven to 475F. Line a Crestware Cookie Sheet (#4020) with Kirkland Premium Quality Foodservice Foil (#1963).
Then, brush the potato skins with oil and sprinkle generously with salt. Place cut side down on the prepared cookie sheet and bake for 5 minutes. Turn over, and bake for 5 more minutes.
Now, divide the mashed potatoes between each potato skin, approx. a heaping 1/4 cup per skin. Top with the cheese and bacon crumbles, then place back into the oven for 3-5 minutes or until the filling is heated through and the cheese is melted.
To serve, place on a platter with a bowl of sour cream in the center. Garnish with green onions, and dig in!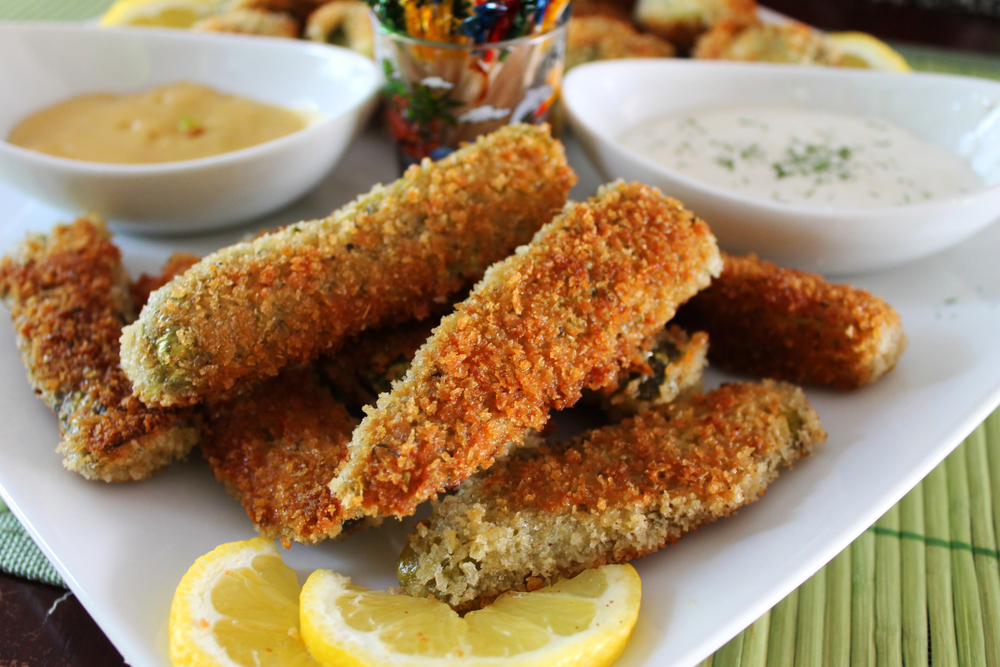 Air Fried Pickle Spears
Ingredients:
Instructions:
First, combine the flour and spices in a small bowl. In another bowl, combine the beaten eggs and milk. Then, add the bread crumbs to a third bowl.
Now, heat an air fryer to 400F.
Meanwhile, dip a pickle into the flour mixture, then the egg mixture, then the bread crumbs. Repeat until all the pickles are coated, then spray with Vegalene Garlic Mist (#1577).
Place into the air fryer basket in a single layer, cooking in batches as needed, for 14 minutes. Turn halfway through for even frying.
Serve with AP Lip Smackin' Chipotle Ranch Dip (#2589). Simply combine 1 Tbsp mix with 8 oz sourcream, and chill for 30 minutes.
Adapted from: https://www.allrecipes.com/recipe/267108/air-fryer-spicy-dill-pickle-fries/
Try these, too!
Comments