Grandma's Gingerbread Cookies
Looking For More Holiday Treats?
We all love Sugar Cookies, especially around Christmas time. So, when we found these White Chocolate Dipped Peppermint Sugar Cookies, we knew it was a match made in Christmas heaven.
Cranberry Spice Muffins area favorite throughout fall and winter. Plus, you can even make a simple powdered sugar glaze to top them off.
Now, we don't think you can have a cold (or even mild-weathered) winter without enjoying some Hot Cocoa. So, naturally, we have gathered some of our Favorite Hot Chocolate Recipes.
Ice that cookie!
With every good Gingerbread recipe comes an icing to finish it off. Thanks to Sally's Baking Addiction, we found an Easy Icing that we love, consisting of only 5 ingredients!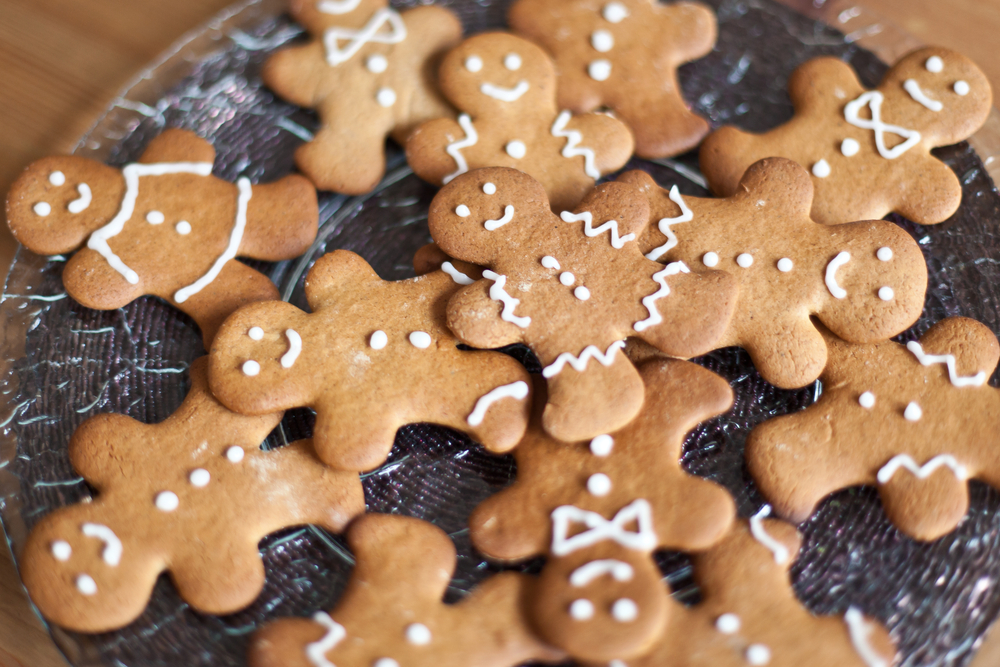 For us, the Holiday season wouldn't be the same without the smell of Grandma's Gingerbread Cookies. You can make up the batter the day before, and store it in the fridge until you're ready to decorate your Gingerbread men! If you didn't know, a good step to making Gingerbread dough is giving it time to chill. This helps your cookies hold their shape.
Grandma's Gingerbread Cookies
Ingredients:
Instructions:
In 3-quart saucepan over medium heat, heat molasses, margarine and brown sugar until mixture boils, stirring occasionally to blend well.
Remove from heat; cool. In large bowl, combine flour, ginger, cinnamon, baking powder, baking soda and nutmeg. Blend egg into molasses mixture. With spoon, stir molasses mixture into flour mixture until smooth. Wrap dough in plastic wrap; chill 1 hour.
Divide dough in half. On floured surface, roll half of dough to 1/8 to 1/4 inch thickness. Cut with floured 5×3 inch gingerbread man cutter.
Carefully lift with metal spatula onto non-stick cookie sheet.
Bake at 350°F for 10 to 14 minutes or until lightly browned around edges.
Remove from sheet; cool on wire rack.
Decorate as desired with icing, raisins and candies. Repeat with remaining dough and trimmings.
Store in tightly covered container for up to 2 weeks.
Makes about 2 dozen.
Comments
Easy Pecan Pie - Alisons Pantry Delicious Living Blog - […] Grandma's Gingerbread Cookies […]
Snowball Cookies with True Lemon - Alisons Pantry Delicious Living Blog - […] Grandma's Gingerbread Cookies […]