Homemade Soft Pretzels
If you love our Soft J&J Soft Pretzels (#1472) but are looking for a way to entertain the kiddos on a laidback summer day, try making Homemade Soft Pretzels! They're delicious and can be topped as you like.
Alternative Topping Ideas:
Usually, a good salted pretzel hits the spot, but sometimes we feel like changing it up. The nice thing about this recipe is that you can make the pretzels, but leave them without a topping so everyone can pick their own. A DIY Pretzel Bar would be a fun party idea for your kitchen helpers.
First, for a sweet and savory snack, top your soft pretzels with our Cinnamon Vanilla French Toast Sugar (#3894). Pair with an easy Cheesecake Dip.
Second, if you love Everything Bagels, try sprinkling your pretzels with this seasoning mixture: Poppy Seeds (#1011), Sesame Seeds (#4508), Chopped Onion (#1026), and Coarse Salt (#1147).
Third, and yes, we know this isn't a topping- but our kids LOVE Hot Dog Pretzels. They are similar to a corn dog but way better. So, instead of twisting your dough into a classic pretzel shape, try wrapping it around a Beef Frank (#2765). Then, boil the wrapped dogs for 2-3 minutes and transfer to a baking sheet (#4020) and bake at 450 for 20-30 minutes or until golden.
Nacho Cheese Dipping Sauce
Pretzels are the perfect snack for an warm summer evening, but to really seal the deal, pair it with an easy cheese dip.
Ingredients:
Instructions:
First, heat the milk in a small saucepan over medium heat until small bubbles form on the top.
Next, in another saucepan, melt the butter over medium heat. Sprinkle the flour over the top, and whisk until lightly browned and thickened, 2-3 minutes.
Next, slowly add the warm milk to the flour-butter mixture, whisking constantly. Continue cooking, whisking constantly until the mixture thickens, about 5 minutes. It should be thick but still pourable. Add the cheese, whisking constantly until it is melted. Taste, then add salt and pepper to taste.
Adapted from: https://www.platingsandpairings.com/soft-pretzel-bites-with-cheese-sauce/
More Summer Snacks: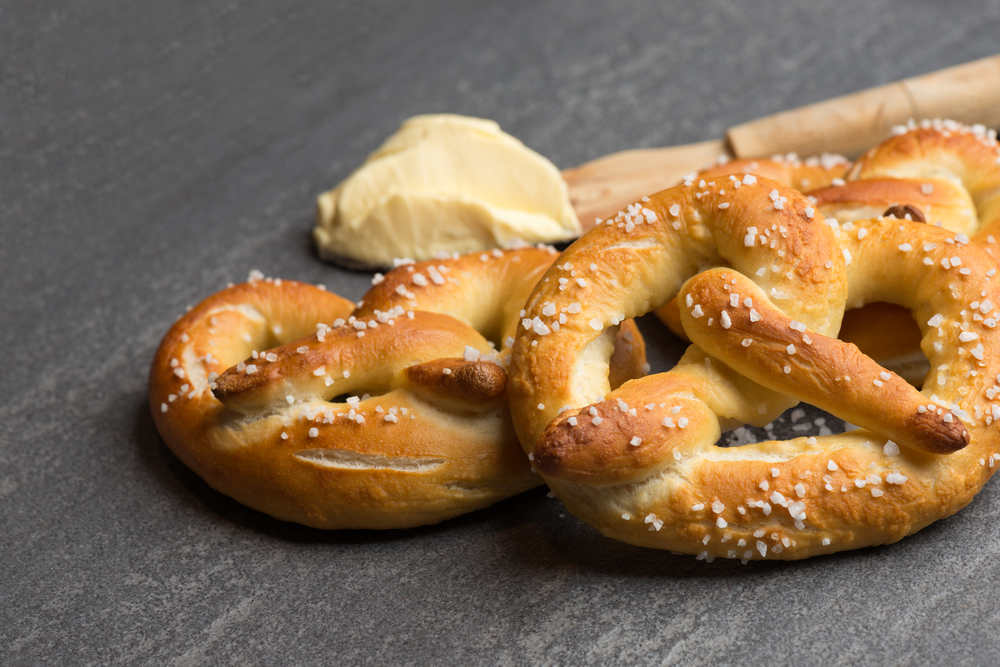 Whether you're at a ball game or at home, Soft Pretzels are a deliciously easy snack that can be personalized for everyone.
Homemade Soft Pretzels
Ingredients:
Baking Soda Bath
Instructions:
To begin, whisk the yeast into warm water. Allow to sit for 1 minute.
Next, add salt, brown sugar, and melted butter. Whisk together. Slowly add 3 cups of flour, 1 cup at a time. Mix with a dough hook until the dough is thick. Add 3/4 cup more flour until the dough is no longer sticky. Repeat as needed with 1/4 cup. Poke the dough with your finger – if it bounces back, it is ready to knead.
Turn the dough out onto a floured surface. Knead the dough for 3 minutes and shape into a ball. Cover lightly with a towel and allow to rest for 10 minutes. Meanwhile, start boiling the water + baking soda boiling as instructed in step 7.
Now, preheat oven to 400°F. Line 2 baking sheets (#4020) with parchment paper (#1153) or silicone baking mats (#8436). Set aside.
With a sharp knife or pizza cutter, cut dough into 1/3 cup sections.
Then, roll the dough into a 20-22 inch rope. Take the ends and draw them together so the dough forms a circle. Twist the ends, then bring them towards yourself and press them down into a pretzel shape.
Drop 1-2 pretzels into the boiling water for 20-30 seconds. After 30 seconds, using a slotted spatula, promptly remove so your pretzels don't get a metallic taste. Allow as much water to drip off as possible. 
Now, place pretzel onto a prepared baking sheet. Sprinkle each with coarse sea salt. Repeat with remaining pretzels.
Bake for 12-15 minutes or until golden brown.
Remove from the oven and serve warm with nacho cheese sauce (see recipe above).
Pretzels may be stored in an airtight container or zipped top bag for up to 3 days (they lose a little softness).
Adapted from: https://sallysbakingaddiction.com/easy-homemade-soft-pretzels/
Comments