Sourdough 101
We're writing this post in the wake of new admonishments from our state government to avoid social situations and spend a lot more time at home to help "flatten the curve" of COVID-19. With so much uncertainty, and so much more time at home, we're gravitating to our kitchens to bake up all the foods that make us feel safe and secure. And, we know we're not alone.
Breadmaking has had such a resurgence in recent weeks that flour and yeast have been selling out in record time, and our friends are exchanging sourdough tips. Sourdough breadmaking is somewhat of an art, but the process is really quite simple. If you're ready to craft crusty, chewy, perfectly tangy sourdough loaves, we think you'll love these tips and recipes.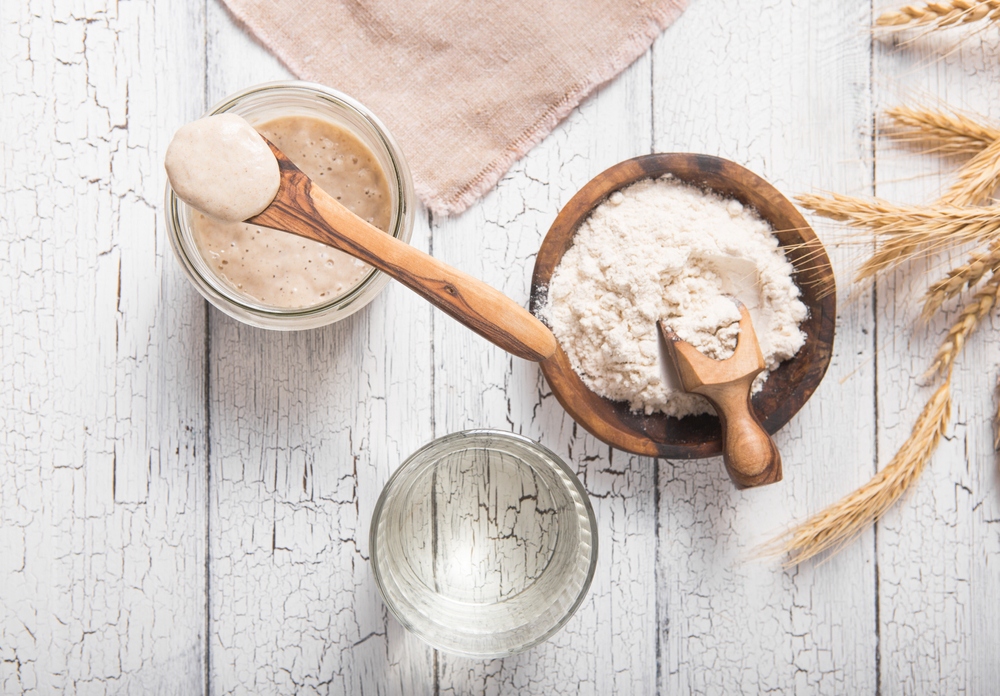 This basic Sourdough Starter recipe requires only 2 ingredients and is ready to use after 1 week of feeding it.
Sourdough Starter
Ingredients:
1/2 cup Unbleached All-Purpose Flour
1/2 cup filtered or distilled water*
Instructions:
Day 1: Combine the flour and water. Stir quickly to aerate the mixture. Cover with cheesecloth or a breathable lid and allow so sit for 12 hours in a warm spot.
Day 2 & 3: Feed the starter in 12-hour intervals with the same measurements as above. By day 3, you should see some change- bubbles and the start of a sour smell.
Day 4, 5, and 6: Continue feeding the starter every 12 hours, but now *discard all but 1/2 cup of the starter. The starter should be growing more between each of the feedings.
Day 7: You can start using your starter!
Now, continue feeding your starter once a day if left at room temperature; once per week if stored in the fridge. If you store it in the fridge, allow the starter to come to room temperature for 24 hours before feeding it.
*Using tap water might kill your yeast. Make sure to use filtered or distilled water.
*There are plenty of ways to use the discarded starter. Find some ideas here.
6 ways to use your starter:
There are so many more ways to use sourdough starter than in a loaf of bread! Here are a few recipes we're excited to try with our new starter: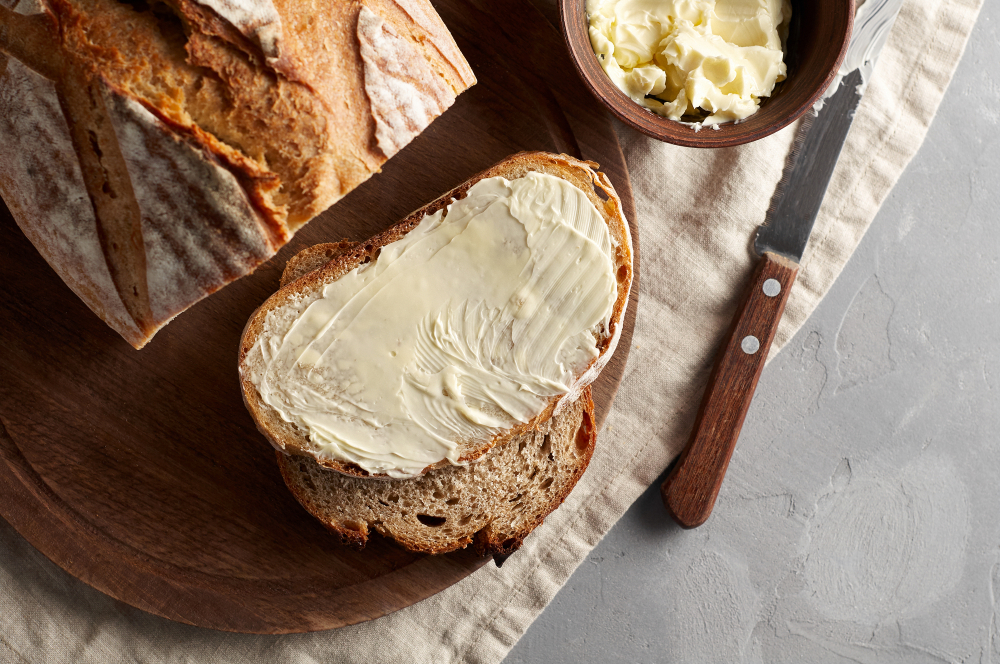 Sourdough breadmaking is somewhat of an art, but the process is really quite simple. If you're ready to craft crusty, chewy, perfectly tangy sourdough loaves, this recipe is for you.
Sourdough Bread
Ingredients:
Instructions:
First, combine the water and sourdough starter with 4 cups of flour.
Then, cover the bowl with cling wrap (#6127) and set in a warm place for 8-12 hours, or overnight.
Next, mix in the salt and sugar, adding 1/2-1 cup of flour at a time resulting in a firm dough. Knead until smooth, then allow to rice for 2-2 1/2 hours covered.
Now, punch the dough down and split it in half. Knead again until smooth and round.
Line a baking sheet (#4020) with parchment paper (#1153) and allow to rise an additional 1-2 hours, or until doubled in size.
Meanwhile, combine the 1/2 cup water and cornstarch in a small bowl and bring to a boil in the microwave. Allow to cool.
Then, heat the oven to 400F. Place a small pot/dish of water on the bottom rack of the oven.
Using a sharp knife, carefully cut slits in the top of the dough. Place in the oven and bake for 10 minutes. Then, use a basting brush to brush the cornstarch mixture on top of the loaves.
Allow to bake for 20-25 minutes, or until the loaves are golden brown in color and sound hollow when tapped on the bottom.
Then, let the loaves cool for 2 hours to reach the best sourdough flavor. Enjoy!
Adapted from: https://www.food.com/recipe/classic-san-francisco-sourdough-bread-154142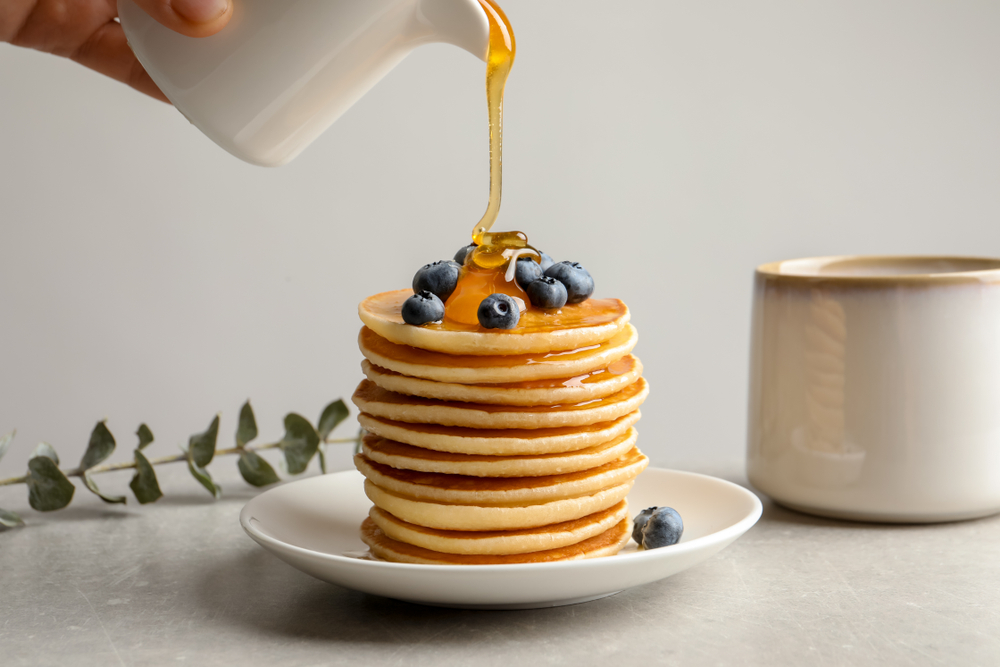 A delicious way to use your fresh sourdough starter, Sourdough Pancakes are a new favorite for weekend breakfasts.
Sourdough Pancakes
Ingredients:
Instructions:
First, mix the sourdough starter with the milk and flour. Cover with cling wrap (#6127) and set on the counter overnight to develop the flavor.
The next morning, whisk the beaten eggs, baking powder, sugar, and salt into the mixture until smooth.
Next, whisk in the (cooled) melted butter and vanilla paste to get a thick, bread dough-like texture.
Now, cook your pancakes! Heat up a cast iron skillet over medium-low and melt some butter. Scoop some batter, and cook for a few minutes or until you see bubbles. Flip the pancake and cook for another minute.
Add the desired toppings, and enjoy!
Adapted from: https://www.thespruceeats.com/sourdough-pancakes-4590269
Comments
Jamie's Raspberry Chocolate Pancakes - Alisons Pantry Delicious Living Blog - […] Sourdough Pancakes […]