Strawberry Lemon Sandwich Cookies
Don't these cookies make you smile just looking at them!? They are the perfect treat to welcome Spring and warm weather, so we are going to be making this consistency until the warm weather sticks around!
Are these kid friendly?
Absolutely! Everything about these cookies from the delicious flavor to the happy colors makes them perfect for our little ones. Plus, they will love helping you in the kitchen to whip these up! Our Chef Shamy Strawberry Butter makes this easier than ever to prepare.
What other flavors can I do?
If you like these Strawberry Lemon Sandwich cookies, then we think you'll like these other flavor combinations!
Looking for more refreshing treats?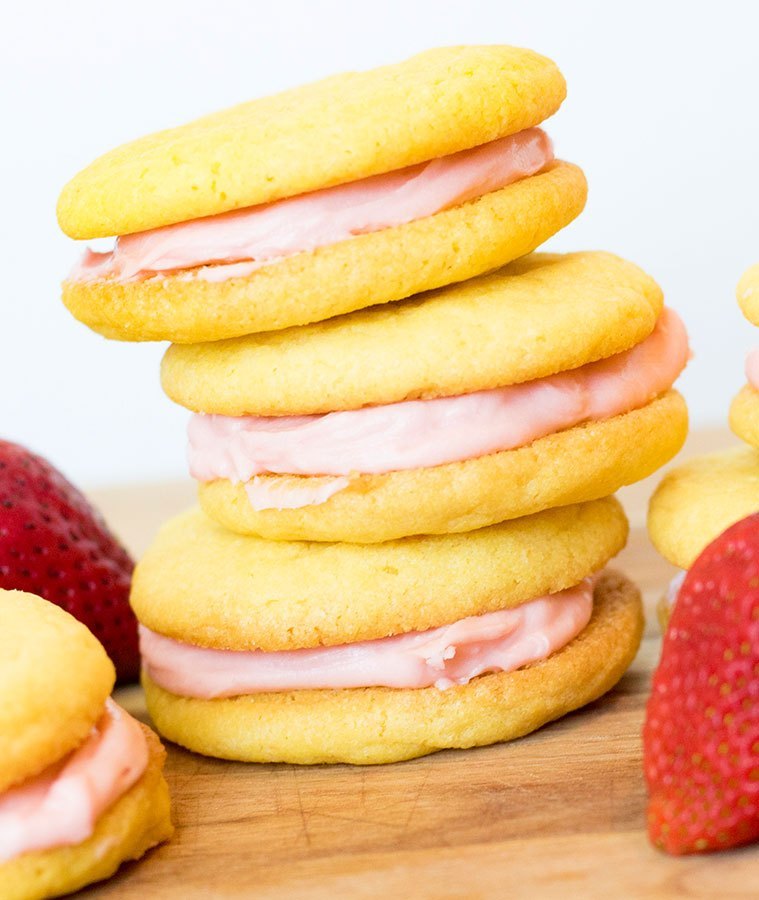 It's not exactly here yet, but warm weather is so close we can feel it in our bones! These Strawberry Lemon Sandwich Cookies are the perfect treat to enjoy on the First Day of Spring to welcome the warmth!
Strawberry Lemon Sandwich Cookies
Ingredients:
For the cookies:
1 box Lemon Cake Mix
2 eggs
½ cup oil
For the frosting:
Instructions:
Preheat oven to 350° F.
Sift lemon cake mix into a large electric mixing bowl. Add eggs and oil, and beat until combined.
Use about a tablespoon of mixture to roll into balls. Place cookies on a greased baking sheet.
Bake at 350° for 7-9 minutes.
Makes about 2 dozen cookies.
Meanwhile, making the frosting. Cream together Strawberry Honey Butter and powdered sugar, add milk as needed. Consistency should be thick and able to hold it's shape.
When the cookies are completely cooled, make sandwiches by spreading a generous helping of Strawberry Frosting in between cookies.
Serve with a big glass of milk!
Adapted from: https://chefshamy.com/recipes/strawberry-lemon-sandwich-cookies/
Comments
Easy Brownie Bites - Alisons Pantry Delicious Living Blog - […] Strawberry Lemon Sandwich Cookies […]
Dessert Nachos - Alisons Pantry Delicious Living Blog - […] Strawberry Lemon Sandwich Cookies […]