15 Minute Garlic Shrimp Zoodles
Zoodles = zucchini noodles. They are an incredibly delicious way to substitute for low carb meals, or sneak in more veggies for your kids. You can buy zoodles, or use a spiralizer to make your own. Either way, they're a great alternative for pasta!
How do I keep my zoodles from getting watery?
The easiest way to do this is to simply pat your zoodles dry with a paper towel. In addition, you can sprinkle with salt and let them sweat for about 30 minutes. Then, toss them with your hands and gently squeeze. Do this a couple times, and you will notice more water on the plate. Also, get rid of the "seedy" noodles. These hold more moisture.
Looking for more low carb options?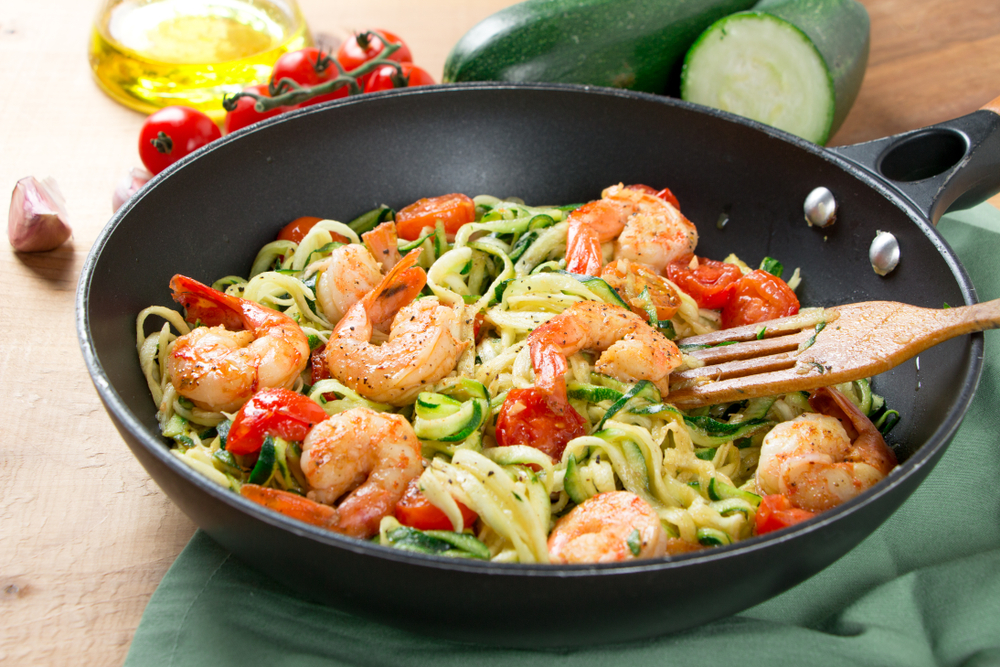 Garlic Shrimp Zoodles is an easy, tasty, low-carb dinner that will be on the table in 15 minutes! You can easily sub with pasta for a non-low carb option.
15 Minute Garlic Shrimp Zoodles
Ingredients:
Instructions:
Spiralize the zucchini on the medium setting. Set aside.
Add the avocado oil and lemon juice & zest to a skillet on medium heat. Once the pan is warm, add the shrimp. Cook the shrimp for one minute per side.
Add the garlic and red pepper flakes. Cook for an additional minute, stirring often.
Add the zucchini noodles and stir/toss (e.g. with tongs) constantly for 2-3 minutes until they're slightly cooked and warmed up.
Season with salt and pepper and sprinkle with the chopped parlsey. Serve immediately.
Recipe notes:
*Try using our Zesty Lemon Zest (#1433) if you don't have a fresh lemon.
*For more flavor, use our Chef Shamy Lemon Dill Butter (#8879) in place of the oil and lemon juice.
Adapted from: https://www.saltandlavender.com/15-minute-garlic-shrimp-zoodles/
Comments