Teriyaki Turkey Meatballs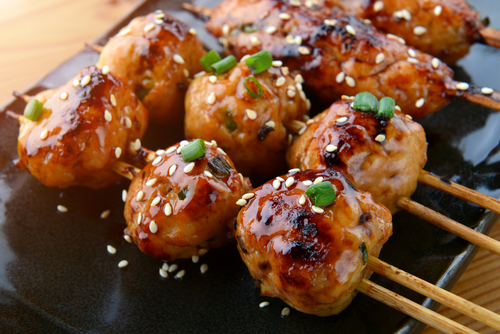 Meatballs aren't just for spaghetti! This easy recipe has flavor that all ages can appreciate, and a presentation that kids find fun. Who doesn't love a meal on a stick?! It also makes a great party food for game day or entertaining.
Teriyaki Turkey Meatballs
Ingredients:
Teriyaki Sauce:
Instructions:
In a large bowl, combine the turkey, scallions, carrot, egg, teriyaki sauce and bread crumbs. Blend well.
Using a 2-ounce scoop, form meatballs with wet hands and place on a baking pan lined with #1153 parchment paper or aluminum foil. Spray meatballs with vegetable oil.
Roast in a 375° F oven for 20 minutes or until golden brown on the outside and cooked through. Serve meatballs with extra teriyaki sauce, rice and/or pasta.
Sauce Directions: Combine all ingredients. Blend well and heat in sauce pan, if desired.
Serve over Uncle Ben's Jasmine Rice
Comments
Ground Turkey Stuffed Peppers - Alisons Pantry Delicious Living Blog - […] Teriyaki Turkey Meatballs […]
Chili Lime Pierogy Stir Fry - Alisons Pantry Delicious Living Blog - […] Teriyaki Turkey Meatballs […]