Bread Stick Bones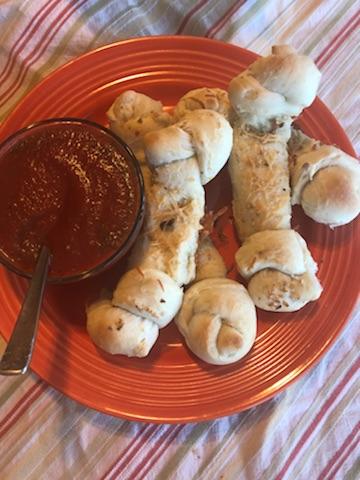 One of our favorite things about Halloween is all the yummy, creative treats! With October on the horizon, we're testing recipes early and planning monster munchies now for our spooky gatherings. These breadstick bones are easy and delicious and little hands can help make them too! Our Rizzuto Pizza Dough balls are so versatile, there are a million things you can do with them. The secret ingredient to these delicious breadsticks is the Garlic Supreme seasoning blend. There's a reason it's one of our most popular spices.
Breadstick Bones
Makes 8-10 breadsticks
Ingredients:
Directions:
Heat oven to 375 degrees.
Spray cookie sheet with Vegalene #1212.
Roll the pizza dough out on a floured surface.
Cut dough into long strips, about 12 inches long. Loosely tie a knot in both ends of each breadstick. Place on cookie sheet.
Brush breadsticks with butter. Sprinkle garlic supreme and grated parmesan cheese on top.
Bake for 12 to 14 min or until golden brown. Add Italian n' Pizza seasoning to the pizza sauce.
Serve warm "bones" with warm pizza sauce for dipping.
Adapted: From <https://www.tablespoon.com/recipes/breadstick-bones/87fd33ef-fe56-4511-8a0e-9c803900c92c
3 finger foods
Comments
Lazy Day Beef & Vegetable Soup - Alisons Pantry Delicious Living Blog - […] Bread Bone Sticks, perfect for a spooky Halloween […]