Lazy Day Beef & Vegetable Soup
Whether it's cold or warm outside, this is the perfect "Lazy Day" meal. Not only is it a great way to use up extra veggies, but it is absolutely delicious! Don't feel limited to the veggies used in this recipe, anything you have on hand will work. What are your favorite veggies to use in soups?
Substitutions we Love
The best part about this soup is that it works with almost everything. Because of this, all our fellow foodies can enjoy it!
To start, our Gluten Free friends don't need to change anything. Just make sure your noodles and broth don't contain gluten!
Second, our dairy free friends can enjoy this meal with no substitutions! Obviously, they would just opt out of the optional cheese, or use a dairy-free cheese.
Last, our Vegan and Vegetarian friends can savor this soup too! You heard us right. Just sub the beef with your favorite meat substitute, and use vegetable broth in place of the beef broth.
For our meat lovers, we suggest adding more meat- but not too much so it isn't too heavy! Also, a fun substitution would be to use our Italian Meatballs in place of the Beef Stew Meat.
Optional Sides
To begin, this soup is very hearty, so you likely won't need a side. But, if you're anything like us, we love any excuse to make a good salad or bread. We love these 10 Quick & Easy Sides to Serve with Soup. In addition, we found some of our favorite sides for any time of the year.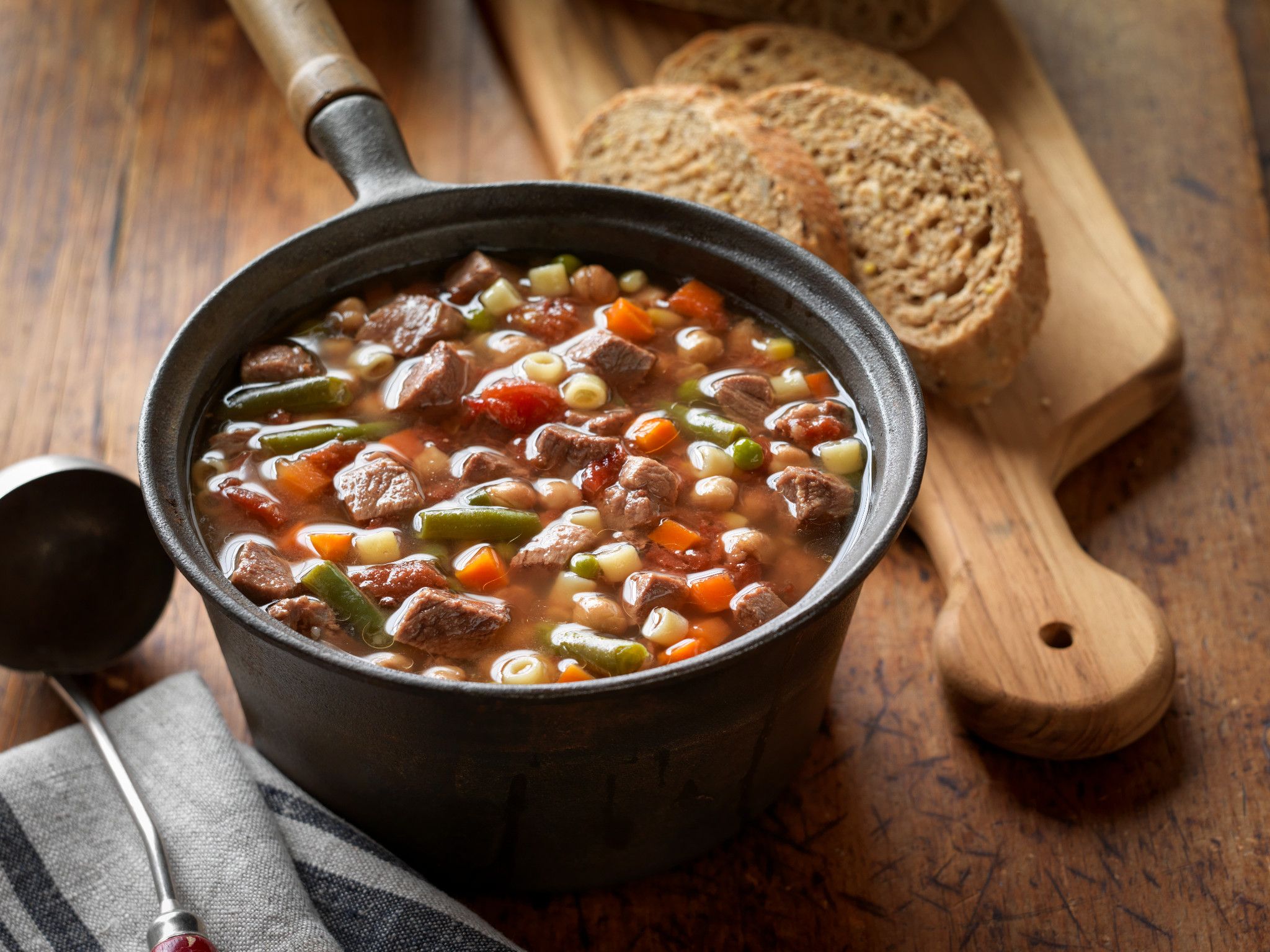 Beef & Vegetable Soup is one of our most favorite comforting meals, paired with some crusty bread to soak up all the flavors. Basically, it is one of the easiest soups you can make. All you need to do it dump everything into your slow cooker, and forget about it until you add the pasta!
Lazy Day Beef & Vegetable Soup
Ingredients:
2-1/2 lb Beef Stew Meat (#2607)
2 cans (14 to 14-1/2 ounces each) reduced-sodium beef broth
1 can (15 ounces) chickpeas, rinsed, drained
1 can (14-1/2 ounces) no-salt added diced tomatoes, undrained
1 cup water
1/2 tsp salt (#1146)
1/2 tsp pepper (#1029)
1 cup uncooked ditalini or other small pasta
Shredded Romano cheese (optional)
Instructions:
Combine beef, broth, chickpeas, tomatoes, water, Italian seasoning, salt and pepper in 4-1/2 to 5-1/2-quart slow cooker; toss to coat well.
Cover and cook on HIGH 5 hours or on LOW 8 hours. (No stirring is necessary during cooking.)
Stir in mixed vegetables and pasta. Continue cooking, covered, 1 hour or until beef and pasta are tender.
Season with salt and pepper, as desired. Stir well before serving. Serve with cheese, if desired.
Comments
Instant Pot Creamy Chicken And Wild Rice Soup - Alisons Pantry Delicious Living Blog - […] for a more hearty soup, we have Lazy Day Beef & Vegetable Soup. This one is perfect for a…
PBFit Gluten Free Pancakes - Alisons Pantry Delicious Living Blog - […] can't really go wrong with a good soup, and we love this Lazy Day Beef and Vegetable Soup for a…
Paleo Turkey Meatballs - Alisons Pantry Delicious Living Blog - […] Lazy Day Beef & Vegetable Soup […]