Cinnamon Coffee Cake
Did you know?!
Coffee Cake doesn't always have coffee in it! The name comes from the fact that it is usually served with coffee, not because it has coffee in it. It is usually a moist cake, topped with a struesel topping and served with coffee or tea. If you're looking for a good coffee to enjoy with your cake, try our two blends: Morning Grind Medium Roast (#1378) and Pantry Perk Dark Roast (#1379)
What does sour cream do for my cake?
Adding sour cream to cake might seem foreign to some people, but trust us when we say- using sour cream will leave you with a delicious, tender, and moist cake! The combination of the Honey Butter and nuts creates a variety of textures, resulting in a perfect breakfast.
Looking for more recipes using Chef Shamy Butters?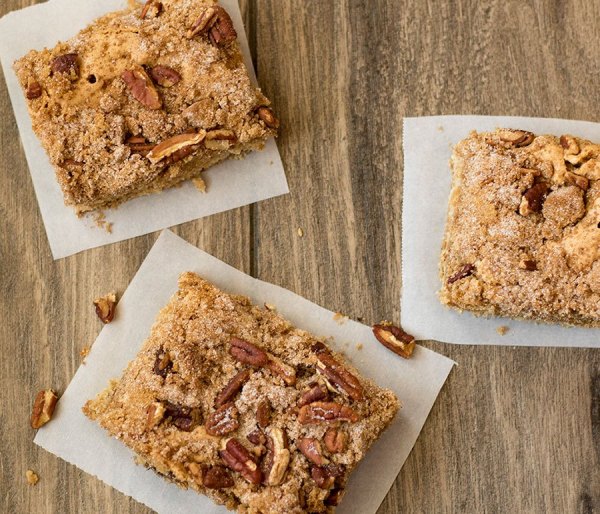 Cinnamon Coffee Cake is a cake with a struesel topping, served alongside a cup of coffee (or tea!) for a light morning treat. Plus, our secret ingredient (Cinnamon Butter) leaves this cake bursting with cinnamon flavors!
Cinnamon Coffee Cake
Ingredients:
Cake:
Topping:
Instructions:
Preheat oven to 350° F.
In a large bowl, cream together Cinnamon Butter and sugars. Beat in eggs, vanilla, and sour cream.
In a separate bowl, mix together flour, baking powder and baking soda. Add the dry ingredients to the wet ingredients and mix, until well combined.
To make the topping, mix together sugars, cinnamon, and pecans.
Butter a 9×13 pan. Spread half of the cake mixture, then top with half of the topping. Spread the rest of the cake mixture, then sprinkle the rest of the topping.
Bake at 350° for 40-45 minutes, or until a toothpick comes out clean.
Allow to cool, then serve.
Adapted from: https://chefshamy.com/recipes/cinnamon-coffee-cake/
Comments