2 Ways to Upgrade Our Raspberry Muffin Mix
Our Scrumptious Raspberry Muffin Mix has its name for a reason. These muffins are a customer favorite and one of our best selling products, so naturally, we have people wondering about other ways to use the mix than muffins. So, we gathered all the brains at AP Headquarters to come up with some brilliant ways to enjoy this mix.
Improve the mix but still have muffins:
We obviously love using this mix for muffins, and they're delicious as is, but just imagine how drool-worthy they will become with a few tiny improvements. It will blow your mind!
Add fresh fruit. This mix contains raspberry nuggets to give you a raspberry flavor, but there's just something about adding fresh Raspberry Crumbles (#2830) to the mix that really takes it over the top. Yum!
We aren't sure how you feel about Streusel Toppings, but we're big fans. Simply combine 4 Tbsp flour (#2285), 4 Tbsp White Sugar (#1632), and 1 tsp Korintji Cinnamon (#1005). Then, cut in 2 Tbsp Butter or Margarine with a fork until crumbly. Sprinkle over muffins before baking.
Try adding a dollop of Vanilla Pudding Mix to each muffin. This will make your muffins extra moist and delicious. Just add a small spoonful of batter to your muffin pans, then the pudding, then top more muffin batter. Be sure to use a small amount of pudding so it doesn't ooze after the muffins bake. You can also just mix in the pudding to the batter, but don't overmix.
To change up the texture, try adding about 1/4 cup of nuts (we prefer walnuts #1293) or chocolate chips to your batter. We especially love adding our Vanilla Chocolate Chips (#1306) for a White Chocolate Raspberry vibe.
2 Creative Ways to Use The Mix
So, we asked around the office to get ideas on how our staff has used this wonderful mix and got some really great and delicious ideas. Now we have to decide which one to try first!
Our Administrative Assistant, Lori Harris, shared this delicious idea for Raspberry Lemon Quick Bread. The lemon glaze really brings it all together!
Raspberry Lemon Quick Bread
Ingredients:
Lemon glaze:
1/4 cup milk
1 Tbsp fresh lemon juice
Instructions:
For the glaze: In a small bowl (#7756), whisk together the sugar and milk until smooth. Then, whisk in the lemon juice. Set aside until ready to use.
For the cake: Preheat the oven to 375° F. Spray a loaf pan (or bundt pan) with Bak-Klene (#5564). Pour the batter into the pan, and place in the oven for 40-60 minutes, or until a toothpick comes out clean.
Let the Quick Bread cool before moving it to a cooling rack (#1145). Once it is cooled, drizzle the glaze over the top. Enjoy!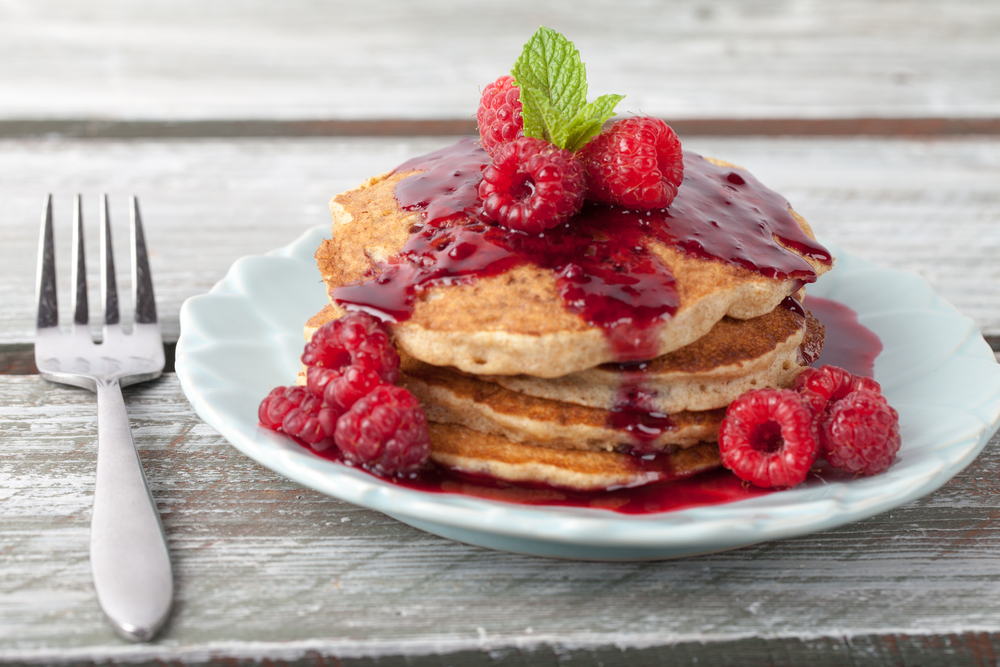 We love adding to our Pancake Mixes, but Julie Hawkes, an RSM, shared that her family enjoys adding the Raspberry Muffin Mix to her Pancake Mix. It is a glorious combination! We think adding 1/4 cup of Vanilla Chocolate Chips (#1306) would be a great addition to this, too.
Raspberry Pancakes
Ingredients:
Raspberry Syrup:
Instructions:
First, add both mixes to water, blending with a whisk. For light, fluffy pancakes, avoid over-mixing. For thinner pancakes, add more water.
Pour batter onto lightly greased, preheated (365°-375°F) griddle.
Cook pancakes 1-1¼ minutes per side. Turn only once.
To make the syrup, melt butter in a saucepan over medium-low heat. Add syrup and berries and heat for about 3-4 minutes, until it starts to bubble and thicken.
Serve the pancakes with maple syrup (#1590) or our Fresh Raspberry Syrup, and top with more raspberries.
Comments