Blueberry & Lemon Hot Cross Buns
So, what exactly is a Hot Cross Bun? It is simply a spiced sweet bun, typically made with currants or raisins, marked with a cross on the top. It is traditionally eaten on Good Friday or during Lent. But, it is also quite popular for Easter morning.
Our Favorite Adaptations:
More Easter Favorites: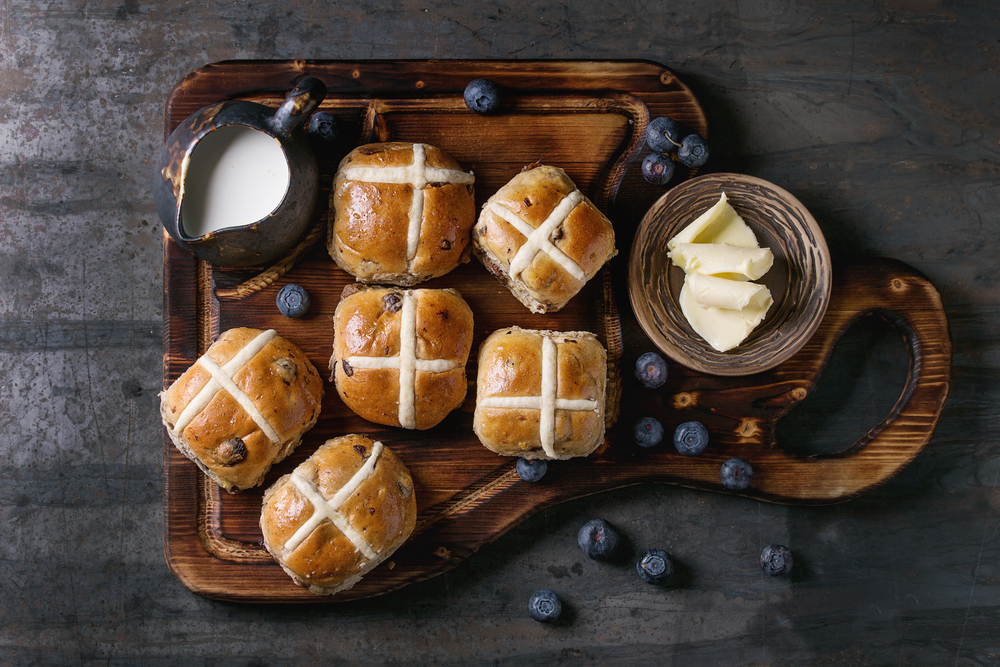 These citrus hot cross buns make a clever twist on an Easter classic.
Blueberry and Lemon Hot Cross Buns
Ingredients:
Instructions:
Mix the bread flour, yeast, sugar, cinnamon, oil, 2 tsp sea salt and 350ml warm water in a bowl with a spoon first, and then with your hands.
Add the zest and continue to knead (or use a mixer fitted with a dough hook) for around 10 mins until it feels less sticky. Shape into a ball, return to the bowl and cover.
Leave to rise for about 1 hr or until doubled in size (or leave in the fridge overnight).
Knock the air out of the dough. Gently knead in the frozen blueberries.
On a floured surface, shape into eight buns. Put the buns on a baking tray lined with baking parchment (no more than 2cm apart) and prove somewhere warm for 1 hr or until well risen.
Heat oven to 375° F. Then, brush the bun tops with milk.
Mix the plain flour with water to make a paste, transfer to a piping bag and pipe crosses on top.
Bake for 25-30 mins or until golden and risen. Brush with the maple syrup while still warm.
Adapted from: https://www.bbcgoodfood.com/recipes/blueberry-and-lemon-hot-cross-buns
Comments
Blueberry Cheesecake Pops - Alisons Pantry Delicious Living Blog - […] Blueberry & Lemon Hot Cross Buns […]
Cadbury Egg Cookies - Alisons Pantry Delicious Living Blog - […] Blueberry & Lemon Hot Cross Buns […]
Easter Brunch Recipe Roundup - Alisons Pantry Delicious Living Blog - […] eaten on Good Friday or during Lent, but, are also quite popular for Easter morning. These Blueberry and Lemon…