Strawberry Spinach Salad
Strawberry Spinach Salad is a great pick-me-up dish. Plus, it doesn't hurt that there are a ton of benefits from eating spinach. First, it is chock-full of iron. Second, it is a great source of some key vitamins: vitamin K, vitamin A, vitamin C, and Folate. Did you know, it's good to eat at least a cup of spinach every day? It is also low calorie, so our Keto friends can dig in too!
How should I store this salad?
If you don't plan on eating this salad all at once, we suggest you don't mix it all together right away. If this is the case, simply prepare all the toppings, spinach, and dressing in their own containers, and prepare portions as needed. But, if you plan on taking this to a party and coming home without leftovers, feel free to mix everything together in a serving bowl. Your guests will love this one!
More Simple Sides: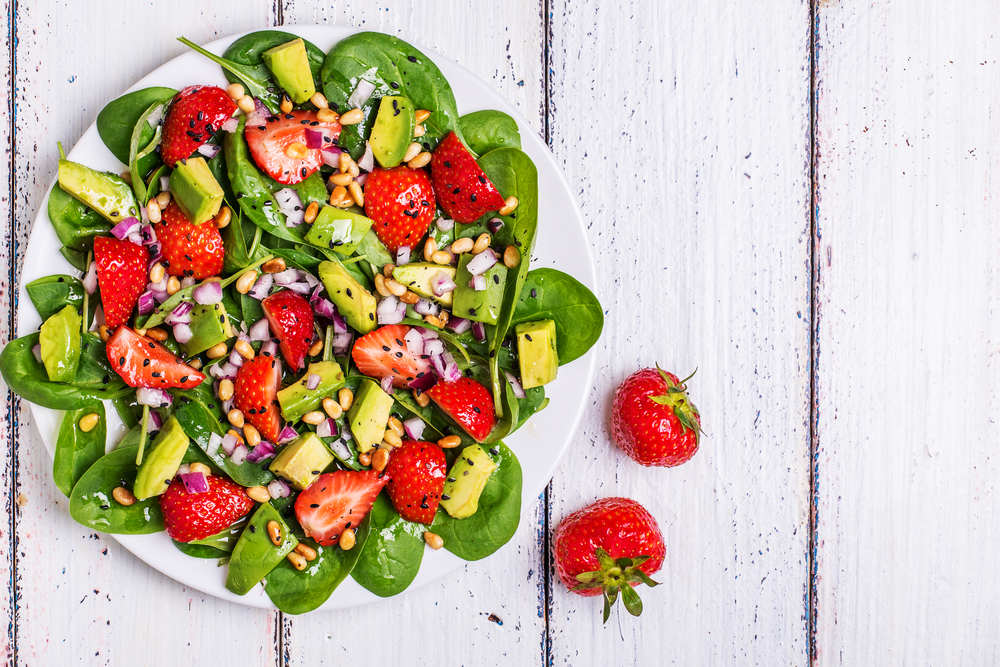 Fast, easy, and refreshing salad topped with crunchy slivered almonds and irresistible avocado dices. You won't be able to get enough of this Strawberry Spinach Salad!
Strawberry Spinach Salad
Ingredients:
Instructions:
First, divide the spinach, strawberries and avocados between two salad plates.
Then, in a small bowl, whisk the oil, sugar, vinegar, sesame seeds and poppy seeds. Drizzle over salads. Sprinkle with almonds; serve immediately.
Adapted from: https://www.tasteofhome.com/recipes/strawberry-spinach-salad-with-sesame-poppy-seed-dressing/
Comments
Roast Beef Onion Marmalade Sandwich - Alisons Pantry Delicious Living Blog - […] Strawberry Spinach Salad […]
Thanksgiving Sauces You Need This Year - Alisons Pantry Delicious Living Blog - […] Cranberry Balsamic Vinaigrette is a sweet and tangy dressing, perfect for topping holiday salads like our Strawberry Spinach Salad.…
2 Ways to use Monin Puree for Spring - Alisons Pantry Delicious Living Blog - […] Lemonade Strawberry Spinach Salad Strawberry Lemonade Slush SharePinTweet0 Shares 0Shares Share on Facebook […]