2 Main Dishes for Easter
So, what goes into a traditional Easter dinner? Around here, Easter Ham and potatoes seem to be the most popular. And, don't forget about the sides or bread! And, this might be a Utah special, but there is always some kind of jello dish. All that aside, Easter dinner wouldn't be complete without the star of the show- Ham. But, sometimes we want to change things up, which is why this Prime Rib recipe has become a favorite runner up for Easter Dinner. What does your Easter dinner look like?
Tips for cooking Prime Rib
Don't over season. Usually, Prime Rib recipes call for very simple seasonings. It doesn't need a marinade or any preparation like that. Preparing a simple dry rub will be your best bet with Prime Rib.
Next, our favorite tip: To infuse more flavor, simply cut little slits in your Prime Rib and stick a single garlic clove in before cooking.
If you're cooking it in the oven, don't add water to the pan and don't cover it!
A meat thermometer will be your best friend to ensure your roast turns out how you want. Make sure the tip goes into the middle of the roast, and is not touching fan or bone.
Tips from: http://dish.allrecipes.com/perfect-prime-rib/
Which side dishes should I serve with my Easter dinner?
First, if you're wanting to keep things simple, here's what we suggest:
Lamb Weston Garlic Mashed Potatoes (#7944), Slow Cooker Green Beans, and Beehive Rolls (#8925). For dessert, we like pairing with Jen's Lemon Classic Creme Cake using our Creme Cake Mix (#1823).
But, if you're planning on having lots of help from your littles, there are our favorites: Puff Pastry Asparagus, Dirty Mashed Potatoes, and Homemade Italian Sweet Dinner Rolls. Plus, don't forget about dessert! Try this Mouthwatering Carrot Cake Recipe, your family is sure to love.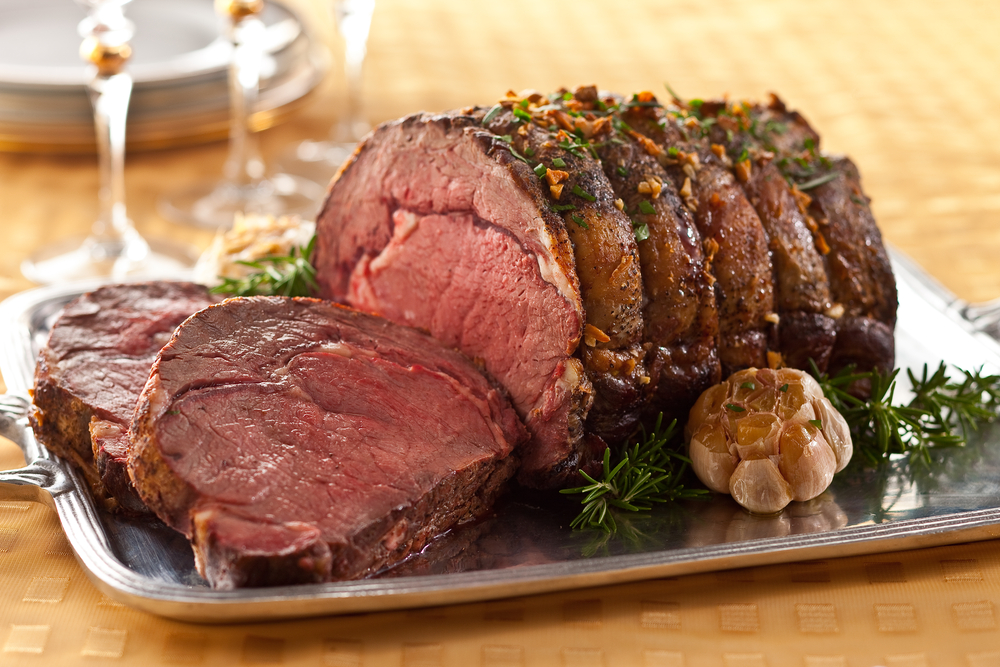 Easter is a great time to break out the Prime Rib. And, this herbed-up (amped up… just go with us on this one) Prime Rib is no exception. It will be bursting with flavor! We promise your family will forgive you for changing things up from the normal Ham dinner. (But if they don't try the recipe below!)
Prime Rib
Ingredients:
Instructions:
Remove your prime rib from the refrigerator one hour before cooking to bring to room temperature. Season it on all sides with salt and cover it loosely with plastic wrap as it comes to room temperature.
When you are ready to cook the prime rib, adjust your oven rack so the meat will cook in the center of the oven. Preheat the oven to 500 degrees F.
In the meantime, mix together 1 1/2 teaspoons salt, pepper, rosemary, thyme, garlic, and olive oil.
Pat the roast with paper towels. Spoon seasoning over it, rubbing it onto all sides. Place bone-in roast with the bones down, inside a roasting pan cast iron pan. Place a boneless roast on a rack inside the pan.
Bake prime rib at 500 degrees for 15 minutes, then reduce the oven temperature to 325 degrees and continue baking until it reaches your desired doneness:Â Rare: cook until thermometer reaches 120 degrees F (about 10-12 min/pound)*
Remove it from the oven and tent it with foil. Then, allow it to rest for 30 minutes before carving. This will allow the juices to soak back in, resulting in a wonderful texture.
Carve your roast by slicing against the grain at about 1/2 inch thickness. Serve with horseradish, if desired.
Recipe notes:
Prime rib roast will cook better and more evenly when it's at room temperature.
If your Prime rib is larger than 5 lb, double the spices/seasonings.
A couple of things to keep in mind:- A meat thermometer is essential to ensure it cooks to your perfect doneness. Not all roasts or ovens are the same! – Also, the meat will continue to cook once it's taken out of the oven (your thermometer will continue to rise 5-10 degrees) so remove it from the oven 5-10 degrees before it reaches your optimal temperature.
Medium rare: Cook until thermometer reaches 130 degrees F (about 13-14 min/pound). Cook until thermometer reaches 140 degrees F (about 14-15 min/pound) for Medium.
Medium well:– Cook until thermometer reaches 150 degrees F*.
Adapted from: https://tastesbetterfromscratch.com/prime-rib/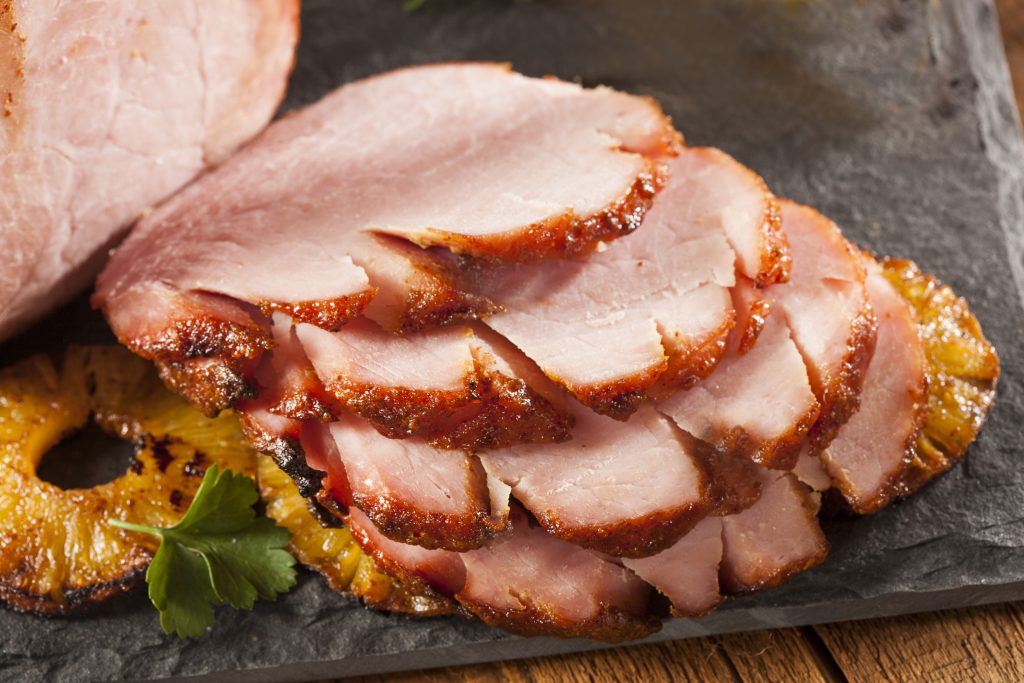 A sweet Glazed Ham is perfect for an Easter meal. We love the combination of sweetness from the pineapples, mixed with the slight tang from the mustard.
Easter Glazed Ham
Ingredients:
2 cups brown sugar (#1150)
3 Tbsp prepared yellow mustard, or as much as needed
1 (8 oz) can pineapple rings in juice, drained and juice reserved
1 cup honey (#1149)
Instructions:
First, preheat oven to 350 degrees F.
Score ham by making 1/2-inch deep diagonal cuts, creating a diamond pattern; transfer ham to a roasting pan.
Mix brown sugar with enough yellow mustard to make a smooth, pourable sauce.
Then, pour reserved pineapple juice over ham, followed by the honey.
Pour brown sugar mixture over honey and arrange pineapple rings decoratively atop ham. Secure pineapple rings with toothpicks.
Bake in the preheated oven until diamond pattern on ham splits open, 1 to 1 1/2 hours. Baste ham every 15 minutes with pan drippings.
Adapted from: https://www.allrecipes.com/recipe/220962/easter-ham/
Comments
Cadbury Egg Cookies - Alisons Pantry Delicious Living Blog - […] 2 Main Dishes for Easter […]
Blueberry & Lemon Hot Cross Buns - Alisons Pantry Delicious Living Blog - […] 2 Easter Main Dishes […]
Festive Holiday Cheese Ball Recipes - Alisons Pantry Delicious Living Blog - […] 2 Main Dishes for Easter– that can easily work for Winter Holidays! […]