Raspberry Cream Filled Brownies
We love cooking with our kids, and today's recipe from Cincy Shopper is a fun and easy way to share the kitchen. It's a rich fudgy brownie, made easy with a mix, and then cut into cute hearts and filled with a whipped raspberry buttercream icing. Our guest chef, Amy Hawkes, shows how easy these treats are to whip up for Valentine's Day.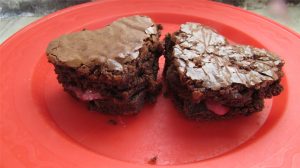 Raspberry Cream Filled Brownies
2018-02-08 11:26:02
Rich fudge brownies with sweet raspberry filling.
BROWNIES
4 1/2 cups Richly Delicious Fudge Brownie Mix (#1824)
1 Egg
1/2 cup hot water
FILLING
1 cup Butter softened
4 oz Raspberry Crumbles (#2830)
2 cup Powdered Sugar
Instructions
Prepare brownies according to package directions. Allow to cool. Remove from pan and cut as many heart shapes as possible with cookie cutter. Puree raspberries in food processor or blender. In a medium bowl, cream butter and raspberry puree. Add in powdered sugar 1 cup at a time. Mixing until smooth and creamy. Transfer filling to piping bag. Pipe filling around the edge of one of the brownie hearts. Then fill in the middle. Top with another brownie heart, gently pressing down to make a sandwich. Use a sifter and dust the tops with powdered sugar.
From
Alisons Pantry Nourish Blog http://blog.alisonspantry.com/
Comments