Raspberry Crumble Bars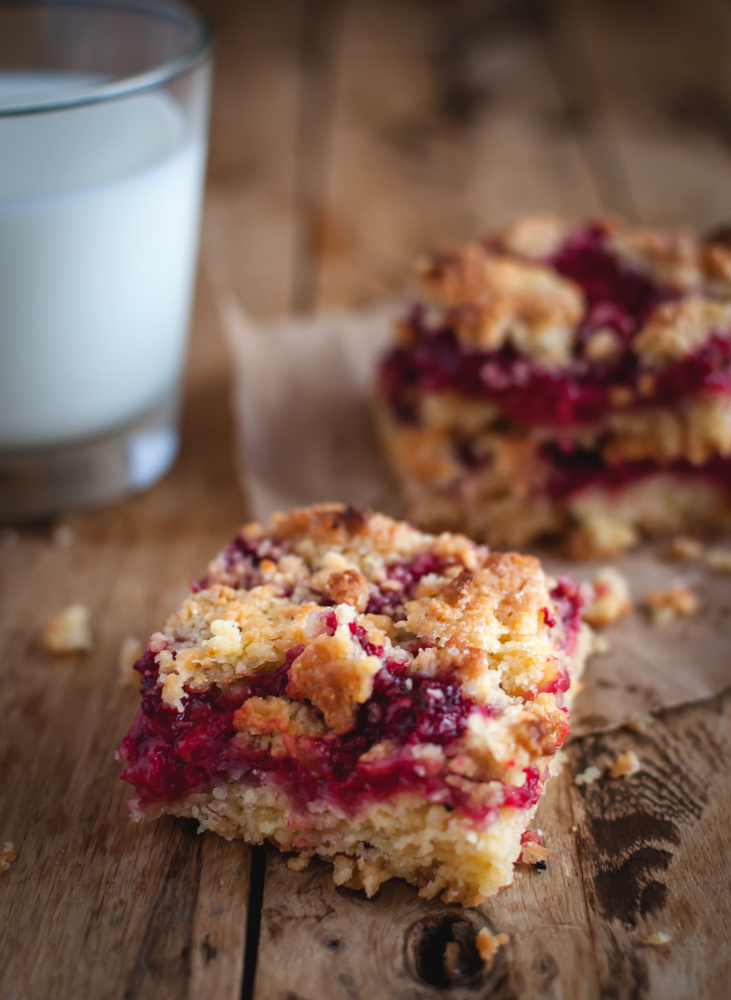 Oh YUM! We can be picky about fruit in desserts, but this recipe is definitely a winner! Dust lightly with powdered sugar, and your taste buds will thank you.
More Desserts for Your Sweet Tooth
To begin, these Slow Cooker Brownies are to die for. Just imagine fresh brownies with minimal effort, topped with melting ice cream and caramel… Yum!
Another fruit dessert, our Slow Cooker Berry Cobbler is perfect for when we are craving summer during the cold months.
Last but definitely not least, Monkey Bread is a favorite in our homes for multiple reasons. It can easily be adapted for any Holiday and can be enjoyed for breakfast or dessert.
Raspberry Crumble Bars
Ingredients:
Instructions:
1. In a large bowl, combine the flour, 1 cup sugar, baking powder, salt, and cinnamon. Cut in shortening until mixture resembles coarse crumbs. Stir in eggs and extract. Press two-thirds of the mixture into a greased 13-in. x 9-in. baking dish.
In a large bowl, combine cornstarch and remaining sugar; add berries and gently toss. Spoon over crust. Sprinkle with remaining crumb mixture.
*If you're using frozen raspberries, don't thaw before tossing with the mixture.
Bake at 375° for 35-45 minutes or until bubbly and golden brown.
Cool on a wire rack.
Cut into bars.
Store in the refrigerator.
Adapted from: www.tasteofhome.com/recipes/raspberry-patch-crumb-bars
Comments
Baked Lemon Butter Tilapia - Alisons Pantry Delicious Living Blog - […] We love serving our tilapia with our Rosemary Roasted Redskins (#2068), Quinoa & Kale Blend (#1101), and French sour…
Orange Creamsicle Pound Cake - Alisons Pantry Delicious Living Blog - […] Raspberry Crumble Bars […]
Blackberry Peach Crisp - Alisons Pantry Delicious Living Blog - […] Raspberry Crumble Bars […]