Stir Fry Yakisoba
Yakisoba is a classic Japanese food that is cooked on a large iron grill. It is one of the most popular street foods in Japan. Yakisoba actually means grilled noodles and is typically prepared with ramen noodles.
How long do I store Yakisoba Stir Fry?
Typically, this dish is best eaten right away. While it can last for up to three days in the fridge, the quality goes down. If you don't plan to eat it all right away, we suggest not fully cooking until you are ready to eat. This will prevent the veggies from getting mushy. You can also keep everything separate, and mix together when ready to eat.
What adaptations can I make to this recipe?
For starters, you can replace the bell pepper, carrots, and onion with 2 cups of our Stir Fry Blend (#5309). In addition, you can replace the chicken with Pork, Beef (#2604), or Shrimp (#1545). We also like to add a little bit of Sriracha and Ginger Powder (#1420) for a spicier dish.
If you like this recipe, try these: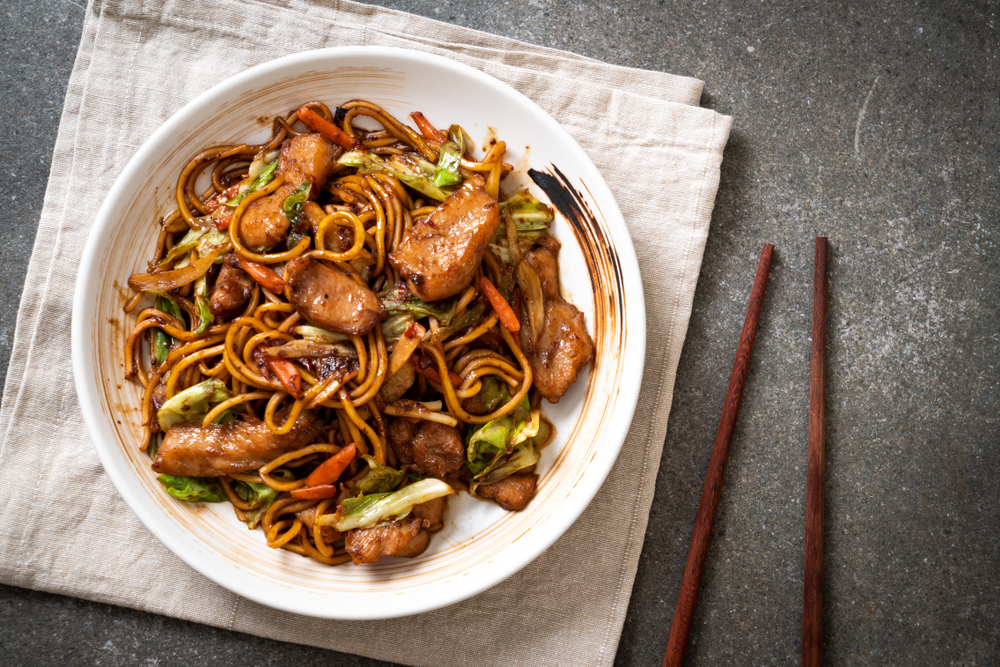 This Stir Fry Yakisoba is full of flavor, drenched in a sweet tangy sauce, easy to prepare, and a great way to sneak veggies in the kids diet.
Stir Fry Yakisoba
Ingredients:
Instructions:
To begin, bake for 14-16 minutes at 350°F. Fully cook to a minimum internal temperature of 165°F.
Then, blanch noodles in boiling water for 1 minute. Drain when done.
Prepare your vegetable and cook them separately in a pan on high heat, just for a few minutes, to add a golden color to them.
Then, mix the sauce ingredients together in a bowl.
Next, add prepared sauce mixture and cooked Tempura nuggets ingredients to the pan.
Add in noodles to the mixture. Cook for a few minutes and serve.
Adapted from: http://momsdish.com/simple-yakisoba-noodles-recipe
Comments
Shrimp Pad Thai - Alisons Pantry Delicious Living Blog - […] Stir Fry Yakisoba […]
Beef With Garlic Sauce - Alisons Pantry Delicious Living Blog - […] Stir Fry Yakisoba […]